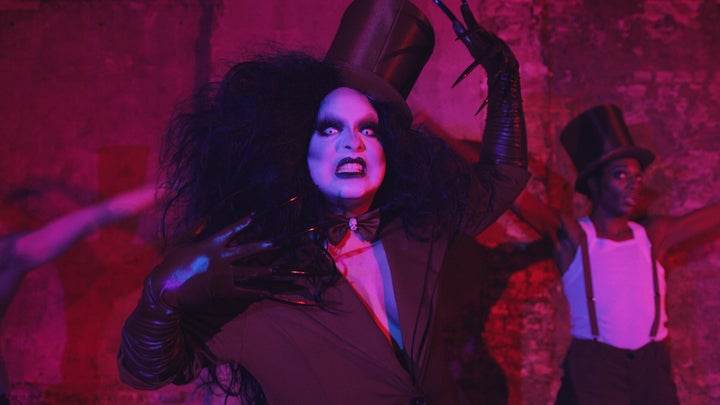 If anyone was going to take the spookiness of this summer's newest LGBT icon, Australian horror film star The Babadook, it would be multi talented drag superstar Pissi Myles! Merging a "Paris is Burning" sensibility and a throbbing dance beat and matching it with a gorgeously goth video, "Babashook" is destined to make the viral rounds throughout our holiday weekend and beyond.
Pissi assembled an all star squad for this endeavor, with Myles and humorist Topher Cusamano handling the original writing, and an original track produced by the legendary B. Ames. Directing on the video was handled by the talented Joe La Scola, and Myles recruited her husband and talented drag photographer David Ayllon as creative director.
I got a chance to sit down with Myles along with her sublimely talented husband, artist and photographer Davd Ayllon, where we talked about how they met, what it's like being two endlessly creative people under one roof, and what may be next for these two uber talented people!
So you guys are the first in a series of couples that are creatively wonderful powerhouses! First off-how did you two crazy kids meet?P: Pissi-We actually met on OKCupid, totally by chance. My friend convinced me to sign up, and I'd been on a lot of really, truly awful dates before David messaged me. Including one with a gay republican meteorologist, which is exactly as bad as it sounds.
David: I was at the point where I had given up on finding anyone, and I honestly thought he was out of my league when we first met. But we've been together for five years now, and it's been awesome. I really loved his eyebrows when we first met, but since he started doing drag he started shaving them. Me and the brows had to break up!
You guys definitely connect over drag and have such a fantastic outlet of friends. Who are some of the queens you guys spend the most time with and gain the most inspiration from? P: We really have so many friends we've made on this crazy journey! Our friends Robert and Daniel, who the world may better know as the hosts of the Grizzly Kiki podcast, are definitely some of the best friends we've made. Astala Vista and Jimmy Boone, all our friends in New York City and New Jersey... it's nuts! Being a queen that travels all over the tristate area on a regular basis means I meet a ton of people, and I love that! There are so many!! Being located where we are, we get to be close to the Philly drag scene, the Jersey drag scene, and the New York drag scene. The best is when we make friends with queens in the "scene" and then build relationships that include other shared interests as well. For example, I can geek out about art and design with Kari Kerning and Sasha Velour, who also do graphic design.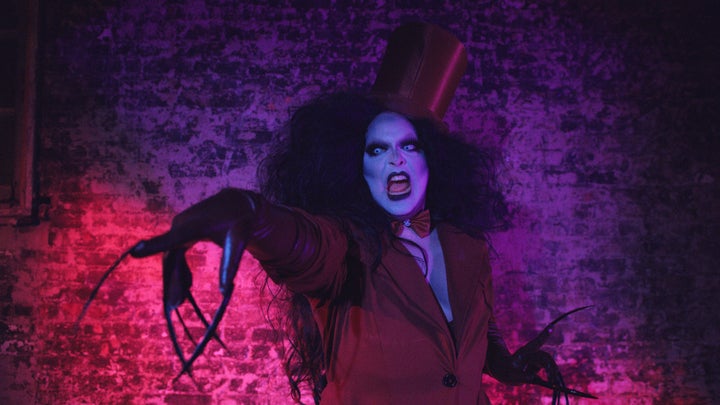 David, you coordinated Posters for Pulse and were extremely giving in a time that we truly needed to come together, and your portraits are extraordinary. Who are some of your favorite subjects so far? Anyone on your wish list that you would love to photograph? Explain your photography style to me… My style is heavily influenced by comic books and vintage pop culture. I'm a big nerd, and I love shooting queens and other larger-than-life nightlife personalities, because they're the closest I'll ever get to being around real-life superheroes, both in bravery and costuming. So, I'm naturally drawn to really vibrant colors and high contrast, and a touch of surrealism.
Pissi from New York to Philly to Asbury Park, you are one of the leading comedy queens and absolutely kill with your lip synching abilities! How did you get your start in drag? What are some of your favorite moments in your career so far? It's been nuts! I wanted to be an actor, but that wasn't panning out for me, and David saw that. He believed in my skills, but I wasn't happy auditioning and putting up with the minutiae of it- I'm too tall for this part, too short for that one, too cute for this, blah blah blah. It was really discouraging, and I was like "Who gives a shit what I look like??? I'm funny, and I can really make people laugh, so I'm going to." It was David who then told me I should do drag, and it was like I found my calling.As far as favorite moments go, I've been really lucky to work with so many cool people. To this day I am most proud to have produced my show with Lady Bunny, she has always been a huge inspiration for me. I also just got to be an announcer for NYC Pride, which is really important to me. I think Pride events are so important for community, and I love to be a part of them.
Pissi the question is inevitable-any interest in "Drag Race"? Some of your colleagues have gone on to snatch the crown like Bob the Drag Queen! I know! Sometimes I feel like my show "What Makes Me Pissi" was a stepping stone to "Drag Race"! All my friends go on to do the show, and I'm so happy for them. It's a huge stepping stone for everyone's careers, and that makes me so happy for them. Who knows if I'll ever do it? I suppose anything could happen.
You also are premiering a video today with Pissi as the gay icon of the summer, Babadook! Tell me about the creative process behind this idea, which is absolutely genius! We're so excited about it!!! David had the idea of doing an original song about the Babadook, and writing original music is something I've been interested in for a really long time. We made a commitment to it, and I wrote the lyrics in like a minute with our friend Topher Cusumano. We pitched the idea to B. Ames from Texas because he's an amazing DJ and producer, and he loved it and immediately made the amazing track and helped us produce the song, even lending his voice to some background vocals! Working with B. was really amazing, he does such great work.For us it was an opportunity to really point out the camp and humor in this whole Babadook craze, while making it a song that could still be used to amp up people's pride. We love horror movies, we love camp, and we love gay shit... what else could you want out of this whole thing???D: It's been so much fun making this. Luckily our good friend Joe La Scola happens to be a brilliant filmmaker and videographer who does horror shorts all of the time. We were so excited he got to direct the video, everything came together perfectly for it! You can find the video on YouTube (attached here) or grab it on iTunes (link below).
David, what is it like being Mr. Pissi Myles? Bob the Drag Queen calls me that all the time and I'm still not used to it (laughs). I'm just happy I get to support my husband and help make his dreams come true. As someone who also works in a creative field, I used to go on a lot of dates with guys who didn't understand how I could be so passionate about something that wasn't making me money. My goals were never practical to a lot of people. When I met Joe (Pissi), it was a breath of fresh air to be with someone who not only understood my passion, but has one of his own.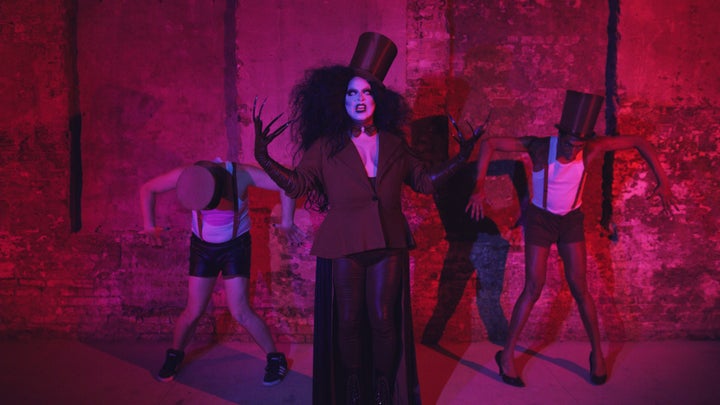 Conversely, Pissi what is it like being the husband of such a creative and ingenious artist? It's really amazing. David is my best friend, and the person I trust the most in the whole world. He's so talented and creative, and he's smart when it comes to putting these ideas together. It's great to be with someone who is so driven and passionate. Even when we disagree on things, we find a way to communicate and work around the problem. It's a dream come true to be able to work with him and to love him so much.
What do you both like to do in your down time when you are not performing and photographing? A lot of Netflix! We're both very much homebodies, and we love watching horror movies and true crime documentaries! You can also catch me reading comic books or losing to Pissi at Mario Kart.
What is next for each of you? P: I've got a lot of cool projects coming up! This single sparked something in me, so I'm working on an EP of song parodies. I'm really excited to share it with everyone! I'm also working on a few small film projects that I'm writing and producing, so we're juggling a lot of big balls. D: I'm designing a new series of pins for Strange-Ways.com, and I have a super secret project in the works with our friend Topher Cusumano, so follow me on Instagram (@davidayllon) for sneak peeks and updates! Also more balls.
Get "Babashook" on iTunes
https://itunes.apple.com/us/album/babashook-feat-b-ames/id1253928354?i=1253928359
Related
Popular in the Community