I have met some truly extraordinary ordinary people in the course of writing Driving Backwards (TidePool Press) -- my recently published non-fiction portrait of small-town America. Over five years I have amassed a book's worth of stories and more. I have followed wild blueberry farmers out into the fields to learn how to rake berries, and I have traipsed into milk salons to learn the histories of a 6-generation dairy farm. I have sat in the living rooms of a near 100-year-old man who could recount smoking out arsonists as a fireman and walking the perimeter of a town as a selectman. I apprenticed myself to the woman who has commanded the cooking of buried slow-cook beans for an annual town-wide celebration for going on 28 years.
Suffice to say, I have become captivated by the richness of everyday lives. These are not the people that dominate today's headlines. They are quieter. But nonetheless remarkable.
I would like to introduce you to one of these people: Valerie. The chapter on Valerie begins:
Valerie had a predicament. Nowhere could she find farm clothes for women. Farm pants, work boots, sturdy gloves. All were measured, cut and sewn to men's proportions. "Women in farming are still something of an anomaly," Valerie explains. When she calls up farm service agencies they can't quite believe she runs her own farm. Valerie wears her strawberry blond hair short. In her late forties, she is lithe and commanding. She drives a gold Volkswagen bug. She has sharp blue eyes and favors silver hoops in her ears and a silver stud in her nose. At farm stands she wears loose flowing cottons and linens. In the milking room, surrounded by goats, she wears no-nonsense farm clothes -- Men's Small.
Valerie flies propeller planes and rides horses. But the vast majority of her hours are devoted to raising kids: 65 goats, whom she milks twice a day, and 15 children, most of whom she has home schooled. In between, Valerie has become an artisanal goat-cheese maker.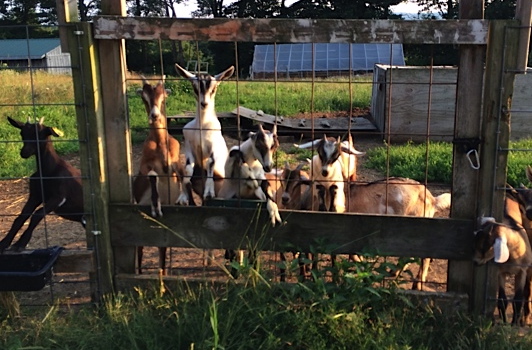 Valerie began raising goats, because one of her kids found it easier to digest. Goats begat goats and soon her house was awash in milk. She began experimenting. The experiments led to pyramids of Valencay, squares of Feta Secco and buttons of violently purple, wine-soaked cheese. Valerie now sells her cheeses at farmers markets and restaurants throughout New England. In the tiny milk-room, added as an addition to the house, she produces 200 pounds of cheese a week. As I observe in the book, "Valerie estimates that she now produces ten thousand pounds of cheese a year. The weight of one African bull elephant in chèvre."
Who are the extraordinary ordinary people in your lives? I hope you will share their stories by writing a brief description of them in the comments section below.
REAL LIFE. REAL NEWS. REAL VOICES.
Help us tell more of the stories that matter from voices that too often remain unheard.