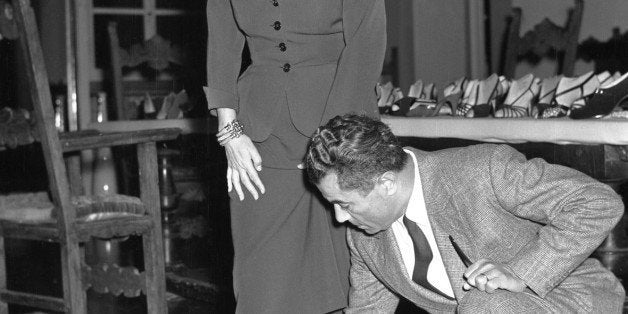 By Laura Putti
©Photo Credits: A. Coppitz – Archivi Alinari/Courtesy Ferragamo
A Dream Called Wanda
At 93 years old and still at the head of the company created by her husband, Mrs. Ferragamo opens her box of memories in her Florentine home, while launching a major exhibition.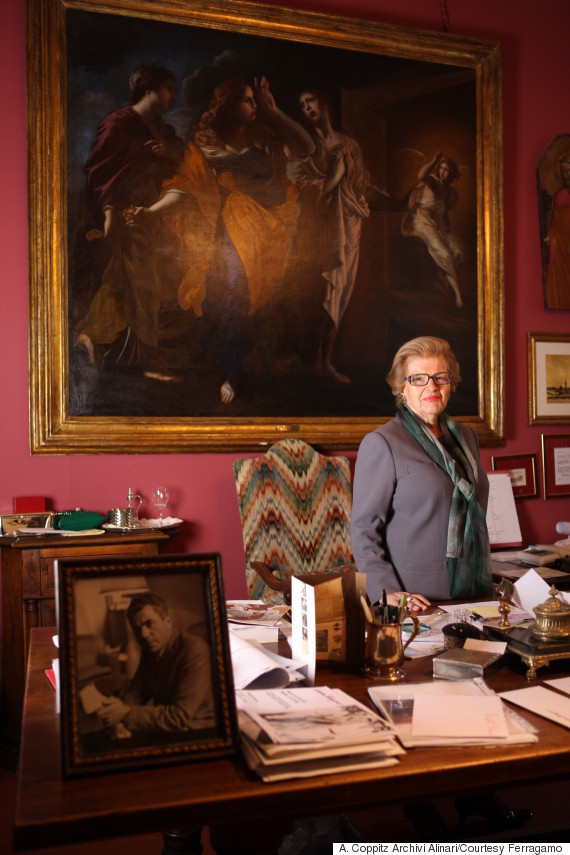 Wanda Ferragamo in her office
Quick footsteps come from the corridor into the main floor of the Palazzo Spini Feroni. "I can see some dust on the plants Giuseppe. Ask Aldo to have them cleaned please," says an assertive woman's voice. A few seconds later Wanda Ferragamo enters the Music Room. She is wearing a very becoming purple suit, her make-up is perfect and her hair well-groomed. Ninety-four in December, the "Signora" -– as everyone in the company calls her –- is still active in, but far from the daily business of, the famous Florentine fashion house. She has been freneticly involved in the preparation of the exhibition A palace and the city, in the Salvatore Ferragamo Museum -- two floors below --which has opened on May 8 as part of the celebrations for the 150th anniversary of the start of Florence's tenure as the capital of Italy.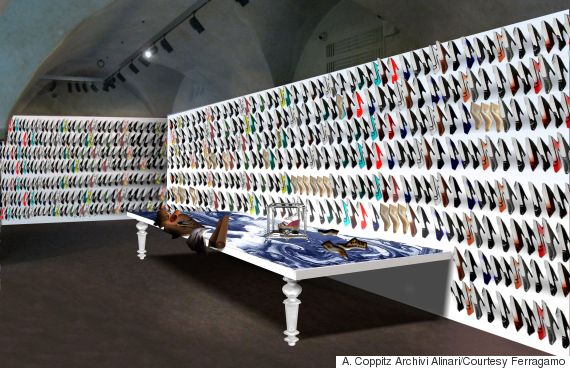 A rendering of the exhibition at Museum Salvatore Ferragamo, in Florence.
"I pay attention to the things that nobody else has time to notice," says Wanda Ferragamo. She is driven every day at 10:30 a.m to the main door of the Palazzo in Via Tornabuoni, home to the fashion house and its flagship store since 1938. Settimio, the uniformed concierge, helps her out of the car. She goes to her first floor office and calls for Giuseppe Poeta, Ferragamo's press officer, previously her personal assistant and earlier still an office assistant, one of many of those she chose herself with her legendary instinct.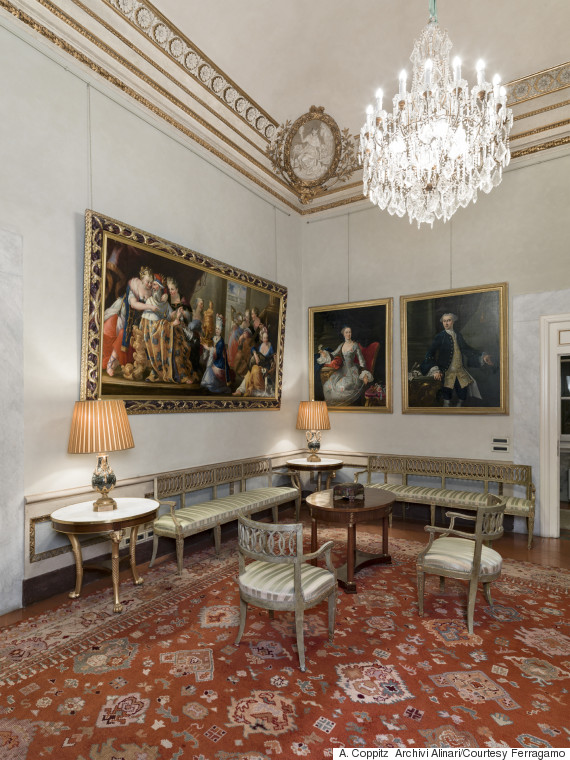 Palazzo Spini Feroni, in Florence, head office of the fashion house.
In the "to do" list of a woman who, for more than half a century, was an iron manager there are also some unusual things: to remember, for example, to organize a meeting with her great great grandchildren, those who are around 10 years old; or to tell her great grandchildren that during their summer holidays they should spend some time working in the factory in Osmannoro. Over the years her own children and her grandchildren have always done the same. The secret of Ferragamo's success lies with the family, and the monumental effort made to keep the family together.
"I have never differentiated between my six children. Everything has always been divided up equally." In the beginning, nearly all six children worked in the company. Today, only two remain: Ferruccio is the president and Massimo is chairman of Ferragamo USA. In 2006 the Signora chose a manager from outside, Michele Norsa, for the position of general manager and CEO. It was a good move, as was the decision to limit access into the company to the new generations.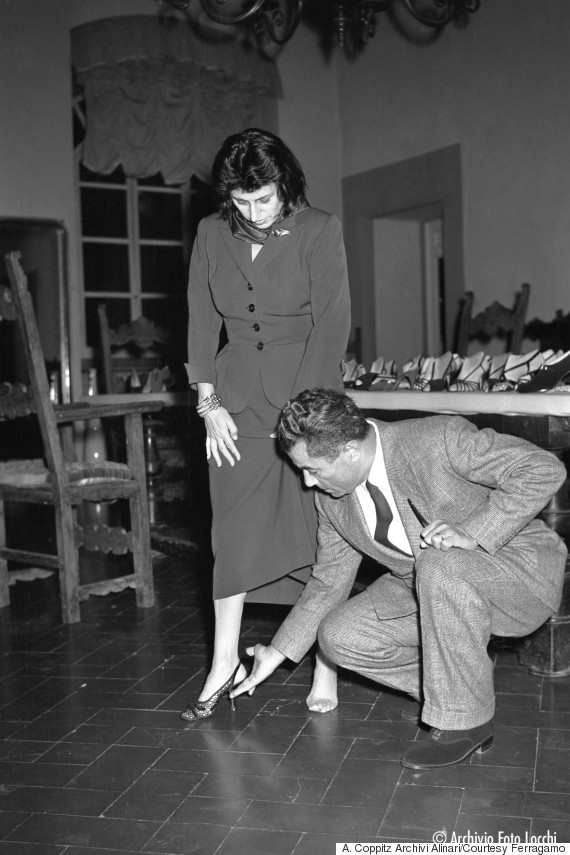 Salvatore Ferragamo with Anna Magnani in the '50s.
Wanda Miletti is 18 years old in 1940 when she meets and marries Salvatore, 24 years her elder. She is a well-educated middle-class girl, daughter of Fulvio Miletto, Mayor and family doctor of Bonito, a village in Irpinia, with, at the beginning of the 20th century, a population of nearly five thousand. He, on the other hand, has humble beginnings: born in 1898, the eleventh of 14 children, at the age of nine he is working as a shoemaker in Bonito; at 16 he leaves for America. He is a curious, intelligent, capable craftsman. He will become shoemaker to the stars in Hollywood. After the Wall Street Crash in 1929 he returns to Italy and begins to work in Florence, "with the best leather craftsmen in the world." In 1937 he buys Palazzo Spini Feroni, renovating it; from 1938 it will become the headquarters of Salvatore Ferragamo. But the "Shoemaker of Dreams," the title of his autobiography, never forgets Bonito. And when, in 1940, the Mayor Miletti asks him for a donation to build a canteen for the poor, he will be very generous.
"He came to our house one afternoon looking for my father. But he was out on his visits so I received him. I knew he was an important person and he said such a formal thing -- 'my compliments for the extensive contribution which you make to female elegance' -- which even today makes me laugh."
The rest is history: he asks her to show him her foot to offer her one of his creations; she takes off her shoes and has a tiny hole on the tip of her big toe; he doesn't even measure her feet and after a few days he sends her a perfect pair of lace up shoes with a seven heel, minimum wedge and scaled leather. This is the engagement shoe, still produced today. But in 1960, at the age of 62, Salvatore Ferragamo dies. Wanda is 38 and finds herself a widow with six children: Fiamma, the oldest, is 19; Massimo, the youngest, is two.
"I had never done anything in the company, but I knew that I had to carry on my husband's work. He loved his work, he had left so much material. It couldn't be lost."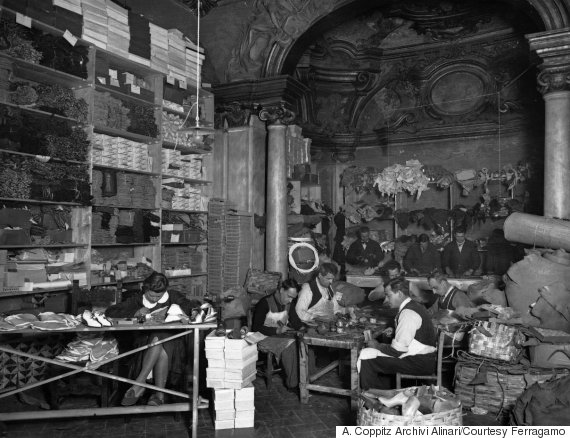 Ferragamo's atelier in 1937.
Material and wooden shapes. Some hang from the wall in the Salvatore Ferragamo Museum. Greta Garbo, Marilyn Monroe, the Duchess of Windsor, Sophia Loren, Eva Peron, Ava Gardner, Audrey Hepburn, Anna Magnani… are written on those imaginary feet.
"Nobody ever refused a pair of my husband's shoes. Salvatore loved their feet, he knew how to treat them. In America he had studied anatomy and had understood that body weight rests on the arches. That's why his shoes were, first and foremost, comfortable."
This morning the Signora is not wearing, as she would normally do, high heels. "I regretted it, but I was already out of the house. They would have been perfect with this slightly overlong suit." She is wearing a pair which is an offshoot of the famous Vara, the best selling shoe in the world: a décolleté with a grosgrain bow, fixed with a golden buckle, created in 1978 by Fiamma, the eldest daughter who started working in the company at the age of 16 and who died in 1998 at the age of 57 of a tumour, like her father. "It's still an open wound," says the Signora. It's necessary to take her back to more serene memories. Is it true that she was jealous of Marilyn? "At my age the memory can play tricks on you, but I don't remember being jealous of her. Salvatore never gave me any reason to be jealous."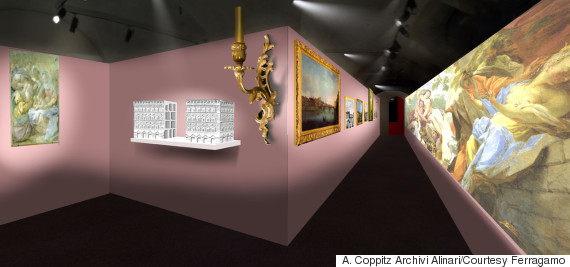 A rendering of Sala Settecento, Ferragamo's Museum.
Who knows what a splendid life, what travels, what high society. "On the contrary. Never been in the smart set, never traveled much. How could I with six children? I had a lot of help, but they were, nevertheless, six. Of trips I remember one, straight after the war, on a transatlantic crossing on the Queen Elizabeth bound for New York. It was there that we met Christian Dior. There was always great respect between him and Salvatore. The only real friendship though was with Audrey Hepburn. I remember once when she came to lunch with us at Fiesole with the inseparable Anita Loos (American writer of Gentlemen prefer blondes, screenwriter of Gigi and of Cheri, ndr.) A serving fork fell from one of our waiters' platters. It fell on to the wooden floor, making a terrible noise. I was so embarrassed. Audrey carried on speaking as though nothing had happened. A real lady."
In 2014 the Salvatore Ferragamo Group – shoes, accessories, clothing, still almost 70 percent family-owned, the rest on the Stock Market – had a 1,332 million Euro turnover, six percent more than in 2013. It has 373 dedicated stores plus 270 other points of sale in 100 countries in the world.
What is the secret signora Wanda?
"I have been helped, I've had good people around me. At my husband's funeral the workers from the factory hugged me and said, 'Don't worry Signora, we'll help you, you'll see that we can do it.' Nobody stopped working and we did it." And the competition? And Louboutin? And Jimmy Choo? "We've never been worried about them."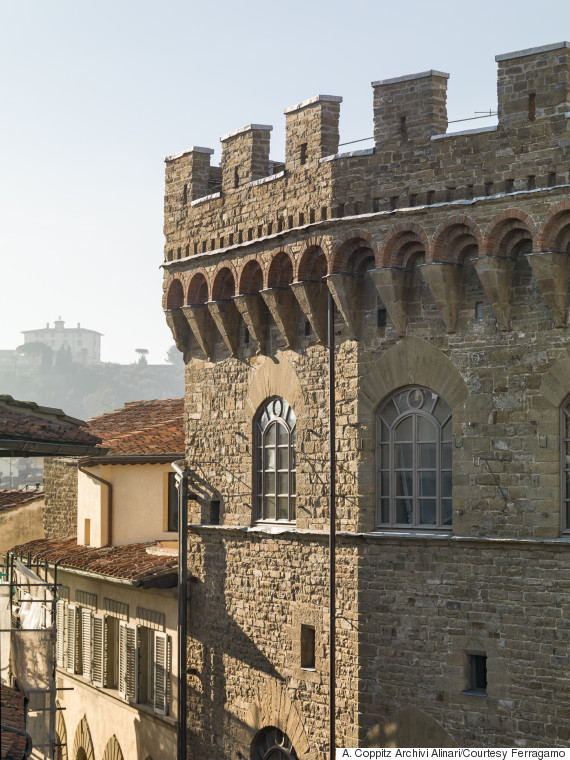 External view of Palazzo Spini Feroni.
The Salvatore Ferragamo Museum
When Ferragamo bought Palazzo Spini Feroni in 1937, with its mediaeval appearance and that uncompromising stone, it was the most beautiful building in Florence after Palazzo Vecchio. Stefania Ricci, the curator of the Salvatore Ferragamo Museum created in 1995 in the basement, says, "From 1865 to 1871 it was the Municipality Building."
This will be remembered in an exhibition from the May 8, 2015 to April 3, 2016, organized by Ricci and Riccardo Spinelli, in honor of the 150th anniversary of Florence being made the capital of Italy. The first room (there are 10) will be dedicated to Salvatore Ferragamo: 900 shoes will protrude from the walls in a display by the set designer Maurizio Balò.
"With more than 250 works of art, many of which are on loan from museums around the world, we will revisit the history of the building, which doesn't only host the well beside which, it is said, legendary Dante met Beatrice, but which from 1873 to 1898 was the office of the Gabinetto Vieusseux library. And here Henry James wrote "The Potrait of a Lady." A macabre curiosity: Girolamo Segato, known as the "Petrifier," undertook the artificial petrifaction of human cadavers here until 1836. A table from the Anatomical Museum will be in the exhibition –- it appears to be made from stone but is actually made up of anatomical parts.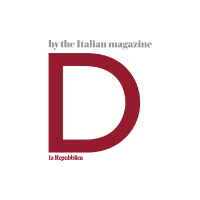 Popular in the Community