 Despite those who proclaim the death of the book as well as death of film, it has been a great year for books about movies.
Four of our smartest film critics released thought provoking new books which take a look at the big picture. They are The Big Screen: The Story of the Movies by David Thomson, Do the Movies Have a Future? by David Denby, Film After Film: (Or, What Became of 21st Century Cinema?) by J. Hoberman, and Gods Like Us: On Movie Stardom and Modern Fame by Ty Burr. Each are recommended.
Looking over the other film books released in 2012, it's striking how many of the best of them -- or at least the most compelling and interesting titles -- are biographies, memoirs or a hybrid biographical-career study. The movies are about story-telling. And if you have an interest in film, there is something about the life story of an actor or director that makes for good reading -- especially if that story is well told or groundbreaking in some way.
Here are a baker's dozen of the best film books published in 2012, listed alphabetically by author. Admittedly, I love old movies and classic Hollywood -- and this list reflects that preference. One could ask, "Are these the best film books of the year?" I think so. The annotated slide show highlights the dozen recommended works listed here.
There are also four additional titles noted at the end which couldn't be included in a top 12, but are also worth checking out.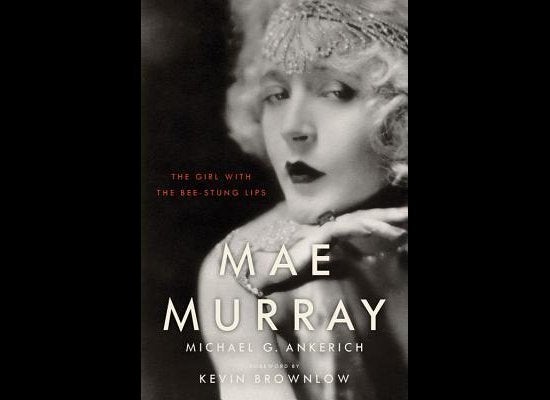 Best Film Books of 2012
Colleen Moore: A Biography of the Silent Film Star, by Jeff Codori (McFarland) is an appealing study of the life and films of one of the biggest stars of her time. Regrettably, this otherwise worthwhile book is marred by a lack of copy editing which distracts from the author's commendable efforts.
Little Elf: A Celebration of Harry Langdon, by Chuck Harter and Michael J. Hayde (BearManor Media) is a massive, 692-page scrapbook style compendium featuring more than 500 images as well as five of Langdon's vaudeville scripts, 10 profiles from vintage movie magazines and an illustrated, full synopsis of Heart Trouble (1928), Langdon's lost silent feature.
Mamoulian: Life on Stage and Screen, by David Luhrssen (University Press of Kentucky) paints the influential stage and film director as a socially conscious artist who sought to successfully combine art and commercial entertainment -- which he did. Rouben Mamoulian's credits include three of the most popular shows in the history of American musical theater, Porgy and Bess (1935), Oklahoma! (1943) and Carousel (1945), as well as noted films like Dr. Jekyll and Mr. Hyde (1931) and Queen Christina (1933). I love that latter film.
Twitch Upon a Star: The Bewitched Life and Career of Elizabeth Montgomery, by Herbie J Pilato (Taylor Trade Publishing) is based on the author's interviews with Elizabeth Montgomery (the daughter of actor Robert Montgomery) prior to her death in 1995. It includes never-before-published material from individuals associated with the actress/activist's life and career before, during, and after her hit TV series Bewitched (1964 to 1972).
Thomas Gladysz is an arts journalist and early film buff, and the director of the Louise Brooks Society, an Internet-based archive and international fan club devoted to the silent film star. Gladysz has contributed to books, organized exhibits, lectured, appeared on television and radio and introduced Brooks' films around the world.
Popular in the Community