California-based agency First 5 is running a new campaign to fight childhood obesity using the image of a chubby little girl drinking a bag of sugar through a straw. Copy printed under her photo says, "Sugary drinks like juice, sports drinks and soda can cause obesity. Choose milk and water instead." The only catch: this young model isn't actually overweight. She's been photoshopped.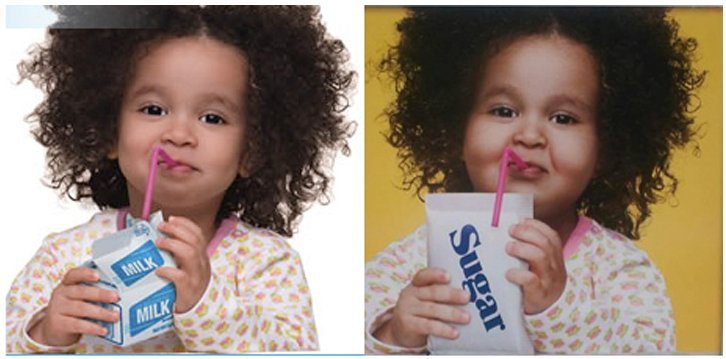 "Children deserve to be protected from this kind of damaging fearmongering. (And from creepy Photoshopping!)," Wann wrote on Tumblr.
This manipulation occurs, despite experts continually pointing out that using images of overweight kids -- who are often ostracized in real life -- is ineffective. In response to a similar widely criticized 2011 campaign, childhood obesity prevention researcher Marsha Davis told The Atlanta Journal-Constitution that making people feel badly about their weight does not lead to change. "We need to fight obesity... not obese people," she said.
Jezebel's Laura Beck doesn't buy that argument. "I'll tell you what it's like to be standing with a parent, friend, or bully when you see an ad like that -- it's humiliating, shameful, and sometimes dangerous," she wrote.