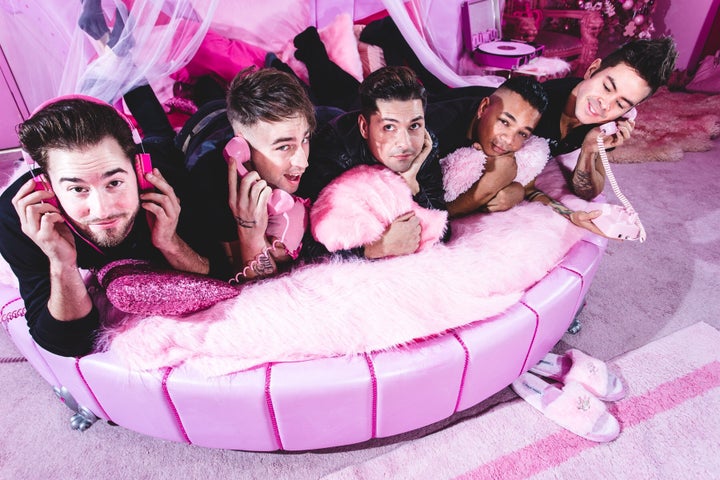 "Emo-studded angst, dripping with candy-coated heartache, wrapped in youthfully rebellious pop rock," is how Los Angeles pop rockers Romance & Rebellion would describe their new EP, AMPS & ANTHEMS. The four-track release is a response to heartbreak in a way that is different than most as it is less innocent and more focused on being an anthem for those who really just want to say "fuck off."
Romance & Rebellion - who formed back in 2015 and consists of David LaViola (Guitar, Lead Vocals), Aaron Medina (Guitar, Harmony Vocals), Aleksander James (Guitar, Harmony Vocals), Brandon Davis (Bass, Vocals), and Kyle Jordan Mueller (Drums) - dropped their debut EP in 2016 and quickly created a buzz which led to stints on the Vans Warped Tour and SXSW.
Their newest EP brings the band in a different direction from their previous release while staying true to their infectiously riveting sound. Vocalist David LaViola shares, "It was a great chance to rebrand the band in a more youthful way. With our first EP, I was still romanticizing the British Invasion era music that helped to shape our early writing, but with A&A, I let loose a little bit more and took a less conservative approach." Although AMPS & ANTHEMS is set to drop tomorrow, January 12th, today fans can get a first listen of the album here on HuffPost. Give it a spin in the player below!
Fueled by a powerful blend of pop-infused rock, Romance & Rebellion's latest release commands attention from start to finish. "Recording the EP was a lot like running a relay race: the songs being the baton, the tunes past through so many hands. I think it's part of its charm," shares LaViola. "AMPS & ANTHEMS was less about the pillowy idealistic portrayal of love, and more about the realer emotions associated with the course of a relationship coming to a close."
With an album that is as fun and relatable, we're excited to see what comes next from the band and surely hope there's a full length album on the horizon. The band's sophomore EP, AMPS & ANTHEMS, will be available tomorrow, January 12th. For more information, head on over to http://romanceandrebellion.com/.
Popular in the Community