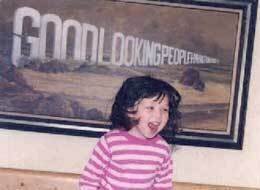 My friends Liz and Paul have a Wayne White landscape above their bed with block letters spelling "Good Looking People Having Fun Without You" off into the distance like a petrified fear hanging above their pillows. It's so wonderfully absurd it makes me laugh every time I see it.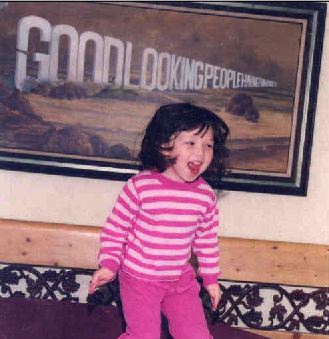 Gracie, Liz an Paul's daughter, jumping on the bed in front of the painting
Good Looking People Having Fun Without You by Wayne White
I know another couple who has a large diptych of a man biting a woman's nose above their headboard. Since there's an obvious chance that bedroom-hung art might seep into the subconscious or reflect something more personal than normal about the collector, I thought I'd take this opportunity to interview the artist and ask him, among other things, that very question: Kimberly Brooks: So what painting hangs in your bedroom?
Wayne White: A painting I did of a man riding a red rocket up through the sky. Yippeee!!! No kidding. It's classier than it sounds.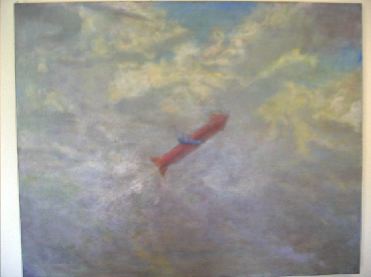 ROCKET Acrylic on canvas 32"x 40"
KB: You paint on ready-made thrift store paintings and turn them into great art. How did you come upon this idea?
WW: In the late nineties I was making American History paintings. I bought thrift store landscapes just to use the frames. One day, as a joke, I decided to use the ready-made landscape as well. Its space suggested a long row of something--Words! Thus, Human Fucking Knowledge, my first word picture was born.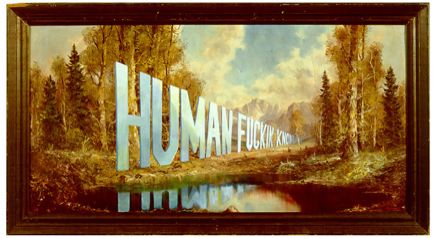 Human Fucking Knowledge Wayne White, 1999
KB: Tell me about another piece and what inspired you to make it. WW: My wife and I had a tacky slang contest and this little song was born: "Heinies and Shooters with Hotties at Hooters." It went right into a painting.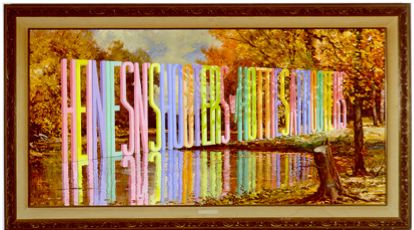 Heines and Shooters with Hotties and Hooters, Wayne White, 2000
KB: What about your creative process? Are there any routines you may have that might be unique or curious?
WW: I draw on tracing paper over the landscapes. It's always improvised. Sometimes it's simple and sometimes a gnarled mess. I'm a sign painter with no boss.
KB: We should all be so lucky. What mood you seek to impart to your viewers when they see your work?
WW: I aim to puncture. DOINK! It's funny. KB: Is there a work of art that inspires you?
WW: "Sullivan's Travels" by Preston Surges. It's about humor as dalvation. I really like that notion.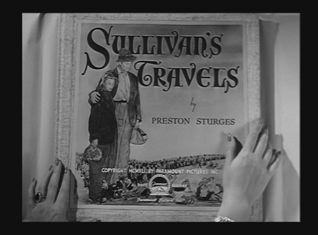 KB: Thanksgiving just passed. What are you thankful for?
WW: I'm thankful for the big stuff of course-my family, health, human kindness. But I'm also thankful that I don't have to work for Hollywood anymore.
Wayne White was born in Chattanooga,Tennessee in 1957. He received his BFA degree from Middle Tennessee State University in 1979, and moved to New York City shortly afterwards. He has had three solo shows at Clementine Gallery in New York and two solo shows at Western Project Gallery in LA. He's also had one-man exhibitions at Texas State University, Mark Moore Gallery LA, Middle Tennessee State University, and Changing Role Gallery Naples, Italy, along with several group shows, including "The Fifth Annual Altoids Curiously Strong Collection." In the Spring of 2006, White's large-scale sculptural piece, "You're Supposed to Act all Impressed" was exhibited on the plaza of Rockefeller Center as a part of Art Rock 2006. In addition, White has maintained a successful career as a production designer, cartoonist, animator and puppeteer. He has won three Emmys for art direction on PeeWee's Playhouse, an MTV Award for designing The Smashing Pumpkin's video "Tonight, Tonight," and The Billboard Award for Peter Gabriel's video "Big Time." Wayne White lives and works in Los Angeles, California where he resides with his wife, writer and cartoonist Mimi Pond, and their children Woodrow and Lulu. For more, please visit Western-project.com.