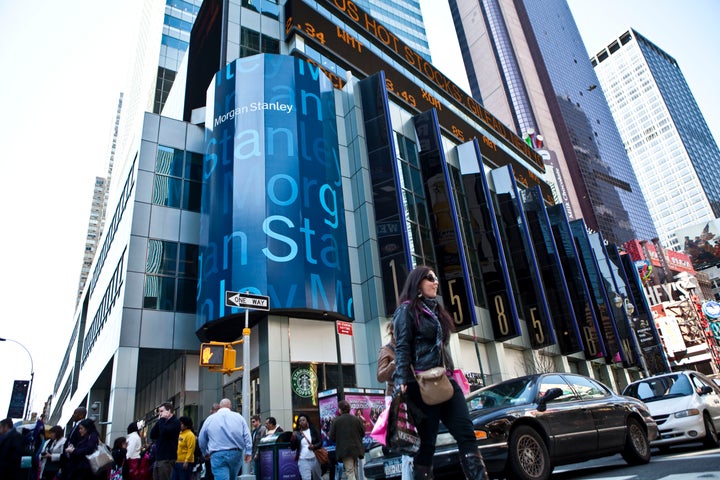 Fitch Ratings warned that it may reduce its "stable" rating outlook for U.S. banks with large capital markets businesses because of contagion from problems in troubled European markets.
"Unless the Eurozone debt crisis is resolved in a timely and orderly manner, the broad outlook for U.S. banks will darken," Fitch said. "The risks of a negative shock are rising."
The warning was aimed at the entire U.S. banking sector but sent the shares of Goldman Sachs Group (GS.N) down 4.2 percent for the day and clipped 8 percent from the market value of Morgan Stanley (MS.N).
On October 13, Fitch placed debt ratings of seven global banks with large trading operations on negative watch. Besides Goldman and Morgan Stanley, the group includes European companies Barclays Bank Plc (BARC.L), BNP Paribas (BNPP.PA), Credit Suisse (CSGN.VX), Deutsche Bank (DBKGn.DE)and Societe Generale (SOGN.PA).
U.S. banks have increased their trading operations in Europe in the past several years, while reducing their traditional lending operations, said Christopher Wolfe, one of the Fitch analysts who wrote the report. A lingering debt problem could affect bank's capital market revenue since about one-third of it comes from European counterparties, he said.
Contagion from Europe also could impact the banks' access to funding, he said.
U.S. banks appear to have managed their exposure to the most troubled "peripheral" European nations such as Greece and Ireland, said Joseph Scott, another author of the Fitch report, but Fitch fears that the problems now spreading to Italy could reach further into larger nations such as France and Germany where the U.S. banks are more exposed.
"Our concern is with counterparty risk, the impact of Europe on global economic growth and how that weighs on the economic recovery in the U.S.," said Joseph Scott, one of the analysts who wrote the Fitch report.
The analysts don't expect a resolution of the issues for another 12 months or so, and are unlikely to adjust their outlook on the sector quickly. "This is going to have a prolonged and uncertain income," Scott said.
U.S. banks haven't clearly disclosed the extent of their holdings of European sovereign debt or their trading positions with European counterparties, but have been reducing their direct exposure for well over a year, the report said. While net exposure appears manageable, the analysts expressed concern over the efficacy of hedges through credit default swaps.
On September 21, Moody's Investors Service lowered debt ratings for Bank of America Corp (BAC.N), Citigroup Inc (C.N)and Wells Fargo & Co (WFC.N) on concerns that the U.S. government has become reluctant to bail out large troubled lenders. Its outlook on the bank ratings remains negative. (Reporting by Jed Horowitz, editing by Bernard Orr)
Calling all HuffPost superfans!
Sign up for membership to become a founding member and help shape HuffPost's next chapter