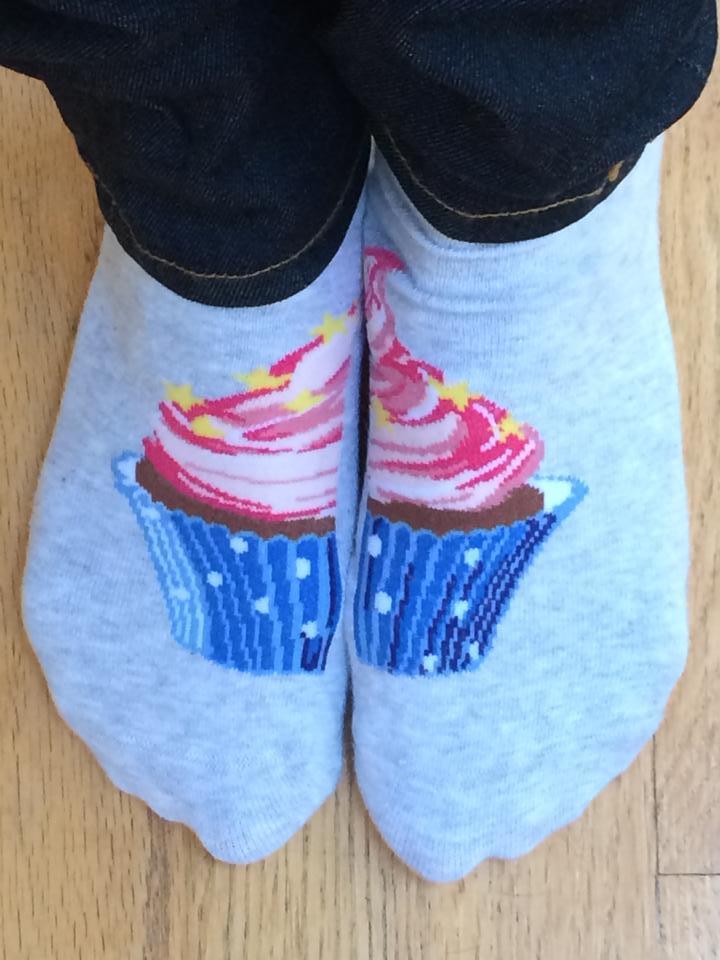 I love socks—bright colors or simple black or white, no shows, ankle length, knee high, boot liners, warm, wooly, fuzzy, fun patterns, checks, and polka dots. All warm my feet and my heart, which is why I also love to give socks as gifts.
Where does this rabid sock infatuation come from? I inherited my sock-gifting gene from my mother. The woman had a thing for socks, too, in that she loved to give me socks.
And I'm talking about well beyond childhood holidays or occasions.
My mother greeted me with a bag of socks when I was a college student home on break, a New York City working girl dropping in for a hot meal and an open washing machine, and as a married young mother visiting with my kids. My mom bought me all kinds of socks, presenting me everything from anklets adorned with lace that she stitched on herself to striped tube socks that reminded me of when I was in middle school.
Sixteen years have passed since my mother died and I still have many of the socks she bought me tucked in my drawers. I can't bear to part with them, even though some are hopelessly stretched out or are mateless due to my sock-hungry dryer.
As a result, I've bought socks as birthday gifts for girlfriends and holiday presents for my writing group. I've also included pairs in care packages for my kids whether they were away at camp or college.
Now that it's once again the time of year for buying presents, I think socks are a terrific choice for the guys and gals on any shopping list.
Here are five reasons why:
1. Socks don't break the bank.
Sock prices vary as much as their shapes, lengths, and sizes. There are expensive socks and designer socks that could take a bite out of your wallet, but there are also A-level awesome socks that cost less than a grande mocha. Target is my favorite sock hunting store and a place where I've scored fabulous foot coverings for a song. Do you need a stocking stuffer, a secret Santa gift, a present for a white elephant gift exchange, or something for that eighth night of Hanukkah? A pair of socks can fill that gift bag and leave some change in your wallet.
Is someone you know experiencing the winter blues? Tugging on a pair of fuzzy socks is like a hug that starts with your feet. So give a sock hug this holiday season, and add in a snugly blanket for an extra layer of comfort.
3. All those age-focused-what-not-to-wear articles steer clear of socks.
I'm a fifty-something woman, and there are countless lists dictating the things I shouldn't wear, including hoop earrings, long hair, short skirts, and Ugg boots. I wear them anyway. Yet somehow socks are in a neutral zone. Ageless. That fact alone takes the angst out of at least one item on your gift list. Wrapping a pair of socks in a pretty box will let you steer clear of those ever-abundant don't-wear lists.
4. Socks are an easy fit.
Have you ever tried to buy a sweater or pajamas for someone when you don't know their size? Or you know their size, but every store cuts things differently. I worked in retail for the past few years and I've been asked on numerous occasions during holiday time to slip on a sweater or jacket to help someone size a gift. However, if you're buying socks and know the recipient's shoe size, you've got their sock size, too. What's not to love about that?!
Does the person you're buying for love music, cats, ice cream cones, Hello Kitty, unicorns, or a specific sports team? A pair of socks exists for pretty much every occasion, mood, or interest. A sock gift in a theme the recipient loves shows that you care….and that you've been listening.
Next time you're wandering the mall or store stumped for a gift, check their sock department and pick the gift that can nourish a friend or relative's soul and soles.
Related
Popular in the Community