Every year, I write a post on thirstybastards.com featuring the spookiest pumpkin beer labels released in the past 12 or so months. I talk about the quality of the illustration, the choice of imagery, and then general aesthetic appeal.
It's not very often that I will talk about the beer inside the vessel, mainly because not all of the labels about which I write even make it to my local shelves. That doesn't mean I don't get around the pumpkin beer block - it's one my favorite styles. I snatch up what I can find, and if I happen upon a cool spooky label, tasty or not, I'll be sure it gets included on my site.
Do I have favorites? Of course. Here's five of them. If you are as attracted to the outside of these bottles as I am, there's a good chance you will love the contents. I'll have my Best Of... post up in the next couple of weeks, but this should tide you over until then. Cheers!
Dogfish Head Punkin Ale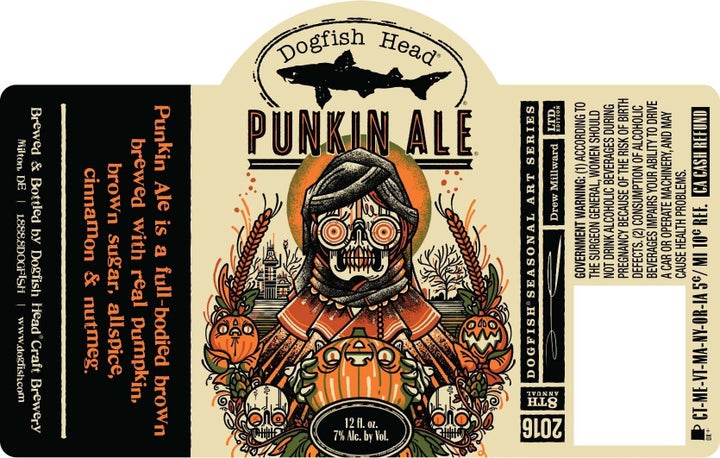 Dogfish Head features a different artist every year for their four seasonal labels. This year's artist is Drew Millward. What is consistent each and every year is the quality of this top-notch pumpkin ale.
Like the best of this style, it's got cinnamon and spice that don't overpower. It's malt-forward with just the right balance of pumpkin flavor. This ale is sold in 4-packs.
Jolly Pumpkin Artisan Ales La Parcela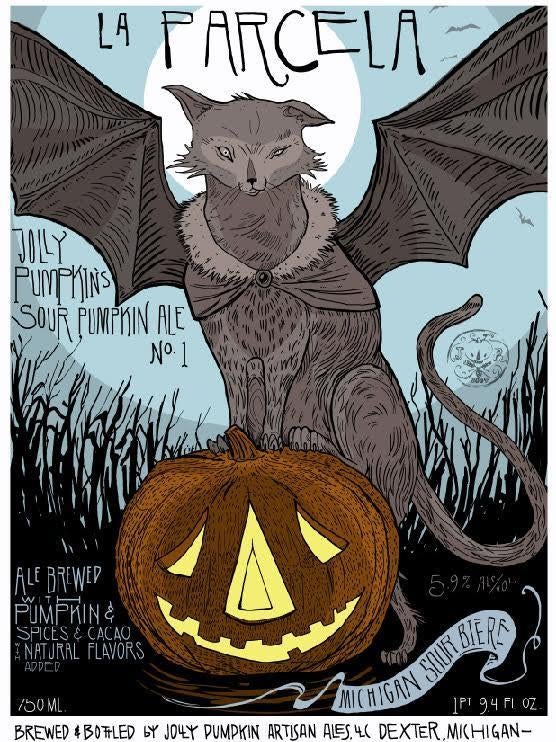 I'll gush about the gorgeous labels by artists Adam Forman any chance I get. Sour ales are not everyone's favorite, but no one is more devoted to the style than Jolly Pumpkin Artisan Ales.
If you like tart and fruity with your gourd, this one is for you.
Uinta Brewing Company Oak Jacked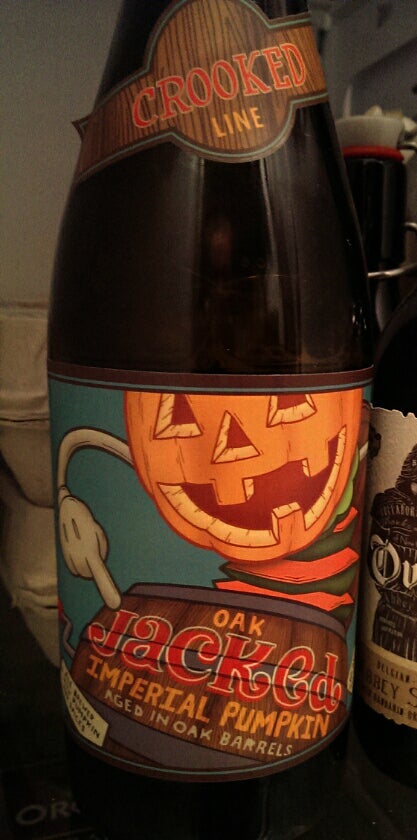 A classic jack-o-lantern pops out of a wine barrel with great big Mickey Mouse gloved hands! This bottle of imperial pumpkin ale only comes in 750ml and it's a whopping 10% ABV. You'll want to share this when you pop the cork. Your friends will be glad you did.
In addition to a big malty ale with pumpkin flavor and spices, you get oak barrel char and earthiness. Okay, maybe share this with a couple of friends.
Ballast Point Pumpkin Down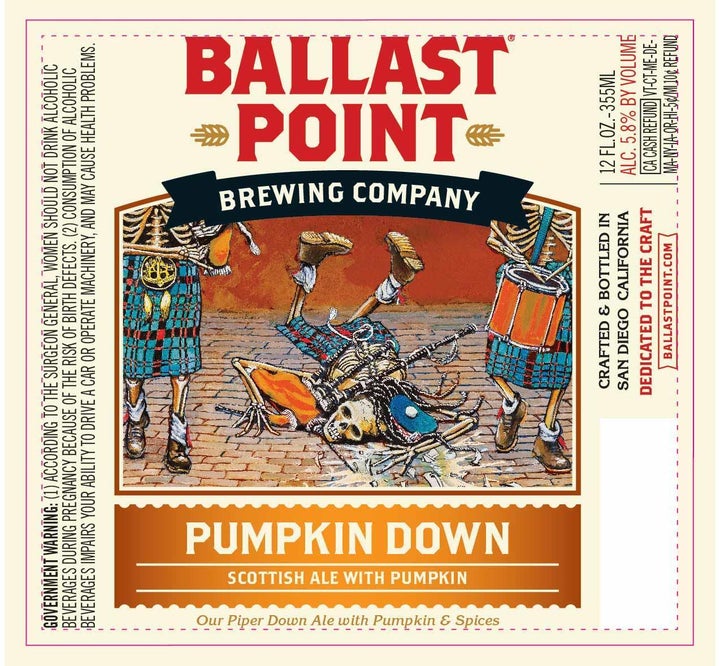 Ballast Point got creative with their popular Scottish ale, Piper Down, and added, well, pumpkin. If you hold the labels side-by-side, you'll see they merely changed the color scheme to reflect the seasonal hues. Both labels are pretty hilarious. I haven't been able to find Piper Down in my area, but I was very excited when 6-packs of this one showed up at my local bottle store.
Scottish ales are traditionally malt-forward and full bodied. The caramel and toffee flavors from the malt combined with pumpkin make for a delightful combination.
Greenbush Brewing Unicorn Killer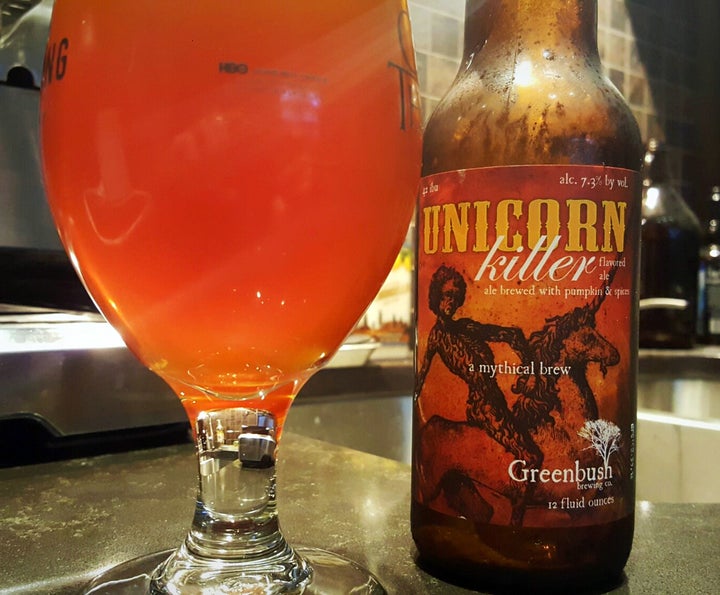 If images of jack-o-lanterns aren't plastered all over your beer label, it better be bone-chillingly creepy, right? This hairy unicorn rider is just that. Plus, if the name of this beer is to be believed, he's got serious plans for this single-horned horsie.
I found this ale to lean more toward the anise side of the pumpkin spices, which makes for a nice variation to the sugary cinnamon you would expect from the style. My Whole Foods had this in 6-packs.
Labels Worth Keeping
Seems a shame to throw that sweet label away. So don't! If you find that you like a label enough to keep it around, I invite you to check out my post on How To Remove Beer Bottle Labels intact every time. Frame them, scrapbook them, create a beer journal, make a coaster... There's lots of ways to keep the labels you love.
Popular in the Community