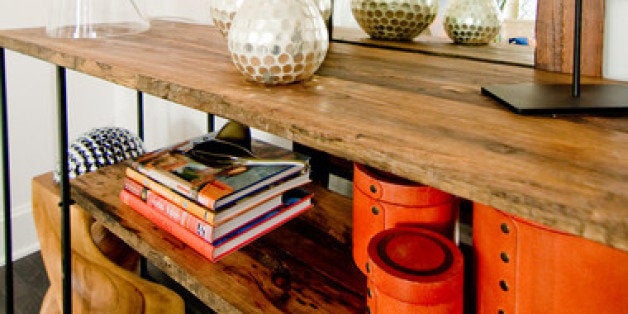 I love the idea of refreshing your home with new decorating ideas, giving them a lift as the new year begins and breathing new life into a space. But you can't always buy new furniture or create an entirely new layout for a room, especially when it's small. However, there are innumerable ways to refresh the feel of a space with a few key adjustments. Here are some of my favorite decorating ideas to create good flow in interiors:
Adding a mirror to a room is a great way to open up a space that may feel small or dark. Mirrored surfaces reflect light, and that reflection creates the illusion of more depth. This means a brighter space that feels larger! For a smaller wall, a round mirror with a detailed frame is a perfect option. But if you have the wall space, a gallery mirror is just the thing to really open up a room!
A new rug is a perfect way to refresh a room! Rugs have a natural way of giving framework to the space they're in, and all the more-so when it's a large area rug. They offer an anchoring point for furniture, adding more definition for decorating; they section off areas of the floor to create a natural order. This definition not only helps during the actual decorating or rearranging process, but once complete, our eyes read that change in material or color as a boundary, defining areas as separate spaces. Using patterns and colors in a rug can be another anchor, influencing the room's overall color palette.
Establishing a focal point within a seating area is a great way to give structure to a room. Fireplaces or TVs are perfect points to focus on and around which to create a gathering place --but be sure to choose just one! This gives the eye a place to settle, relaxing one's gaze rather than causing it to jump around the room. This also helps direct the flow of the room, as seating and other furniture can be arranged around this point, simplifying the decorating process, and allowing ease of movement.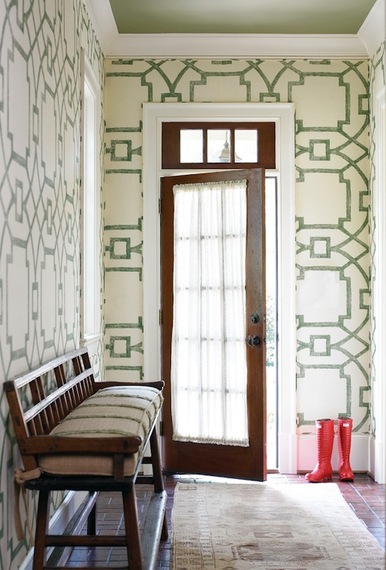 Tidy up your home, beginning with the front door, in! Creating a smooth and clear entryway translates into good energy flow throughout your interior. A principle of Feng Shui, it creates a precedence of serenity from the moment you walk into your house, clearing the mind and allowing you to take a moment to pause and relax when you enter your home. When an entryway is clear it peacefully moves you into the rest of your home and encourages clean, clutter-free spaces throughout the resulting rooms.
Matching Furniture & Wall Colors
One of my favorite decorating ideas -- try painting a wall the same color as the couch, table, or chair that sits in front of it. When your furniture matches the color of your walls, it will visually fade into the wall and create the illusion of a more open space. This works best with neutrals, like whites or grays, which offer a clean backdrop for the rest of the room. Simple furniture shapes and structures also work best with this mode of decorating. Adding pops of color in nearby flowers or frames personalizes the area without requiring a huge statement piece that overwhelms a small space.
What are your favorite decorating ideas on how to create a great layout in your home?
images: 1-3, 5 Tastemaker; 4 Better Homes and Gardens
Related