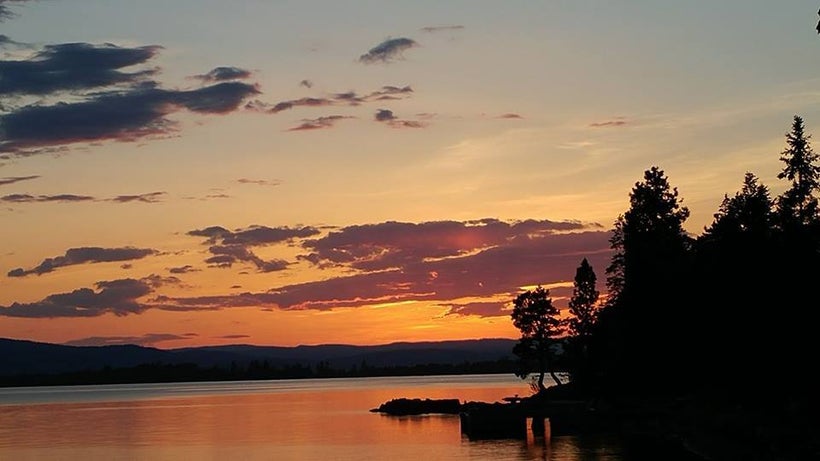 Some vacations turn into legends. Stories remembered around every family gathering and holiday table for generations to come. It's more than a happy memory. It's a journey that goes deep into your soul. It's hard to describe, but that's what a family vacation is like at Flathead Lake Lodge in Montana.
One of the reasons for this feeling is that you always remember your "first". Many of the families vacationing during our stay said it was the first time their kids had the freedom to safely play, roam and explore the great outdoors. For one boy, it was his first time catching a fish. From the size of this creature he won't have to exaggerate any fish tales. For my husband it was his very first time on a horse. Our young wrangle was as experienced in handling macho trepidation as she was handling horses. She confidently promised that she would have my husband riding like a cowboy. Sure enough, by the time we left he was smiling at a full gallop. Admittedly this was my first visit to a dude ranch and it most certainly will not be my last.
Describing Flathead Lake Lodge as an all-inclusive dude ranch would be an injustice. Sure there are over 100 horses for every skill level along with riding, roping and rodeos but there is so much more. A far better description would be a luxury family summer camp.
The ranch is sits on 2000 acres nestled between the Rocky Mountains and the shores of scenic Flathead Lake underneath Montana's big sky. Guests feel like they are a million miles away from civilization when it fact there are within walking distance to the quaint town of Big Fork. Don't miss visit to Glacier National Park which is just 40 miles away.
Thanks to its unique location the lodge offers plenty of land and waters ports in addition to riding. There are plenty of mountain and shore trails for hiking and biking. Besides the pool the lake offers endless possibilities for fun. Boat rides, water skiing, kayaking and paddle boards are all available. You can even learn to sail and take a ride in an antique sailboat. When we visited, we walked to town to watch world class whitewater races. For guests who simply want to kick back and relax, there are plenty of patio chairs, porch swings and fire pits made for doing absolutely nothing but enjoying the company of your family.
Families will enjoy luxury, rustic lodge rooms and cabins complete with cozy quilts. 1, 2 and 3 bedroom accommodations are available including lake views and stone fireplaces. Flathead lake lodge is the ultimate multi-generational vacation spot perfect for reunions and even destination weddings.
The Avrill family has been running the lodge since 1945 and actually the term guest is a misnomer. When you stay here, you're immediately part of the family and told to make yourself at home. If you're the first one up at the lodge in the morning, help yourself and put a pot of coffee on for everyone else. Staff members are always eager to lend a hand. When work is done, they mingle with the guests. The logs are right by the fire pit when evening falls and it's time for a campfire. Just send the kids up to knock on the kitchen door and there will be a basket of s'mores makings ready for the taking. Don't be surprised to see some of the staff wander out around midnight just to make sure you didn't miss seeing a great view of the Northern Lights as they magically appear.
Staff members were all friendly and extremely helpful. Hospitality and warmth is something you're born with, not something you learn out of a book. After a fresh, delicious, home cooked meal was served, it was time for a scavenger hunt with the kids. Parents could enjoy dessert together or relax with a glass of wine. The staff quickly became heroes to these kids. When it came time to say farewell, there were tears on both sides. Maybe you're not into horses or have an infant but want to attend the chuck wagon dinner up in the Mountains. No problem, just hop aboard the antique firetruck.
From June thru August, the lodge offers seven-day vacations, with all guests arriving and departing on Sundays. Prices from $3998 per adult, $2985 for kids ages 6-17 and $1675 for kids 3-5. During May, September and October there are 4 night weekend packages offered for groups. Due to its location, flight connections can be a little tricky so it's recommended that you work with a travel agent who can help you find the best transportation options for your family.
No matter how you get here, be sure to get here. Take this old fashion vacation experience and let it change your family's future.
Calling all HuffPost superfans!
Sign up for membership to become a founding member and help shape HuffPost's next chapter
This post was published on the now-closed HuffPost Contributor platform. Contributors control their own work and posted freely to our site. If you need to flag this entry as abusive,
send us an email
.