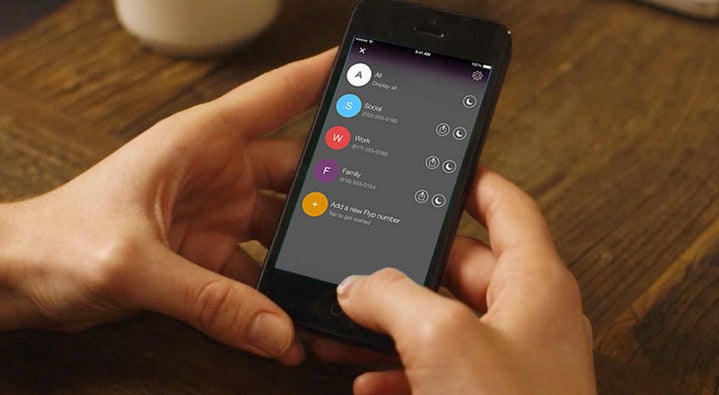 If you hate the idea of having a work phone and personal phone, paying long-distance calling overages and feeling obligated to pick up calls from unknown senders, there's an app that can help resolve these problems for you. Its solution: Set up multiple phone numbers on a single device, and do it without going through local wireless carriers.
Flyp, a telecommunications company, recently debuted an app that lets people buy and use several phone numbers to keep different aspects of their life separate -- a number for work contacts, another for friends, one for dating and so on. The app has been available since March in the U.S., and it's is about to go international.
CEO Peter Rinfret told The Huffington Post that an update to the Flyp app will be rolling out country by country over the next couple of months in parts of Europe and Asia, Latin America and Canada, and will let people purchase phone numbers for those places, too.
The service, which works on iOS and Android, currently lets you select numbers in your preferred U.S. area code and offers the first number free; additional U.S. numbers cost $2.99 per month. International numbers will cost $4.99 to $5.99 per month after the first free number; the price varies depending on the country.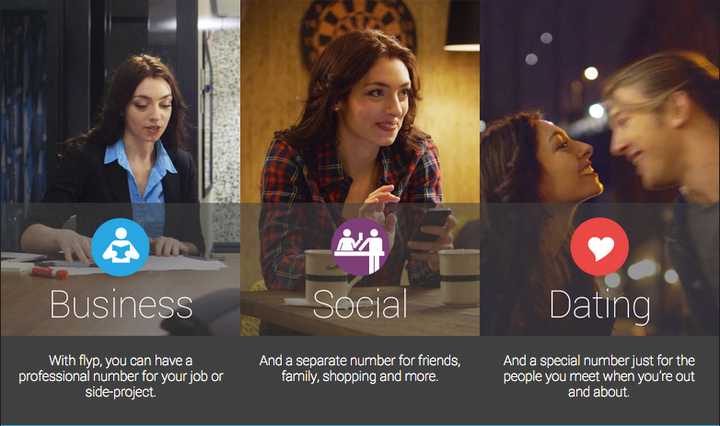 Flyp's business model rests on the idea that people are increasingly reliant on their mobile devices but really have no control over them. Mobile phones have become "vehicles of intrusion," Rinfret said, because "our personal numbers are shared across social media, retailers, shopping sites and more." Companies or individuals can come charging into your life with a phone call, and there's not a lot you can do about it.
By having multiple phone numbers and distributing them for specific purposes (rather than using multiple cell phones), Flyp users can "selectively grant access and communication according to their preferences, not the callers'," Rinfret said. In other words, if an unknown number calls your business-only number, you can decide whether or not you want to take it. If you're off the clock, then you can ignore the call without worrying about what kind of call it was. 
The company's app has a few other features that could make sending and receiving calls a bit easier to stomach. The app lets you record different voicemail greetings for your different numbers. If an unwanted call comes through, you can activate an outgoing message that says your number has been disconnected. Rinfret also plans to introduce in the next month or so a "panic button" feature that can immediately inform authorities and document harassment.
Flyp isn't totally alone in the marketplace. Currently, mobile phone users looking to use multiple numbers can download apps like Hushed or Burner, which allow users to buy temporary, disposable phone numbers. On Flyp, however, users actually own the numbers and can use them long-term.
Here's how that works: The company legally purchases phone numbers directly from mobile providers and sells them through the Flyp app.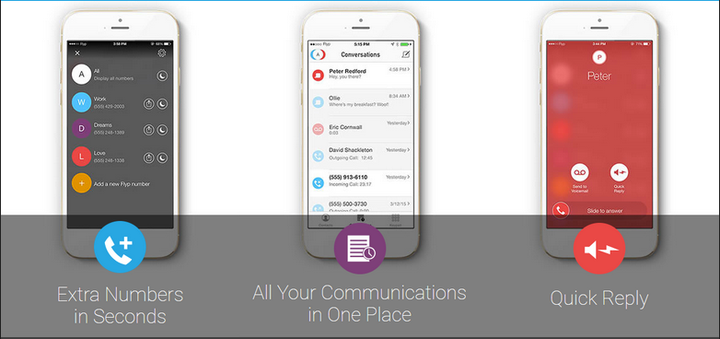 Should telecoms like Verizon and AT&T be threatened that people can purchase new phone numbers through Flyp? Probably not. Today's major phone carriers make their money from data charges rather than talk minutes and texts.
"As long as mobile phone users are using data, phone carriers will get money," Moe Kelley, a director at Altman Vilandrie & Company, a strategy consulting firm focused on tech, media and telecommunications, told HuffPost. 
That said, Kelley expressed some skepticism about Flyp's role in the marketplace. He argued that phone numbers are only so important in an era when people increasingly use online services like Facebook Messenger to stay in touch.
Earlier this year, Ryan Knutson at The Wall Street Journal suggested that disconnecting from a smartphone carrier's network and going "WiFi-only" is a real possibility for a growing number of people.
Flyp is useful, but mostly for those who make and receive a ton of phone calls.
"The phone number has become less and less important over time, and people are much more commonly using emails and social networks like Snapchat and Facebook," Kelley told HuffPost. "People don't talk as much as they used to, and even when they do, the phone number doesn't matter as much."
Rinfret has a defense for Flyp, though. 
"We understand that communication via social channels and video are important, and we are planning to accommodate these technologies," Rinfret said. "FaceTime, Whatsapp, Facebook Messenger and others are all closed systems. If all parties don't use the app, there's no way to communicate. With Flyp, you call or text to a real number, not an app, so there's no issue with connecting."
Calling all HuffPost superfans!
Sign up for membership to become a founding member and help shape HuffPost's next chapter