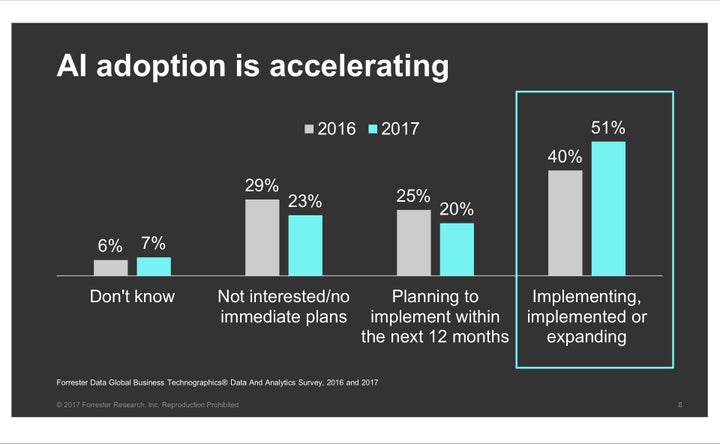 I first want to give a shout out to Forrester for their Tap app. Available in the App Store and on Google Play, the app allows you to quickly give real-time customer experience feedback—and be part of a community of other people doing the same. It's an intuitive, community-driven way to help brands improve.
Harley Manning opened Day 2 by highlighting the privacy concerns brought up by attendees in the mobile app's Q&A section during many of yesterday's presentations.
This was a fitting place to start, because even among a crowd that understands the impact of AI there still exists a deep concern for how all technologies—including tools like Slack that we've already widely adopted—are handling the data they're collecting on us.
In the end, there's a deep truth we must acknowledge: we don't entirely know. And even if we do know for sure, who is to stop once private information from being stolen, shared, or sold years from now? It's a tradeoff we're all making—signing into products and services, pouring our all into them, and essentially hoping that the personal and often sensitive information we share within them will be forever respected and safeguarded.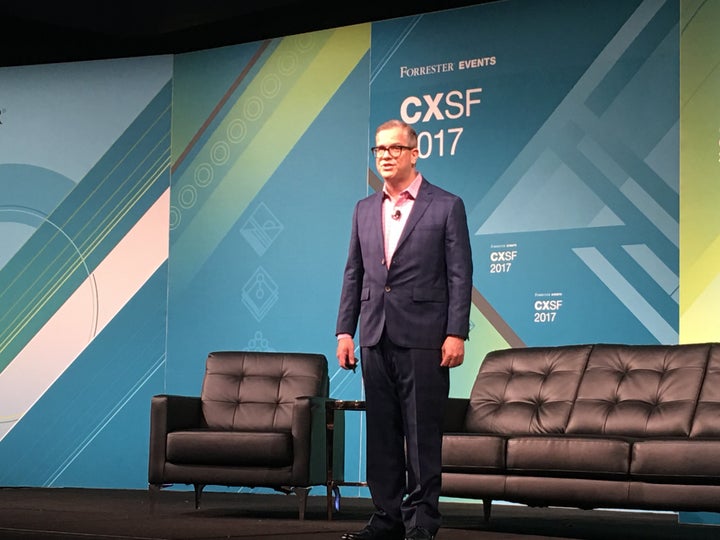 J.P. Gownder, Forrester's leading voice on AI, opened the session with a high-level overview of these three key points:
1. The robot revolution is inevitable. Consider the following: 25% of tweets during the presidential debate were by a bot; 17% of jobs will be lost by 2027 (with 10% expected to be replaced).
2. Effective CX requires human design elements. Here are the 3 Gownder featured:
Comprehension. This means lowering friction between humans and machines. He gave the example of Autodesk hiring MFA creative writers to write natural language conversations for their chatbot.
Personalization. As a retail clerk is with a potential customer, for example, collected digital data should create individualized and highly-relevant customer experiences in real-time.
Generosity. A human element that is often the underpinning of a great customer experience.
3. Recommendations for how to humanize automation. Gownder's points here focused on the need to continuously find ways to infuse those human design elements into what we're building.
Additionally, Gownder encouraged attendees to see how even the greatest technologies can be wrongly applied.
He cited how 60% of people say they are not interested in using chatbots for customer support; highlighted the story of Best Buy's Chloe robot, which is loved by some customers and completely frustrating for others—a situation that ultimately only adds to the general sense of distrust around robotics; and he featured this video:
A take home line from Gownder:
"Automation can be a minefield for customer experience."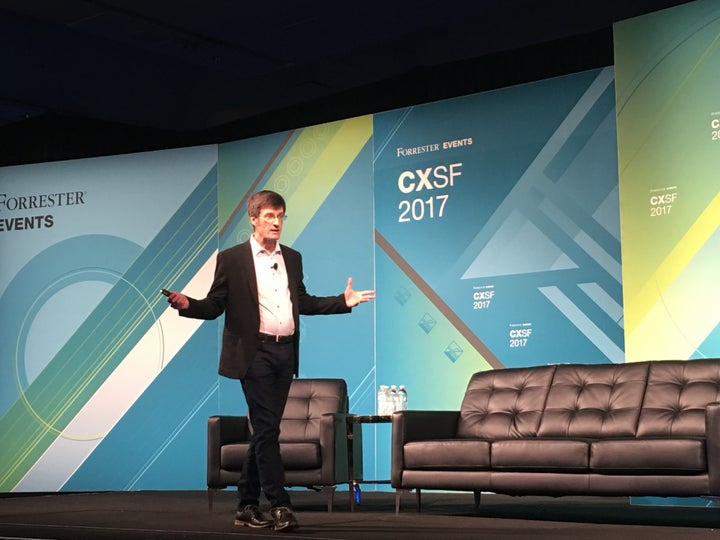 Next up, the attendees had the privilege of listening to Chip Heath.
Heath is a professor at the Stanford Graduate School of Business, and is the author of four incredible books: Made to Stick: Why Some Ideas Survive and Others Die; Switch: How to Change Things When Change is Hard; Decisive: How to Make Better Decisions in Life and Work; and The Power of Moments: Why Certain Experiences Have Extraordinary Impact.
We spend way too much time (80% to be exact) focusing on fixing problems rather than "building peaks," those moments that truly move customers and often result in significant revenue gains.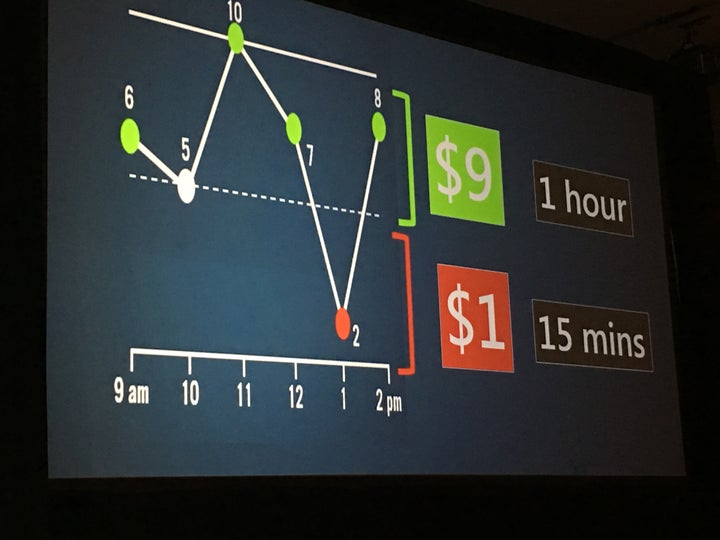 On 1% of flights, Southwest Airlines used hilarious lines to describe their flight safety announcements. The impact? Customers on those flights took, on average, an extra ½ flight over the next year. This resulted in an additional $138 million dollars.
Expedia, on the other hand, after over a decade of Heath using it, still does not surface the nonstop flights he prefers. "This is a website with elaborate data about everything I've ever clicked on, and they're only using it for ads rather than to improve the customer experience."
The key to unlocking the potential of human + machine is being responsive to our customers. And this means being there, understanding the situation, and surfacing what's relevant in-the-moment.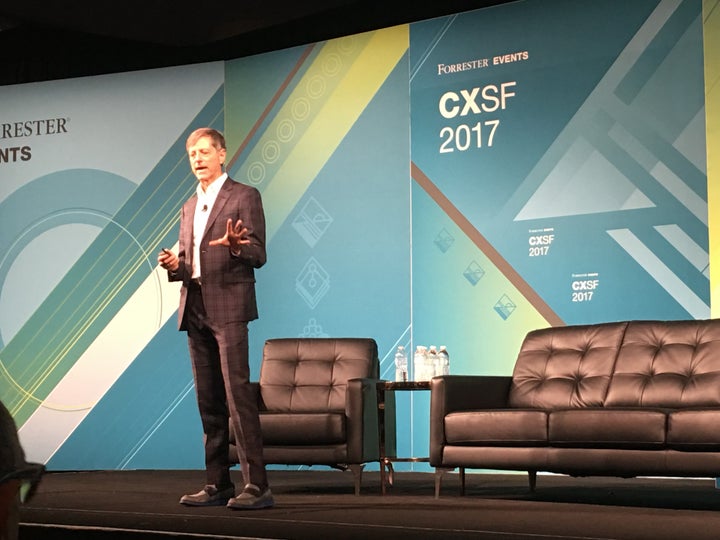 Mark McCormick of Wells Fargo then spoke about the importance of empathy. He highlighted this video from Brene Brown:
Even analytics can be empathy-based.
Empathic companies share customer insights and findings, immerse employees in the customer's world, and incorporate empathy-building activities throughout the company.
Recommendation: Harvard's Project Implicit.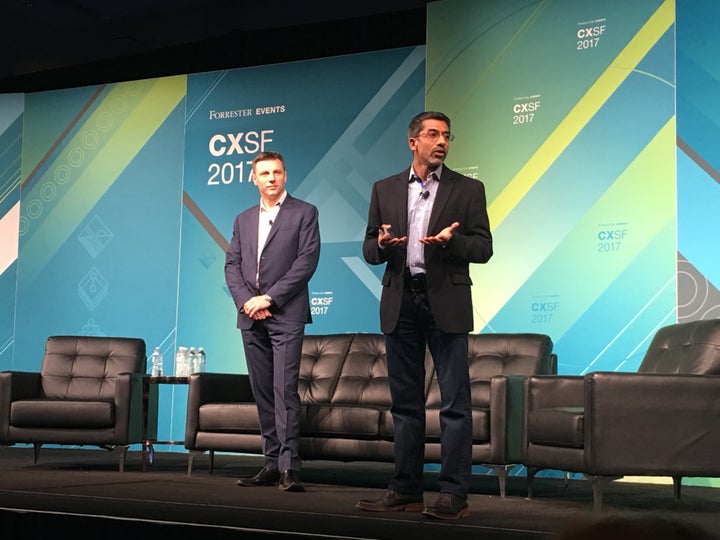 Sandy Sharma and Sasha Frljanic of Indigo Slate then spoke about Ruptive, their platform for integrating and streamlining all aspects of CX. Three of their customers from Microsoft came to the stage to talk about how they've used Ruptive to scale and digitize their work around customer experiences.
Billed as the "world's first Human Experience Innovation platform," Ruptive holds a unique place at the intersection of technology and the customer experience.
It allows you to make live customer journey maps, share this information across departments, capture the insights, and project manage the actions you take based on those insights. Here's their promo video:
On what I think is a perfect note to end this recap on, Harley Manning interviewed Matthew Stoudt of AppliedVR.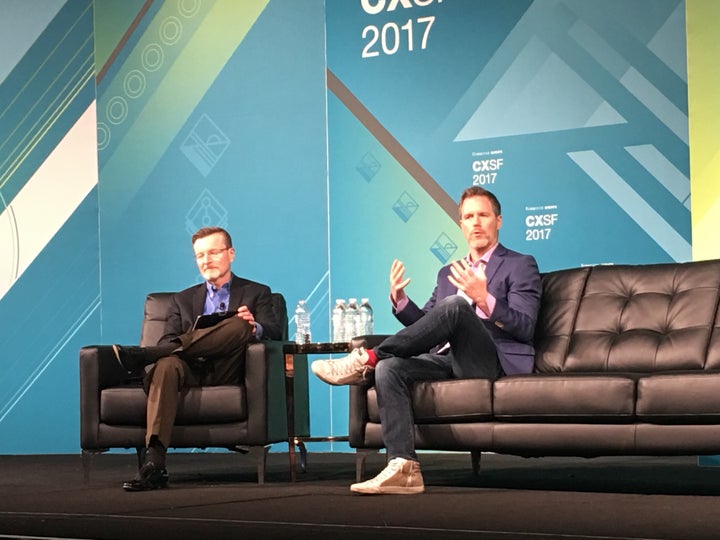 AppliedVR has seemingly infinite capacity to improve the customer experience, and it's all built around empathy.
VR can allow people to live a few moments in the life of something else (a piece of coral, a person with macular degenerative disease, a person in deep poverty). These experiential dips can help us build empathy—unlike anything ever has before.
Leaders need to get over the idea that empathy is "soft" and somehow not important for business. Research is and will continue to prove otherwise.
Stoudt sees rapid adoption of VR within 5 years.
That's a wrap from Forrester's CXSF 2017 event. I learned a ton and will certainly be attending CXSF 2018.