In the final days of 2017, I've had the privilege of conversing with Usher Morgan, the award-winning filmmaker whose work include Prego, Fine Dining, Trapped Inside and the upcoming feature film, Pickings.
Morgan's first narrative film was an award-winning comedy short entitled Prego, which was written with the help of Seinfeld writer Andy Cowan. It won the Best Comedy Short Award at the 2015 Manhattan Film Festival, Best Comedy Short Award at the 2015 Chain NYC Film Festival, 2 awards from the 2015 Indie Fest Film Festival, and the Best Comedy award at the 2015 Trinity International Film Festival. Prego amassed a cult following online with more than 800,000 views on YouTube since its release in December of 2015. Not one to rest on his laurels, Morgan quickly began working on his debut feature film, a highly stylized, neo-noir crime film entitled Pickings.
I've had the chance to speak with Morgan and got an exclusive look into the making of this independent neo-noir crime film, which will make its way to theaters in March of 2018. Below are extracts of my conservation with the filmmaker.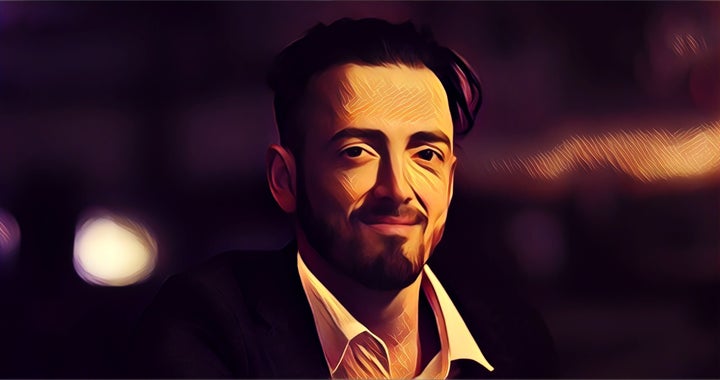 Mike: Your first short film was a silly, quirky comedy, why make the transition into a neo-noir crime drama for your first feature film?
Usher: One of the reasons behind the making of Prego was to prove to myself that I could write dialogue and make it interesting. Making an interesting movie about two people sitting at a coffee shop talking about their unborn child isn't easy, but the success of that short film gave me the confidence I needed to go ahead and turn Pickings into a feature-length film. I've had the story in my head for a very long time, and every few months I would go back to it and see how I could produce it and turn it into something memorable; I've been writing it consistently for about a year before I was ready to shoot it. Making the transition from comedy to crime wasn't that challenging actually, the real challenge was the making of the film itself.
Mike: You made this movie for $350,000, how did you raise the money?
Usher: Fundraising didn't really turn out that well for us. We had an Indiegogo campaign that failed miserably, the person I trusted with it didn't really do her job, and I ended up with a dead campaign that raised less than $3,000. So when it ended, we were faced with the option of either giving up on the idea of making this film the way we wanted to make it, or going on a never-ending campaign to raise funds from investors and producers who didn't know who we were and had no reason to trust us. A lot of people said "no" to the idea, the consensus was that we couldn't make the movie on the budget that we did, but I guess we proved them all wrong. At the end, I used my own money to fund this film. Took loans, sold assets and maxed out credit cards.
Mike: That seems like a pretty big risk.
Usher: What can I say, I like to live dangerously.
Mike: How long did it take to shoot?
Usher: Total of 35 days of filming, over the course of a year. We had to take some breaks in between, but we managed to pull it off.
Mike: You wrote, directed, produced and edited this movie. Was that out of a budgetary constraint? or just the desire to be in control?
Usher: I'd say a little bit of both. Being the person in charge of writing, directing and producing a movie of this scale was going to be a very difficult and lonely process, and I knew that going in, but the support of my cast and crew helped me through it. My actors Elyse Price, Joel Bernard and Katie Vincent (who was also the co-producer / music supervisor on this film) were my source of inspiration and strength throughout the making of this film, I couldn't have done it without them. At the end this whole movie was film-school 101 for everyone involved, and we all grew tighter as a film family because of it.
Having said that, I would admit that this was a very stressful shoot. There was a lot riding on this, and we had plenty of moments where it seemed like the movie couldn't be finished. As the person in charge, I had to deal with a lot of stress and a lot of drama, but I always knew that I was going to finish it, one way or another. A lot of people told us that we couldn't pull it off, thank God we didn't listen.
Mike: Pickings will be released to theaters in March of 2018. How did you manage to get that kind of distribution on such a low budget movie?
Usher: Before we ever started filming I came to the conclusion that self-distribution was the way to go. So I had to start my own film distribution company (Dark Passage Films) and making Pickings its first theatrical release. A great deal of thanks is actually owed to AMC Independent, they took a risk and agreed to play the film in their theaters which led to an expansion of our film's marketing strategy and gave us the confidence to approach other venues. We are currently in full-throttle PR mode, and are working on getting the film seen by as many people as possible. I'm very excited to unleash this film into the world and I can't wait until it hits theaters in 2018.
Mike: What's the secret to making a big-scale film like that for very little money?
Usher: Well, I hired a Director of Photography (Louis Obioha) who knew what he was doing, he has a real good eye for cinematic quality and I have really high standards, so the two go hand in hand. We scouted and shot on locations that didn't require a lot of decorating or fancy set design, we spent a significant portion of our budget on the camera department. Generally speaking good cinema cameras and great lighting can be very expensive, but if you're smart and if you know how to budget and negotiate than you can pull it off for a reasonable rate. I had to do a lot of haggling and some proud begging, but because we had a strong script, people got excited about this film and we managed to convince most of our cast and crew to work for a lower rate. It was the story that drew the talent, not the other way around.
Also, we knew early on that the visual style of the film was going to play an important role in how well this film is going to be perceived, and there was ultimately no other way of shooting it. We wanted to make a neo-noir, comic-book crime movie, and in order for us to do that, we had to overcome some difficult technical challenges, so the fact that we had no money made this task seem impossible in the beginning. It was a pure miracle that we managed to pull it off for such a low budget, and make it look so good. I've seen multi-million dollar movies that can go head-to-head with this film when it comes to quality of picture and sound. At the end, despite our low budget, we did test screenings, had long rehearsals and managed to get a beautiful picture quality.
Mike: Any advice for young filmmakers?
Usher: If you don't absolute love movies, you should look into another line of work. Your passion and love for your film will infect every person on set, and if your cast and crew see how excited you are and how much you love what you're doing, they can't help but love it too. Love what you do, and your life will be a whole lot easier.
Mike: What's next for you?
Usher: I'm in pre-production for a short film we're planning on filming in January, and I'm currently writing my next feature film. I plan to shoot it in mid-2018. I recently shot a short horror film which will be released at the end of 2018. The goal is to be at a point where I get to make and release a feature and a couple of shorts per-year.
Popular in the Community