It isn't easy to achieve the body of a Greek god. Thanks to the Funkybod Muscle Top, aspiring muscle men needn't toil away at the gym any longer to attain a ripped physique.
The form-fitting shirt has built-in pads to enhance the wearer's biceps, triceps and pectoral muscles. But the makers also found that the shirt's bra-like inserts worked wonders for men with "man boob" problems, colloquially recognized as "moobs." Per their website:
There is a marked improvement in the look if the wearer has the typical visual manboob issues when wearing a shirt. This was not the intended market for the Funkybod muscle top ... After initial trials we found that some of the smaller men had manboob issues which were covered well with the Funkybod muscle top. This led us to experiment with larger men and look into the manboob issue further.
Indeed, the shirt's ability to lift and separate is undeniable. Here's a before-and-after comparison: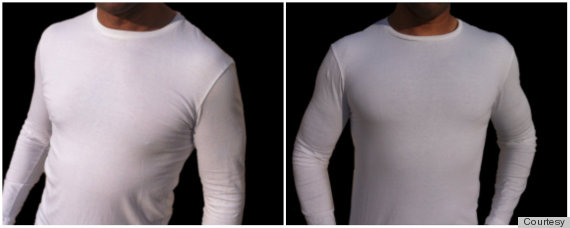 Watch this video and check out the photos below to see the Funkybod in action. The shirt is available online for £29.99, or $48.43 at current exchange rate. That's a lot cheaper than a gym membership... or a high-quality bra.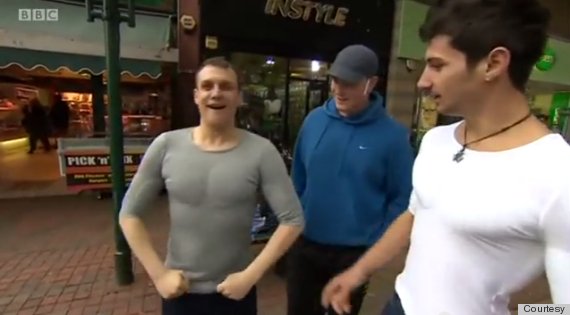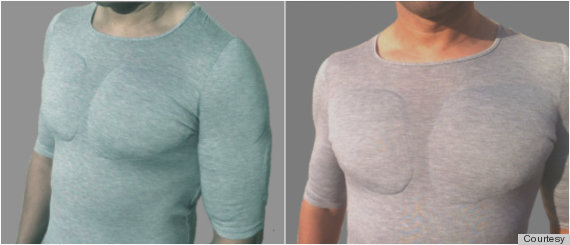 These guys don't need any assistance: