Note: Do not read on if you have not seen Season 3, Episode 10 of HBO's "Game of Thrones," titled "Mhysa."
"Any man who has to say 'I am the king' is no true king." -- Tywin Lannister
The season's last episode, "Mhysa," leaves us, and the denizens of Westeros, in a delicate situation. As some readers may already know, the show's creators decided to split the third book into two seasons -- this season, and next season.
As a result, we get the feeling that there are a lot of unresolved issues -- people whose actions may yet destroy them, winners who have not tasted their victory spoils, and minor players who are waiting patiently for their moments. While Arya has truly embarked on her pilgrimage to the God of Death, Bran and Sam meet at the Nightfort, Jon finally returns home to Castle Black (full of an angry Ygritte's arrows), a handless Jaime returns to his sister, Yara sets off to rescue her gelded brother Theon, and in the east, Daenerys continues to conquer. Joffrey is still the King in name, but his advisors seem a little fed up with the scummy little sadist and meanwhile, Stannis begins his journey north to what Melisandre calls the true threat.
It's the end of the season, but read on to see how the power rankings stand:
The Power Rankings
Using a complex algorithm that takes into account each player's wealth, military might and dominion over lands, along with a "bonus" factor that adjusts for unquantifiable assets that could influence events, we've surveyed the lay of the land to figure out who is winning the game of thrones after the tenth episode of season three of "Game of Thrones," entitled "Mhysa."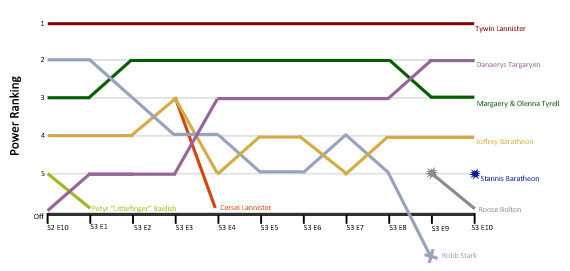 1. Tywin Lannister (Last Episode: 1) Without fighting a single battle, Tywin managed to kill Robb Stark and quash the northern rebellion in one fell swoop. All it required was some carefully orchestrated treachery -- in this case, with the help of Walder Frey and Roose Bolton and the violation of Guest Right (which, of course, we see referenced in Bran's tale of the Rat Cook at Nightfort).

2. Daenerys Targaryen (Last Episode: 2) Mhysa! Mhysa! Mhysa!
Daenerys caps this episode, in a brief, but important scene which establishes the primary difference between her and her opponents -- her subjects worship her. It's hard to imagine Joffrey, or Stannis, or even Robb (R.I.P.) surfing the mosh pit of former slaves quite so ecstatically as our dragon princess. And with her three pets only growing bigger, we expect there'll be more people out there calling her "mother" before this game is done.

3. Margaery & Olenna Tyrell (Last Episode: 3) No Margaery and Olenna in this episode, but as we've heard, the wedding's still a go.

4. Joffrey Baratheon (Last Episode: 4) Joffrey's idea of being king is having the power to serve his aunt-in-law the head of her dead brother on a plate. But, as we saw in this episode, he doesn't really even have the power to do that, nor any say in the actual running of the kingdom. As his grandfather Tywin put it to Tyrion, "You're a fool if you think he's the most powerful man in Westeros." But his is the head that wears the crown, no matter how many people wish he were dead.

5. Stannis Baratheon (Last Episode: -) Davos can read now! Though that pesky "ni-ght" is still getting him all bollixed up. Still, he puts his newfound ability to good use, rushing over to bring Stannis news of troubles at the Wall. Good thing, too: Davos has just put our favorite bastard, Gendry, on a little boat to King's Landing. Gendry isn't much of a sailor, but Davos' actions mean that Gendry's kingblood is no longer available to Melisandre.
Stannis sentences Davos to die, but Melisandre, of all people, stops him when she reads the letter. Stannis has to head to the real war in the North -- and he's going to need his Onion Knight. This unconventional decision, combined with the impact Melisandre's blood magic had on affairs in Westeros, propels the King in the Narrow Sea back into our Power Rankings for the first time since his disastrous defeat at the Battle of Blackwater.
Wildcards
These characters are important, but don't make it to the top five in our Power Rankings -- yet.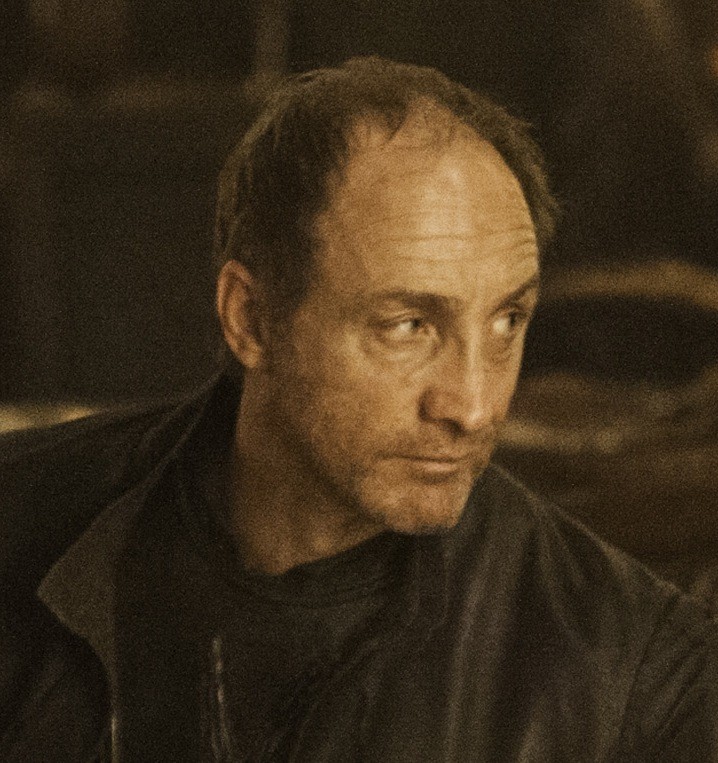 Roose Bolton (Last Episode:5) Lord Bolton's tenure on the Power Rankings was brief. True, we found out this episode that Lord Tywin plans to make him Acting Warden of the North, allowing him to sit in Winterfell until Tyrion and Sansa's son (if any) comes of age. But we also got confirmation of our hunch that Tywin, not Roose or Walder, was the prime mover of the slaughter. More crucially, we finally learned that Theon's psychotic torturer was none other than Ramsay Snow, Roose Bolton's bastard son. That means that House Bolton holds Theon, an important bargaining chip, but it also means that Yara Greyjoy is going after them. Plus, with Stannis planning on riding toward the North, Roose could soon have a serious challenge to his wardenship.

Yara Greyjoy Yara and her father Balon get a profanity-laced letter from sicko Ramsay Snow -- explaining that he has been torturing Theon for months. Snow also sends King Greyjoy the gift of his son's genitalia, which must surely be an elaborate "dick in a box" joke by showrunners Daniel Benioff and D.B. Weiss. Balon renounces Theon, but learning about the mutilation has the opposite effect on Yara. She decides to lead 50 of her strongest men in the fastest ship she owns all the way around Westeros, up the Narrow Sea and into the Dreadfort to take her brother back. Strong lady!

Arya Stark While riding a horse away from the Twins with The Hound, Arya sees her brother's direwolf's head sown onto his body -- a gruesome thing for even a tough girl like her to witness. Later, when she overhears some Bolton goons bragging about their role in the slaughter, she gets her revenge. She tricks one of them into letting down his guard, then stabs him repeatedly in the back. Sandor Clegane kills the rest, then asks her to give him a heads up next time she wants to go postal. She then strokes her precious Faceless Man coin and whispers "Valar Morghulis," so it's pretty clear to everyone that there will be a next time. The Starks may get their revenge after all.

Bran Stark At the Nightfort, Bran tells his travel companions the spooky story of the Rat King, whom the gods punished for violating the Guest Right, which primes them all to be freaked out when they hear a rasping sound in the middle of the night. But it's just Samwell Tarly, wheezing as he climbs up out of the sally port beneath The Wall! He recognizes Bran by his direwolf, and promises to help him however he can. Bran rejects his offer of safe harbor at Castle Black, though, explaining that he needs to go north of The Wall to protect Westeros from the Others. Apparently, he's the only one who can! Sam gives him a couple obsidian blades to help, then points the way north for Bran, the Reeds and sweet, sweet Hodor.

Samwell Tarly After showing Bran et al. the way north of The Wall, Sam travels east to Castle Black, where he bashfully tries to explain his boo Gilly to Maester Aemon. He's dubious, but Sam manages to finagle a guest spot for her. Then Maester Aemon asks him to write letters to every major lord in Westeros, asking for help in the fight against the Others.

Jon Snow Jon encounters his Wildling boo at a stream somewhere on the path to Castle Black. As she aims her bow and arrow at him, he tells her he loves her and says there's no way she'll hurt him -- not realizing that his betrayal already hurt her more than he knew. She shoots him three times before he escapes, but apparently, that's not enough to kill him, as he manages to ride all the way to Castle Black. With three arrows sticking out of his body!

Cersei Lannister Caught between her spoiled vicious brat of a son and her tyrant of a father, Cersei isn't a very happy lady. But she tells Tyrion that she would have been even more unhappy had it not been for her children -- the sole source of joy in her life. Even Joff.

Tyrion Lannister Tyrion has a moment of happiness with his new bride Sansa as they commiserate about being laughed at while walking through a garden in King's Landing. But it's short-lived -- immediately afterwards, Tyrion finds out about the Red Wedding, which he knows will make him an enemy in Sansa's eyes forever. To make matters worse, his father commands him to make Sansa pregnant ASAP -- by any means necessary.

Brienne of Tarth & Jaime Lannister These two friends finally make it back to King's Landing. Their odyssey is over! But Jaime's handlessness makes it harder for Cersei to welcome him home than he expected. You can never go home again, not quite.
PHOTO GALLERY
"Game Of Thrones"
Calling all HuffPost superfans!
Sign up for membership to become a founding member and help shape HuffPost's next chapter