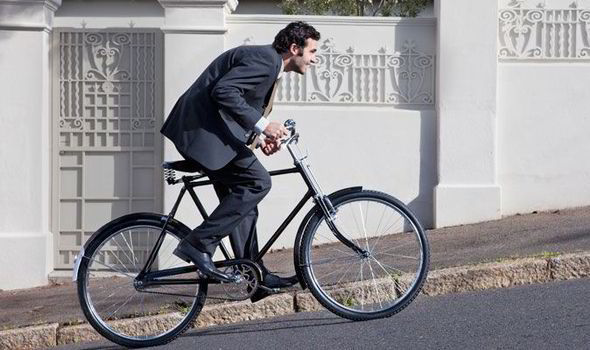 As a keen cyclist, I've long felt there are significant benefits of riding to work, both in terms of physical and mental wellbeing. That was the finding of a recent study published in the British Medical Journal. The study looked at the impact 'active commuting' has on our health.
They define active commuting as the ability to get some exercise in whilst traveling to and from work, so usually this will consist of cycling, walking or running. The authors analyzed over 250,000 people with an average age of 53 who were in employment. They were quizzed on how they usually get to work.
The answers were then grouped into five categories, ranging from non-active to fully active. Each participant was tracked over a five year timeframe, whereby incidences of heart disease, cancers and death were recorded. What's more, each individual was adjusted for their age, sex, poverty levels and so on to try and provide a clear view of the impact their commute was having on their health.
When the data was analyzed, it revealed that cycling to work was associated with a 41% lower risk of dying overall compared to commuting by car or public transport. Cycle commuters had a 52% lower risk of dying from heart disease and a 40% lower risk of dying from cancer. They also had 46% lower risk of developing heart disease and a 45% lower risk of developing cancer at all.
What's more, these benefits increased the further we cycle each week, although even those who cycle part of the way, or mix cycling with public transport, still saw significant health benefits.
Interestingly, whilst walking did have a benefit, it was not associated with a lower risk of dying from all causes, with the authors suggesting this is due to the shorter duration and lower intensity of walking compared to cycling.
This is great to hear, but there is a but attached. In the UK, just 3% of people cycle to work daily, which is one of the lowest rates in Europe. So what can be done to improve matters?
Getting more of us onto two wheels
At the new Twentytwo development in London, they are doing their best to encourage workers to cycle to work. The office tower comes with 1,713 cycling spaces, with riders able to enter the bike park straight from street level.
The building will also have its own Brompton cycle hire facility, together with on-site cycle maintenance, showers, lockers, safety classes and services to clean and dry clothes, all with the aim of making it as easy as possible to cycle.
James Goldsmith, head of leasing at AXA IM – Real Assets, said: "At Twentytwo, there is a genuine focus on choice and this is reflected in the building's design. There is an increasing demand for cycling facilities for employees and we have responded to this at Twentytwo by installing London's largest provision for cycle parking, housing up to 1,700 bicycles. We view this as a genuine cycle club for workers, and are the first scheme offering spaces allocated by demand rather than pro rata by floor space leased. Our view of success is to see this full and regularly used – we don't like seeing bikes chained to the racks and never moving. Ultimately, it is about providing high quality facilities and ease of access to encourage daily use."
In addition to facilities such as this, managers might take inspiration from an interesting concept that has been launched by a Spanish company operating in the Netherlands. They've created a social exercising app, called ByCycling, which aims to incentivize cycling among staff.
The app allows companies, or departments, to sign up and track the distance ridden by members of the team on a leaderboard. If managers want to get more employees riding, they can provide incentives for hitting milestones, whether that's cash prizes, holiday bonuses or whatever.
"We found that the two best motivators for people to even consider cycling to work are financial incentives and the social aspect of the initiative," the company say.
The app is particularly interesting because it doesn't require any direct user interaction to function. Instead, it's capable of detecting cycling motion automatically from the sensors in the phone, so all users need is to have it on them when they ride.
The benefits of doing so are clear, with a study from a few years ago highlighting how much lower stress levels were in employees who cycled.
"Generally car and public transport users suffered more everyday stress, poorer sleep quality, exhaustion and, on a seven point scale, felt that they struggled with their health compared to the active commuters," the authors say.
Pleasingly, another study suggests that cycling to work can be contagious. The report also found a number of positive influences. For instance, living in a community that supports cycling to work has a big impact, as does working for an employer that is supportive. People were also more likely to ride in if they were confident in their cycling skills.
Related
Popular in the Community