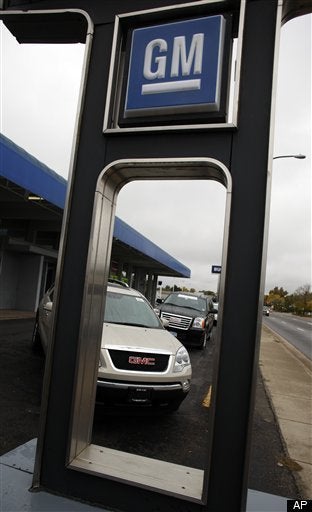 In the end, it was a blow out. The mother of all initial public offerings -- that of the refreshed, revitalized and revamped General Motors -- went off better than almost anyone expected. Of course, questions abounded: Could GM sustain profitability? Was its new management team up to the job? When will GM have a product slate as highly rated as Ford's?
But investors wisely bought the story that the unprecedented bankruptcy and restructuring fundamentally altered the prospects of the world's second largest automaker.
Former White House chief of staff Rahm Emanuel famously said, "Never let a crisis go to waste," and in GM's case at least, it didn't. Approximately $65 billion of liabilities stripped from GM's balance sheet. At least $8 billion of annual structural costs sliced from the company's bleeding North American operations. A tough new board of directors of businesspeople chosen without regard for their politics.
The result? A company that could only make money when U.S. car sales hovered around record levels of 16 to 17 million units a year now was turning handsome profits at a sales rate of fewer than 12 million light vehicles. GM earned almost as much in the first nine months as Toyota and is on track to report its first profitable full year since 2004.
Equally importantly, 77,000 U.S. jobs were saved at the automaker, hundreds of thousands -- perhaps more than a million -- were preserved across GM's far-reaching network of suppliers and dealers, and further devastation of America's heartland and its industrial base was averted.
Note the key lessons of the GM adventure. First, the availability of $82 billion from the now reviled Troubled Asset Relief Program was essential. Our ever hapless Congress would never have acted in a timely way. The existence of TARP saved our auto industry, our banking system and derivatively, our entire economy.
Second, the president's courage in insisting on shared sacrifice and willingness to back that up with the threat of liquidation for Chrysler and bankruptcy for both automakers was essential to achieving such a fundamental restructuring.
Third, management matters. A fashionable bit of revisionist history maintains that former GM chief executive Richard Wagoner should not have been fired, especially by a bunch of Wall Street guys turned government bureaucrats. Yet, Ford -- which not only avoided bankruptcy but will achieve record profits this year -- faced exactly the same challenges as GM: the same United Auto Workers, the same competition from Asian transplants, the same oscillating gasoline prices and the same credit crisis. Why did the two automakers end up on such different paths? Management.
While GM now has all the tools to succeed, it, of course, cannot afford to rest on its laurels. Much work remains. Its products, while vastly improved in recent years, still do not match those of Ford and its non-U.S. competitors. Despite the vast cost cuts, its profit margins in North America remain below Ford's. And Ford has moved far more of its products to global platforms (80 percent compared to 17 percent for GM -- what was Wagoner doing?).
While enormously successful in Brazil and China, the company must address its problems in Europe, where it is likely to lose up to $2 billion this year. The new board chose to reverse a decision to exit Europe, in part on the grounds that no global automaker can be absent from Europe. Fine. I get that. But now the company needs to find a way to at least staunch the bleeding.
I'll leave the stock picking to Jim Cramer while observing that GM's IPO was priced at a discount to Ford's trading multiple. That's understandable, given the uncertainties around GM. At the same time, proving itself to Wall Street and closing that multiple gap remains a source of upside for the newly public automaker.
Amidst a panoply of uncertainties, I'm particularly sanguine about the ability of GM's new management team to execute. I've known CEO Dan Akerson for more than 20 years and he is exactly what GM needs: a proven executive with a no nonsense, Navy-tough style. He will certainly maintain GM's newly found financial discipline. Taxpayers can be confident that they will receive back the vast preponderance of their investment.
Meanwhile, both GM and Ford are better positioned, at least for the near term, than their low-trading multiples suggest. Importantly, car sales in the U.S. will continue to rise for the foreseeable future, potentially faster than most believe. Americans need to buy more than 15 million light vehicles a year just to keep the fleet from aging and to account for new drivers. Can consumers postpone their purchases? Of course -- and they have been. But they aren't going to postpone them forever. And at 15 million, General Motors -- with its improved products, tighter management, lower cost structure and better balance sheet -- will be gushing profits.