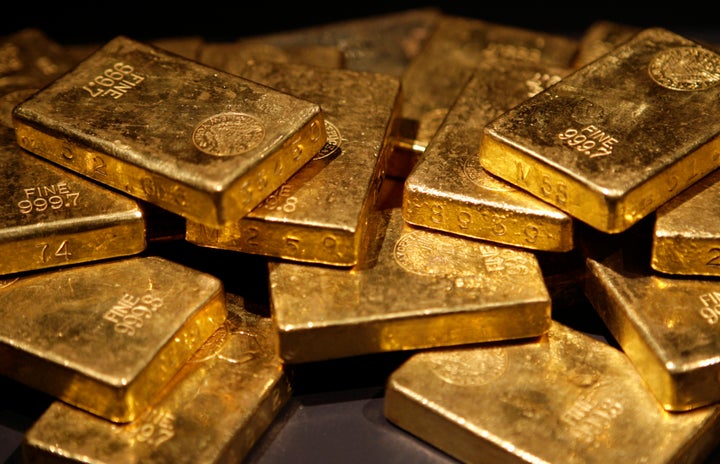 LONDON (Jan Harvey) - Gold shot up above $1,500 an ounce on Wednesday for the first time ever as worries over the health of the global economy boosted the metal as a safe haven.
Spot gold hit a high of $1,505.21 an ounce and was bid at $1,505.16 an ounce at 5:42 a.m. ET, against $1,493.90 late in New York on Tuesday. U.S. gold futures for June delivery rose $10.60 an ounce to $1,505.70.
Silver tracked gold higher, extending a stellar performance that has seen the grey metal outperform other precious metals this year. Silver hit a 31-year high at $44.56 an ounce and was later bid at $44.51 against $43.89.
Gold prices are up 5 percent in April and look set to extend gains as the metal's appeal as a haven from risk was boosted by talk that Greece may have to restructure its debt and Standard & Poor's threat to downgrade America's triple-A credit rating.
"There is still going to be a lot of uncertainty over the strength of growth, in the United States in particular," said Macquarie analyst Hayden Atkins.
"It looks like that is going to be quite weak in the first quarter, so that may rattle a few people. Then we have a critical policy point coming up with the expected end of (the second round of) quantitative easing."
"There is enough uncertainty floating around heading into the middle of the year for people to stick with gold," he said.
While investors in the United States and Europe are seeing the metal chiefly as a safe store of value and a hedge against currency devaluation, stronger inflation and rising consumer incomes in China and India are also boosting demand there.
"The theme of longer term higher inflation than we have seen in the last 10 years in China is a pretty solid view, so gold is going to be an asset class that is probably going to be more in favor in China than it has been in the past," said Atkins.
China is the world's second biggest gold consumer behind India, as well as being its biggest producer.
RISING OIL, WEAKER DOLLAR
In the short term, losses in the dollar on Wednesday are supporting the precious metal above $1,500 an ounce. The euro rose to a session high against the U.S. dollar after an auction of Spanish bonds saw decent demand from investors.
Weakness in the dollar boosts gold's appeal as an alternative asset and makes dollar-priced commodities cheaper for holders of other currencies. Gold priced in euros and sterling remained off recent highs on Wednesday.
Oil prices also recovered, rising back toward the multi-year highs they hit earlier this year as unrest in the Middle East and North Africa sparked fears of a supply outage.
Higher oil prices tend to benefit gold, both because they can boost commodities as an asset class and lift interest in gold as a hedge against oil-led inflation.
The gold:silver ratio -- the number of silver ounces needed to buy an ounce of gold -- meanwhile fell to its lowest since 1983 at 33.8.
"The last time silver was this expensive in relation to gold was almost 28 years ago," said Commerzbank in a note. "Both precious metals are still reaping the benefit of the news of recent weeks and days."
Platinum was at $1,786.24 an ounce against $1,761.50, while palladium was at $753 against $726.95.
(Editing by James Jukwey)
Popular in the Community