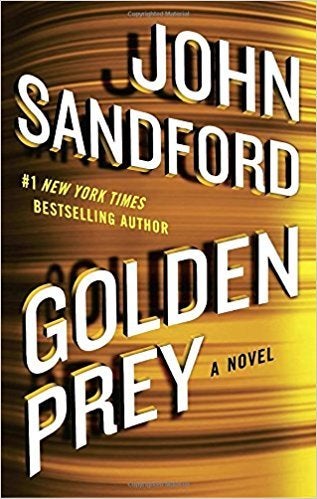 Book Review - Jackie K Cooper
GOLDEN PREY by John Sandford
Three of my favorite fictional characters are Harry Bosch, Lincoln Rhyme and Lucas Davenport. Harry has finally made it on to a TV series and it is fantastic. Now if I could only get Lincoln and Lucas their own shows I would be a happy man. In the meantime I have to be happy reading books that get the old adrenaline going with a jolt. Currently at the top of that list is John Sandford's latest Lucas Davenport novel GOLDEN PREY.
In this latest story Davenport is working as a U. S. Marshall. If you are a reader of all the previous Davenport novels then you will know how this came to be. If you are not then just accept the fact this is now his job. His current case involves him tracking down the persons who robbed a drug cartel counting house in Biloxi, Mississippi. Several people were killed in this robbery including a six year old girl.
This robbery/murder was not only brought to Davenport's attention, it also stirred up the members of the cartel. So there are two teams of people hunting for Garvin Poole and his partner Sturgill Darkling, the two men who pulled off the crime. Luis Soto and Charlene Kort have been sent out by the cartel to find the men and find the money. They have been told to use any means necessary to track them down and that means torturing and/or killing anyone who might have information as to their whereabouts.
In describing this manhunt Sandford utilizes the maximum extent of his quirky commentary. He gives Lucas's droll humor free reign to observe and comment on each and every bizarre episode which occurs. Sandford fans could not ask for a more delightful reading experience, but they must be readers with strong stomachs and calm nerves.
Charlene Kort is one of the most disgusting characters ever created for a story. She relishes being able to torture her victims and has no remorse for any of her actions. Soto finds her disgusting too but he has been hired to do a job and she is part of the package.
This story could be described as John Sandford meets Sam Peckinpah, for there is a bit of "The Wild Bunch" blended into this story. Whatever the influence or whatever the inspiration was for Sandford to go on this brutal journey, I am just pleased as can be with the result. It is an exhilarating ride through many states and the climax to the story is worth every effort made to get there.
Because of Sandford's longevity in the literary world some might consider him an old timer. Forget that, this man writes with the enthusiasm of a young novelist just getting started. I opened the first page of GOLDEN PREY and started to read and thoughts of doing anything else fled from my brain. When Sandford hooks you he hooks you fast and he doesn't let up until the story is told.
If you want to see how a true master of the craft does it then pick up a copy of GOLDEN PREY and hang on. It is a wild ride that will leave you hoping and praying for more.
GOLDEN PREY is published by G P Putnam's Sons. It contains 400 pages and sells for $29.00.
Jackie K Cooper - www.jackiekcooper.com
Calling all HuffPost superfans!
Sign up for membership to become a founding member and help shape HuffPost's next chapter
This post was published on the now-closed HuffPost Contributor platform. Contributors control their own work and posted freely to our site. If you need to flag this entry as abusive,
send us an email
.