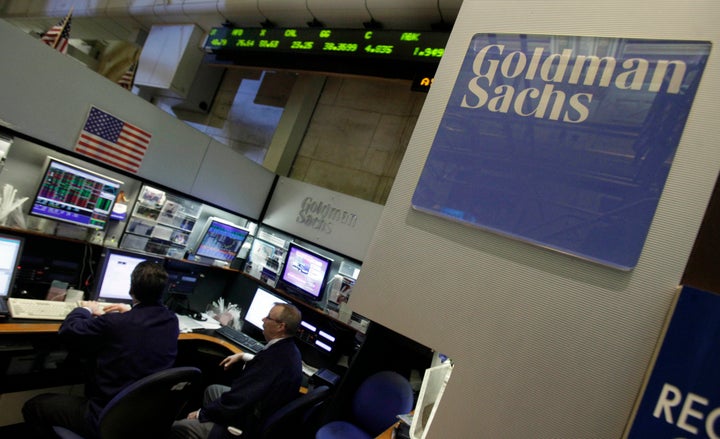 NEW YORK (Jonathan Stempel) - Goldman Sachs Group Inc won the dismissal of a lawsuit accusing it of causing an investor to become insolvent by fraudulently misleading it about risky debt it expected would tumble in value.
In a decision made public on Thursday, U.S. District Judge Barbara Jones in Manhattan said the plaintiff, Basis Yield Alpha Fund, failed to sufficiently show that its investment in the Timberwolf 2007-1 collateralized debt obligation was a "domestic" transaction, entitling it to sue in a U.S. court.
She nonetheless gave the Cayman Islands-based fund 30 days to file a new complaint to recover its $56 million loss. Basis had accused Goldman of securities fraud and common law fraud.
Bruce Grace, a lawyer for the plaintiff, did not immediately return a call seeking comment. Goldman spokesman Michael DuVally declined to comment.
Timberwolf was among the securities cited in a scathing U.S. Senate panel report in April that faulted Goldman (GS.N), Deutsche Bank AG (DBKGn.DE) and others for hawking debt they expected to perform poorly.
That report said Goldman kept marketing Timberwolf even after Thomas Montag, a top executive who now runs investment banking at Bank of America Corp (BAC.N), told a colleague in an email that Timberwolf was "one shitty deal" [ID:nN14231964] -- a phrase quoted in Basis' complaint and Jones' opinion.
Timberwolf had been marketed in the spring of 2007 as a $1 billion investment-grade product, and Basis that June bought $100 million of "triple-A" and "double-A" rated securities at 81 cents on the dollar.
But Basis said it did not know there was then an "increased urgency" at Goldman to sell the securities, reflected in the "ginormous" credits it offered sales staff, because the bank feared CDOs would plunge in value. Losses quickly mounted, and Basis began liquidating just two months after its investment.
Jones dismissed Basis' lawsuit after concluding the fund did not allege that "any purchase of sale" took place in the United States, as required under a 2010 U.S. Supreme Court decision. This was so, she said, even though some of Goldman's alleged fraudulent statements were made in New York.
The judge is also overseeing a separate fraud lawsuit by the U.S. Securities and Exchange Commission against Goldman Vice President Fabrice Tourre over his role in the sale of a CDO tied to subprime mortgages, Abacus 2007-AC1. Goldman had been a defendant in that case, but last July agreed to pay $550 million to settle with the SEC, without admitting wrongdoing.
The case is Basis Yield Alpha Fund (Master) v. Goldman Sachs Group Inc et al, U.S. District Court, Southern District of New York, No. 10-04537.
(Editing by Gerald E. McCormick and Lisa Von Ahn)
Related
Popular in the Community