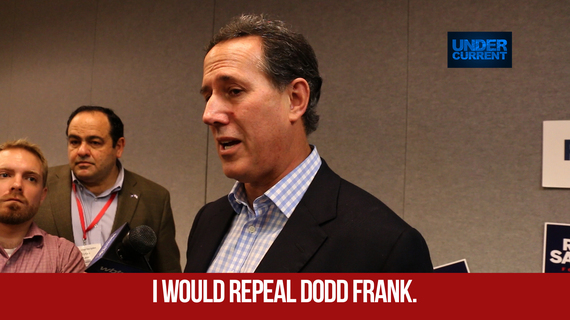 At the South Carolina Tea Party Coalition Convention in Myrtle Beach, I asked GOP presidential candidate and former Senator Rick Santorum whether he would break up the banks and reinstate Glass Steagall, the Depression-era law that created a firewall between commercial and investment banking. The idea was to shield traditional banking assets from risky, speculative trading activities.
Glass Steagall was partially repealed under the Clinton administration in 1999, with the passage of the Graham-Leach-Bliley Act, a supporter of which was then-Senator Santorum. The repeal allowed for already big banks to become Too-Big-to-Fail behemoths, and thus has been widely cited as a cause of the 2008 financial crisis.
Although Santorum regrets his GLBA vote, he would nonetheless repeal Dodd Frank.
Calling all HuffPost superfans!
Sign up for membership to become a founding member and help shape HuffPost's next chapter