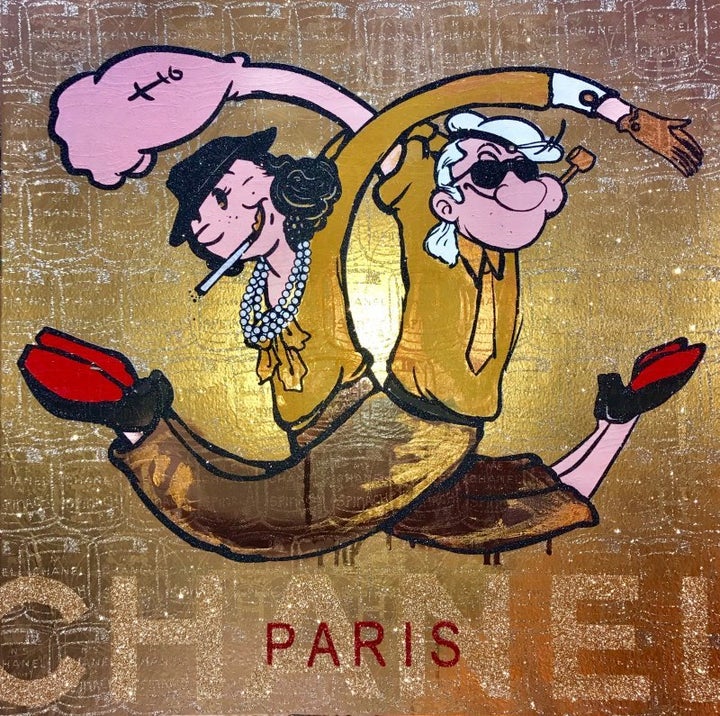 Most critics likely would agree that as regular observers of the international art scene, there can be moments of both joy and disappointment while out in the art trenches as often as there also seems to be more mediocre works in the marketplace than truly exceptional new approaches to art-making. While this conclusion can be shared by many, it also can be especially apparent in some art fairs where presenting works that may have a better shot at commercial success can take precedent over younger artists who are not well-known, but nevertheless are taking risks and eventually should receive deserved critical rewards.
As I get older and look back at my own career as an artist and journalist, it always was the young turk that got my attention, particularly in the early days of searching for and analyzing methods and approaches to inventive contemporary art. Many of the young artists that I followed had the advantage of supportive parents, or better yet, a mother or father who not only encouraged their children to be creative, but in some cases as artists themselves taught home school art classes that made a huge difference. I also was in that rare fraternity, as my mother had attended the Rhode Island School of Design and subsequently offered not just instruction, but perspective on viewing my environment in detail with a connection to recognizing superb works of art. I'm reminded of Pablo Picasso, who at the age of seven received art lessons from his father, a teacher at the Barcelona School of Art. Among the first words that the young Pablo spoke were "piz-piz" (lápiz: Spanish for pencil). By the age of thirteen he was good enough to pass a challenging admission test to art school, and when he was seventeen, his teachers and fellow students realized that he was a remarkable, skilled talent that seemed to be destined for stardom.
Out of the blue, I discovered the amazing work of Skyler Grey while leading a group of distinguished Palm Beach collectors through Art Wynwood (Miami) earlier this year, who also shared my enthusiasm for the works on display. I quickly learned that like Picasso, he was seventeen years old and had a natural knack for art-making, and had begun painting when he was ten with his first commission at age thirteen. His distinctive rearrangement of pop cultural icons with energetic and streetwise bursts of vivid color attracted collectors such as hip-hop artist The Game and pop singer Ashlee Simpson, and Grey's innovative and widely-circulated work, Queen Amy, which appropriated images of the late singer Amy Winehouse as Queen Elizabeth II, are now recognized around the world. This teenage prodigy is a street art sensation and has been labeled by some as "The Fresh Prince of Street Art." In 2014, he was honored by McDonald's at the 11th Annual 365 Black Awards ceremony, which recognizes outstanding African-Americans aiding their local communities. His work has been exhibited at venues in London, Vancouver, Miami, Los Angeles and Dubai, and recently he had a large painting titled Father and Child (Tornado) acquired for the permanent collection of the Coral Springs Museum of Art; he perhaps is the youngest artist in the museum's collection. As I had encouraged the serious collectors with me at the fair to take advantage of acquiring early works by an obviously talented artist, I was pleased to hear of the rapid pace of Grey's rising career and the multitude of demands for his early work.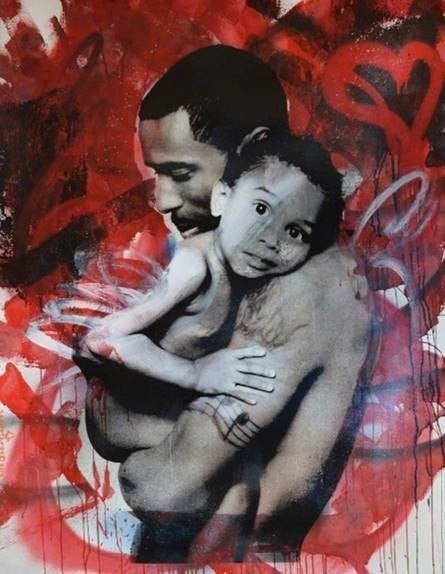 Skyler Grey takes the best essence of pop vernacular and often splices and dices bits and pieces of recognizable branding, such as Hermès and Chanel, which other artists also have gravitated towards, including Murakami, Warhol and Damien Hirst. He also seems captivated with incorporating vintage cartoons such as Popeye and Olive Oyl, as well as re-creating images of some of his heroes, such as artists Keith Haring and Jean-Michel Basquiat, whose visages come alive through Grey's complicated process of silkscreen, spray paint, acrylic and diamond dust on archival 320 gsm paper that has a hand-torn edge.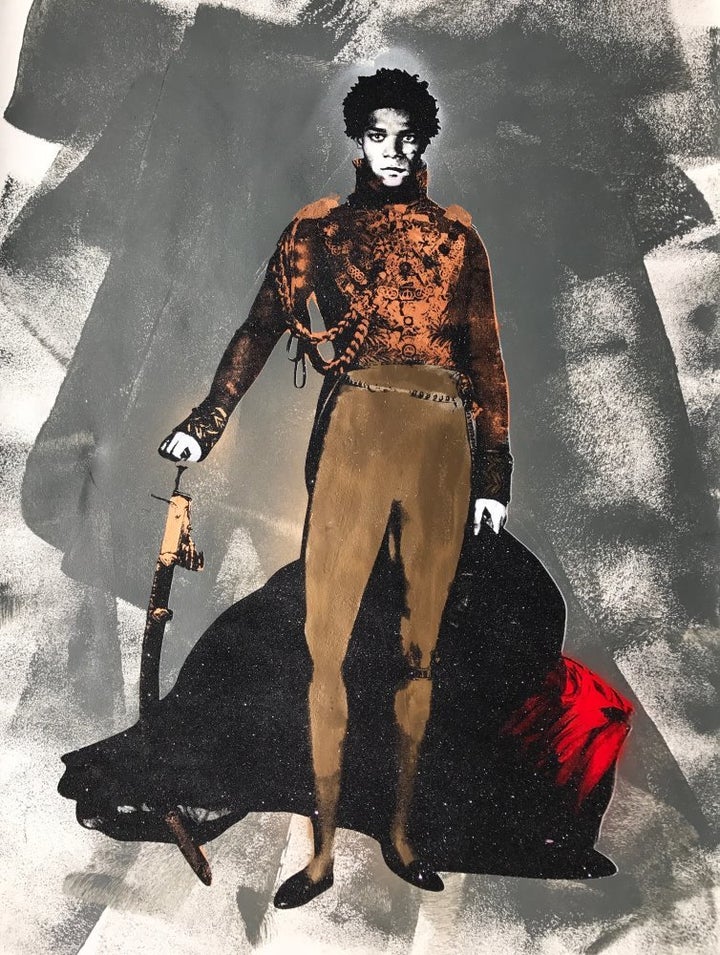 His gold-plated backgrounds that support a carnival of cartoon charters particularly are memorable, as they are fresh interpretations of iconic imagery made new, and seem fated to be instant classics. Mark my words, Skyler Grey is here to stay, and very likely will have a prosperous career with critical accomplishments, and is well worth investing in early on.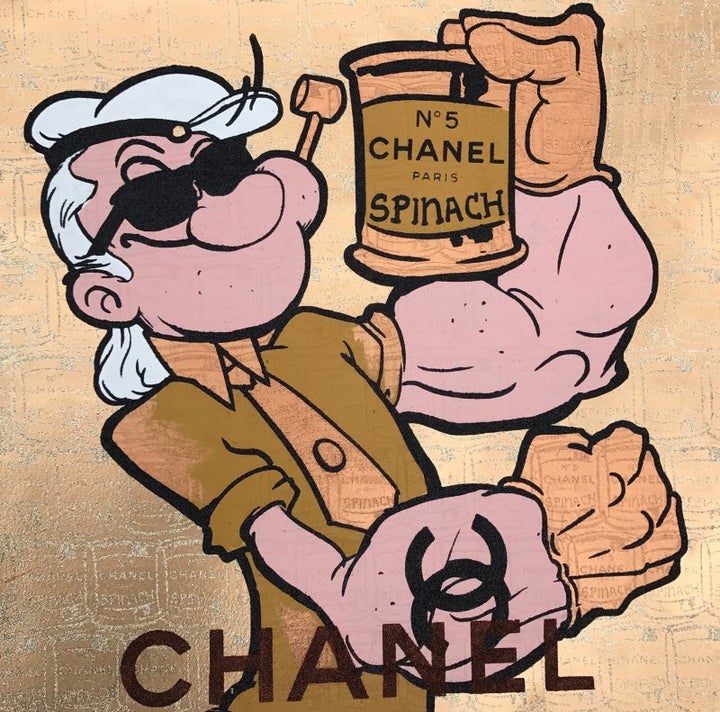 Skillful experiments are a common denominator in the artist's portfolio of professional level works, and those I first examined in detail seem to depict his ingenious method for adaptively reusing photographic images of other artists as the focal point. He then surrounds the main profile with an energetic whirlwind of spray painting and purposeful drips that add a touch of abstract expressionist vibes and are reminiscent to a method used by Christopher Wool.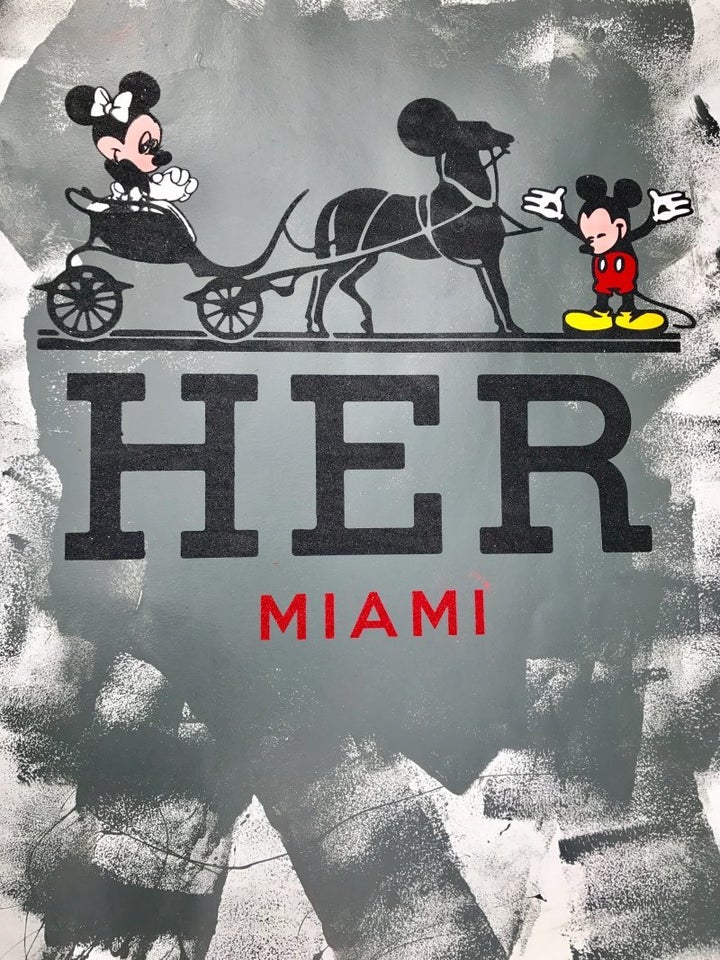 I later ascertained some impressive information about Mr. Grey, including being named to Forbes magazine's "30 under 30" list; receiving a lucrative commission for a huge mural in Yas Island, Abu Dhabi; exhibiting internationally with Avant Gallery, including in Dubai and Abu Dhabi in 2016; and that he has been successfully showing at art fairs with Avant Gallery, including Scope Miami, Art Wynwood and Scope Basel 2016, as well as the upcoming 2017 edition of Scope Basel with Avant Gallery (Booth B63; June 13-18, 2017, Switzerland). Avant Gallery is the sole gallery selected to show at Scope Basel from Miami, and one of only four galleries accepted from America. Scope Basel is considered the premier international showcase for mid-career and emerging contemporary artists.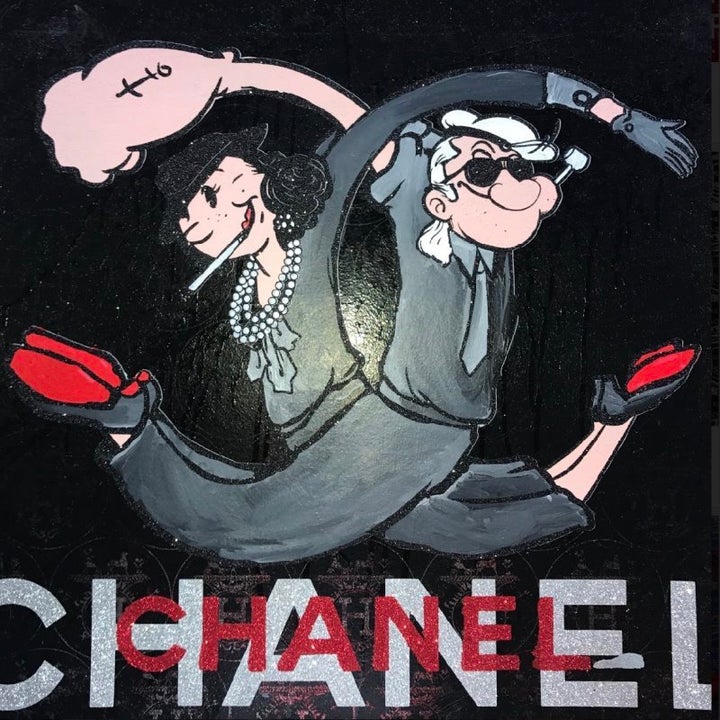 Avant Gallery: 270 Biscayne Blvd Way, Miami, FL 33131, T. 786 220 8600, Avant Gallery website email: info@avantgallery.com
Popular in the Community