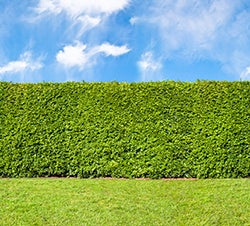 Three guys are sitting at the bar. Open neck shirts, slacks, and drinking nice scotch. A weighty gold credit card laid down for the tab rising faster than the Dow Jones Industrials. One guy says, "We're looking at some good profits." Another says, "Our CEO has vision." The other is bullish on shouty, "I work with a hedge fund in New York!" The scotch kicks in.
Before coming to work the plank, I spent the day chopping down the dead hedge in my front yard. This failure of a hedge had been starved of investment in soil nutrients and maintenance. Murdered by me. The three guys had spent 128 on the card already. A hole in the scotch shelf. All they talked about was business. My tips fund was trading at Great Depression levels. I felt frustrated. I couldn't jump out of the window in the dive as it had no windows that opened.
The three guys. I looked at them. I didn't know them. I didn't care about what I was set to say.
"Hey," they looked up. "You mentioned a hedge fund. My hedge died in my yard. I killed it. What chances are there of getting money from the hedge fund so that I can get a new one? It's an investment in an American yard. The dead hedge divides my plot from the neighbor. He said he wants to build a wall. No one wants that. Can you boys help me out? I'll only need a few hundred to get some new hedge."
They got up and left. The stock market went up.
Related
Popular in the Community