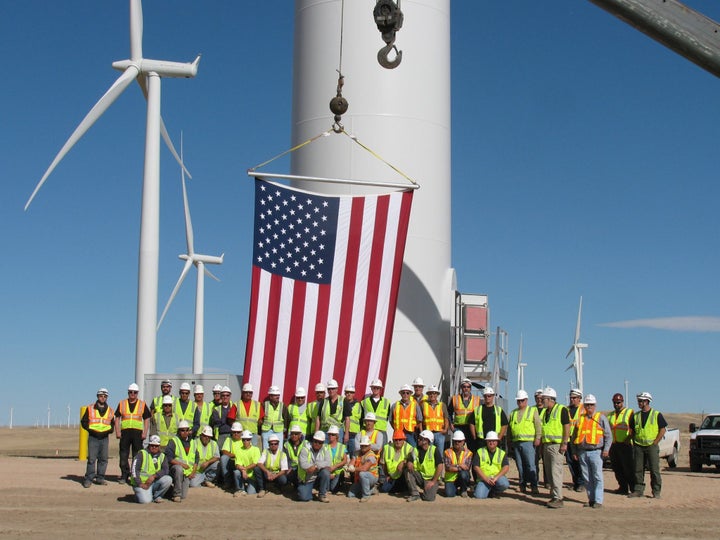 Nearly 40 years ago, something amazing happened in the California desert. American ingenuity turned mountain pass breezes into large amounts of electricity, and grid-scale wind energy as we know it was born.
That has made a world of difference in rural America, without changing lifestyles that rely on the land.
"Doing economic development in rural areas is tricky. Most folks that are ranching and farming really don't want to see their cultural values affected by development," says Dana Peck, Executive Director of the Goldendale, Washington, Chamber of Commerce. "Wind energy brings economic development, but it doesn't bring change."
Consider, for example, Benton County, Indiana, in the rural northwestern corner of the state.
Home to just shy of 9,000 people, Benton County also hosts more than half of Indiana's wind turbine capacity, and that has brought enormous benefits to its residents.
Wind has attracted over $2 billion of investment into the county and created nearly 100 new full-time jobs, plus many more construction jobs as the area's wind farms were built. Wind revenue has benefited its housing market and local businesses, helped keep taxes low and allowed the county pay off debt, according to the Benton County Economic Development organization.
Stories like Benton County can be found from coast to coast. In Sheldon, New York, wind energy revenue allowed the town to completely eliminate local taxes for eight years. The Minco Public School District in Oklahoma receives 75 percent of its budget from area wind farms, according to Superintendent Kevin Sims. In Van Wert, Ohio, the school district used wind income to provide every student in grades K through 12 with a computer, and fully fund its repair and replacement reserve.
And wind power has become an important new cash crop for America's farmers and ranchers, who received $245 million dollars in 2016 alone for leasing land to wind turbines. For many, this income spells the difference between keeping a multi-generation tradition and ending a way of life.
"We've got a quarter of a billion dollars going into the pockets of landowners, and let me tell you, that is a big deal," said Kansas rancher Pete Ferrell. "The wind farm on my ranch has made my family, my land and my community more resilient, and I'm grateful for that."
The wind power industry intends to keep creating such opportunities, and retain American wind power leadership. Every day, American workers build an average of 10 new wind turbines, and 40 percent more wind power is under construction or in advanced development than at this time last year.
To fill these orders, we need to grow our 100,000-strong wind energy workforce. That's why the U.S. wind industry is on track to add another 50,000 new jobs by 2020, including thousands of jobs at the 500 American factories that build turbine parts.
Today, American wind turbines are No. 1 in productivity among countries with the most wind energy. Because of U.S. innovation and our robust wind resource, a typical 2-megawatt wind turbine in the U.S. powers an average of 510 American homes — nearly twice as many as turbines in China or Germany can deliver.
To honor this homegrown success story, the industry has launched the first-ever American Wind Week. On-the-ground events from New Hampshire to California taking place this week will highlight how wind power creates opportunity and prosperity. That includes a fair on the town square in Fowler, Benton County, where the community will come together to celebrate the ways wind has helped the area thrive.
Four decades ago, visionaries saw a way to harness an everlasting resource that is literally blowing over our heads. In the best American tradition, they problem-solved and fought through challenges, and because of their work, the U.S. now has enough affordable, reliable wind-generated electricity to power 25 million homes and counting. This American Wind Week, here's to the next 25 million.
Related
Popular in the Community