Pastry buff that I am, I was well pleased with what the peeps at StarChefs.com had in store at The International Chefs Congress. From the International Pastry Competition, pastry pop-up restaurants by Michael Laiskonis and Dominique Ansel, and sweet food carts from Damien Herrgott and Katzie Guy-Hamilton, to a heated panel discussion on The State of the Pastry Industry Today and a demo from Michelin three-star pastry chef Angela Pinkerton, no sweet tooth could have possibly gone unsatisfied.
For his pop-up restaurant, Michael Laiskonis took to the Pre-Gel booth and cranked out desserts that were as beautiful as they were delicious. The ever-serious Laiskonis remains nevertheless playful in his flavors and plating, putting out a Crunchy Choux with Elderflower and Apricot, a Milk Chocolate-Sesame Gianduia, Cherry, Mandarin Sorbet and Crêpe Dentelle, and a Chocolate Crémeux, Soft Caramel and Maldon Salt.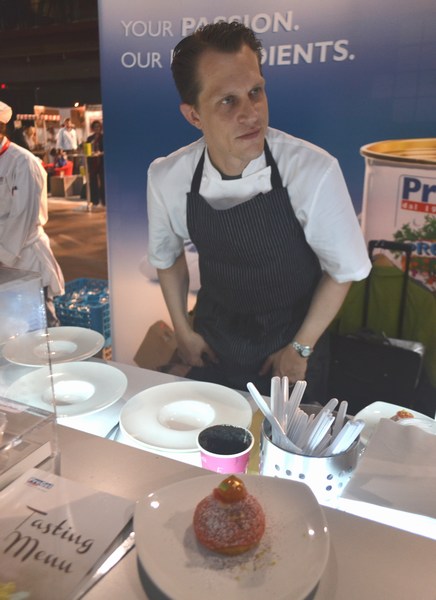 Michael Laiskonis at the counter of his pastry pop-up restaurant (Regina Varolli)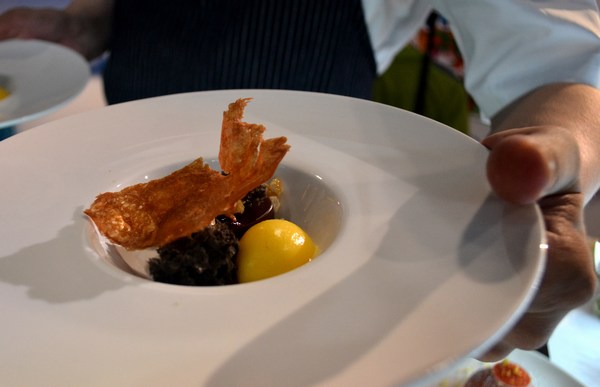 Milk Chocolate-Sesame Gianduia, Brandied Cherry, Mandarin Sorbet and Crêpe Dentelle by Michael Laiskonis (Regina Varolli)
Sprinting straight from his workshop on mastering laminated dough (where I managed to pinch one of his uber-yummy Kouign Amann), Dominique Ansel arrived at the counter of his pastry pop-up restaurant. Showcasing offerings from his Dominique Ansel Bakery in Soho, Ansel plated his Paris-NY, his Cotton-Soft Cheesecake, and his Mini-Me Chocolate Cake (a wild looking cake that reminds me of a porcupine).
Dominique Ansel plating the desserts for his pasty pop-up restaurant (Regina Varolli)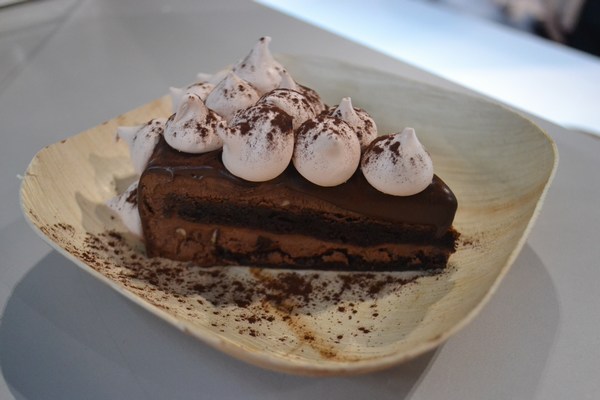 Dominique Ansel's Mini-Me Chocolate Cake (Regina Varolli)
Pastry Chef Damien Herrgott (Bosie NYC) pleased with his food cart full of perfect Parisian Macarons in flavors like Vanilla-Cheesecake, Peanut-Butter and Jelly, and a single-origin, Premier Cru de Plantation chocolate from Sao Tomé (Michel Cluizel). But his show-stopper was the "S'mores Macaron" that Chef Herrgott said he developed just for the ICC. With a chocolate center sandwiched between two pieces of chef-made graham cracker, and a marshmallow edge, Herrgott spent the day with torch in hand, charring the exterior marshmallow, the heat from which melted the inner chocolate center to a soft consistency.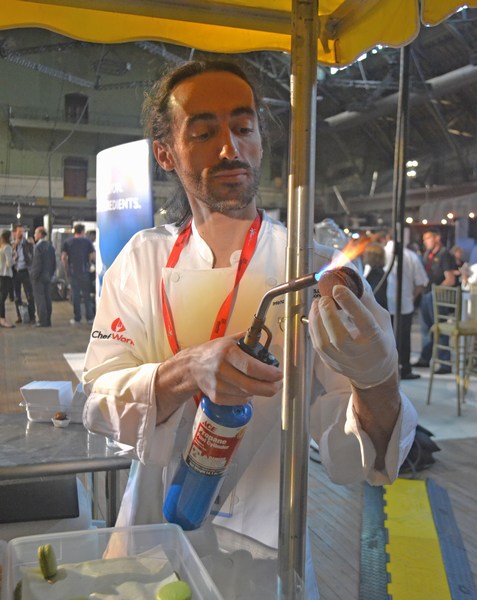 Damien Herrgott puts the flame to his S'mores Macaron (Regina Varolli)
Katzie Guy-Hamilton made pure pastry magic with her Coconut Layer Cake. A soft, dreamy Coconut Cake studded with pineapple, Meyer lemon cream and cream cheese frosting with a toasted lime meringue and drops of punchy concord grape, the cake was cool in temperature and smooth in consistency. While rich in flavor, it was so light that a second helping was almost mandatory. Thankfully Katzie made plenty of pieces to appease the crowd of hungry chefs.
Katzie Guy-Hamilton and her Coconut Layer Cake food cart (Regina Varolli)
Hailing from the Michelin three-star Eleven Madison Park, Pastry Chef Angel Pinkerton held a hands-on workshop that pushed the envelope on plated desserts. Allowing participants to share in the experience of making a dessert fit for the plate of a three-star restaurant, she nimbly worked with ingredients while filling participants heads with cutting-edge advice, techniques and ideas. The tiny Pinkerton defies the largess of her pastry talent.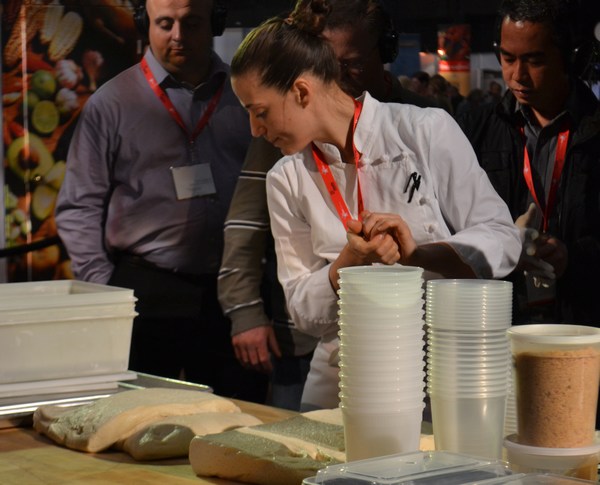 11 Madison Park's Angela Pinkerton (Regina Varolli)
Surprisingly, controversy and a heated debate arose when five pastry giants took to a panel moderated by StarChefs.com Editor-in-Chief Antoinette Bruno. Sam Mason, Johnny Iuzzini, Michael Laiskonis, Alex Stupak and Jordan Kahn have each in their own ways broken the mold of a traditional pastry chef. Kahn (Red Medicine, Beverly Hills) and Stupak (Empellon, NYC) have opened restaurants and shifted to cooking savory, about which Khan said, "I wanted to switch to savory forever."
Mason also opened a restaurant, but has since left that venture and started Empire Mayonnaise Co., and Laiskonis has taken over creative direction of the Institute of Culinary Education. Iuzzini stepped away from Michelin three-star restaurants, saying that "It's not so much of a ceiling you hit as a pastry chef, it's a wall." Adding that, "We're the first generation of pastry chefs to really do our own thing."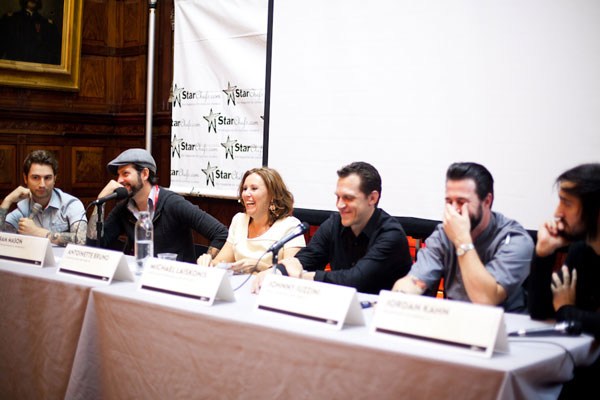 Pastry Panel (left to right): Alex Stupak, Sam Mason, Antoinette Bruno, Michael Laiskonis, Johnny Iuzzini, Jordan Kahn (Photo courtesy StarChefs.com)
Antoinette Bruno made the point that when StarChefs.com travels the country doing tastings, only about 27 out of 600 tastings are with pastry chefs. Sam Mason interjected, saying that "Schools are pumping out thousands of these people every year, I don't know where they're going." Then a debate started about culinary school, and Johnny Iuzzini said he thought that today's graduates are just getting lazy, they don't want to work years in the trenches before they "make it." Bruno countered that today these kids graduate with a lot of debt from student loans, but then Keegan Gerhard, a member of the audience, piped up in agreement with Iuzzini, "I had debt too. So hate us if you want to, they're being lazy."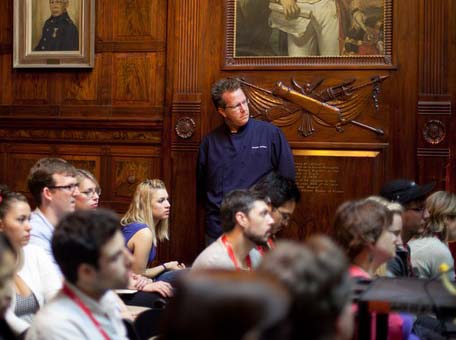 Keegan Gerhard listens intently at the pastry panel discussion (Photo Courtesy StarChefs.com)
The temperature of the debate rose even higher when Bruno posed the question: "All of you have left the pastry kitchen, so who is going to inspire the next generation of pastry chefs?" From the back of the room, Wiley Dufresne (wd~50) challenged Bruno, rather forcefully, saying it was unfair to say that the panel were no longer able to inspire the next generation just because they've taken on non-traditional roles in the pastry industry. Johnny joined in the challenge, saying, "None of us have really left the industry, we've just branched out and opened new doors."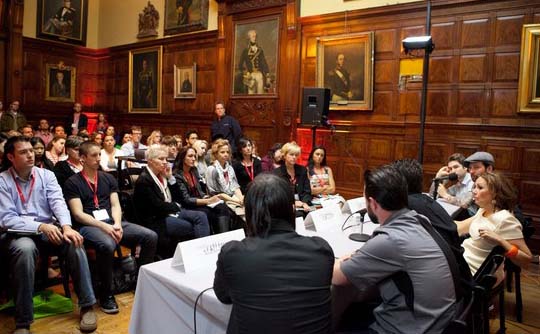 A full house at the pastry panel discussion (Photo Courtesy StarChefs.com)
On the final day of the ICC, there remained three competitors out of 20 for the StarChefs.com International Pastry Competition. With serious bragging rights and a $5,000 check from PreGel up for grabs, for Salvatore Martone, Aya Fukai and Jennifer Yee, the heat was as scorching as smoking caramel. As cameras rolled, judges hovered and hundreds of spectators looked on, the final three created their showpieces, entremets and bonbons, and even had to create a cocktail at the last minute. But the intensity of the situation was met by the concentration of the competitors, none of whom appeared visibly distracted.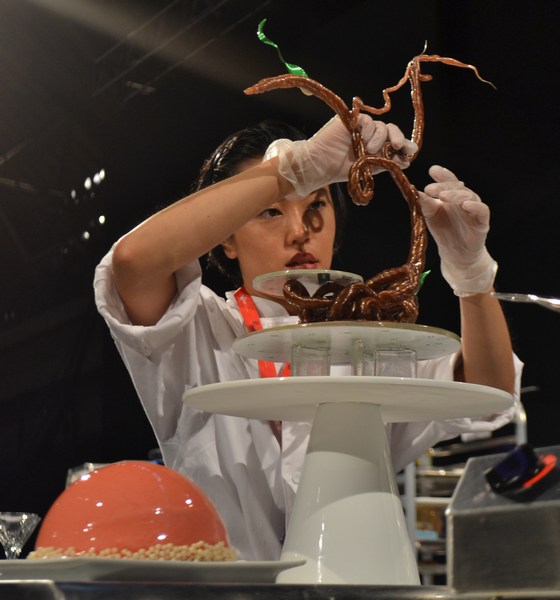 Jennifer Yee works on her "Twiggy" Sugar-Chocolate Sculpture (Regina Varolli)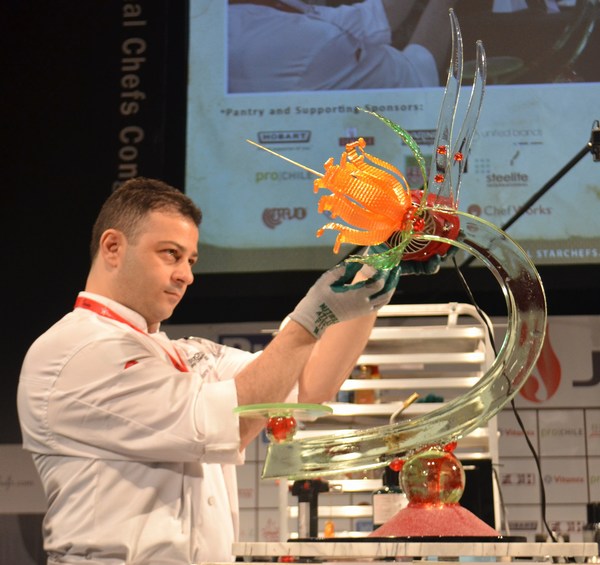 Salvatore Martone works on his "Half Heart" Sugar Sculpture (Regina Varolli)
Head Judge Johnny Iuzzini presided over a panel that included MOF Pâtissier Stephane Treand (Meilleur Ouvrier de France), Michael Laiskonis, Ken Oringer, Jeffrey Steingarten, Elizabeth Falkner and last year's winner Ramon Perez. Plates of sliced entremets (the cleanliness of the cut counting towards the score) were passed to the judges, along with bonbons and cocktails. Each judge tasted, scrutinized, conferred with fellow judges, and sipped their cocktails before noting their scores on paper. The blind tasting lasted about an hour before the judges left their seats and inspected each of the showpieces, two of which didn't meet the height requirement, losing precious points for Jennifer Yee and Aya Fukai.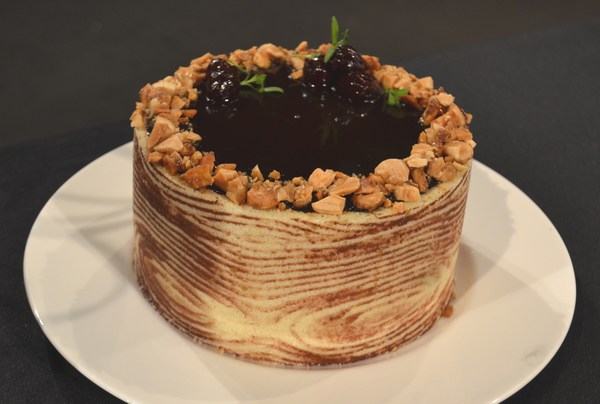 Aya Fukai's Forest Entremet with Chestnut, Cherry, Almond, and Vanilla (Regina Varolli)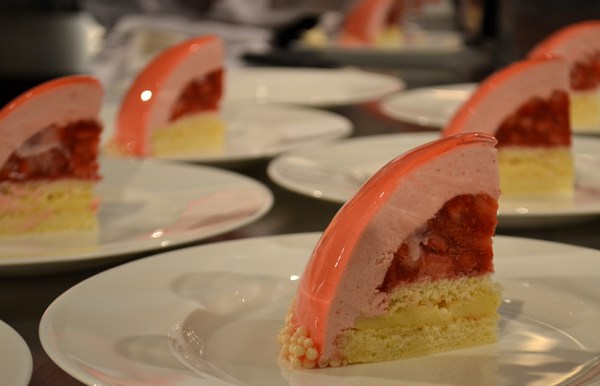 Jennifer Yee's Strawberry Bubble Entremet (Regina Varolli)
At the end of the day, Salvatore Martone took the prize. His beautiful showpiece scored major points, and the flavors of his desserts and cocktail on the final day helped push him over the top.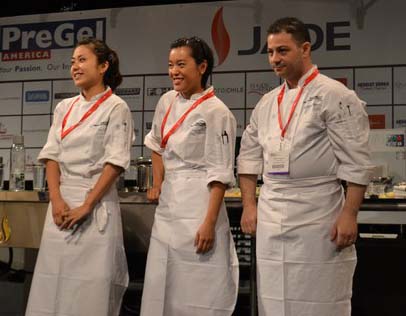 Pastry Competition Finalists (left to right): Aya Fukai, Jennifer Yee, Salvatore Martone (Regina Varolli)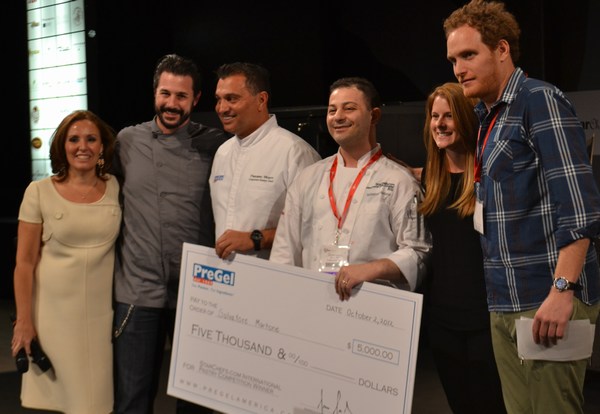 Antoinette Bruno, Johnny Iuzzini, Frederic Monti and Jillian Hillard of PreGel America, and Will Blunt present Salvatore Martone (center) with the winning check from PreGel America (Regina Varolli)
When I asked several of the officials what they thought of this year's competition, each one noted that the level of the competitors has increased every year, to the point where this year's competitors were from some of the best establishments around. Emcee Keegan Gerhard noted that "If the level isn't high and the there's no interest in the competition, then people don't have respect for it. We have the level and the interest here, and that's what makes a great competition." About the judges themselves, he went on to say, "I look at judging almost more than the competitors. But Antoinette and Will really use their position to bring in the best judges." When I asked Keegan if he'd like to come back for a forth year to emcee, he smiled, "Of course! If they'll have me. I love being the emcee! And kudos to the competitors for participating in a competition that demands so much of them."
No stranger to competition, MOF Pâtissier Stephane Treand also spoke of the demands put on the competitors. "This is a short but tough competition. There's a lot of pressure and they always get a surprise thrown at them. It's not easy, they have to work with pastry, chocolate, sugar, plated desserts, even a dessert-inspired cocktail this year. It pushes them out of their comfort zone and they try to be original."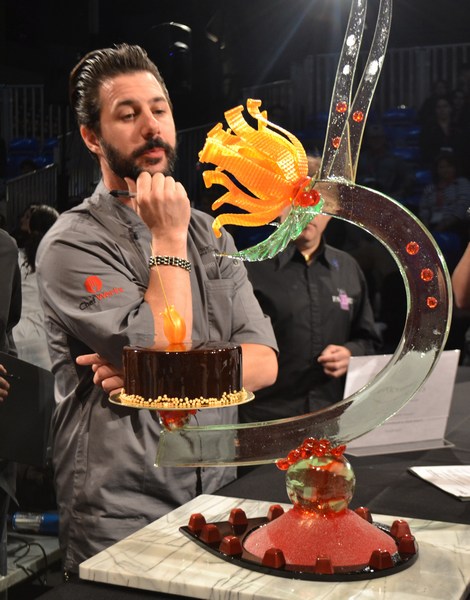 Head Judge Johnny Iuzzini inspects Salvatore Martone's sugar showpiece (Regina Varolli)
Johnny Iuzzini spoke with me about his involvement in the competition since its inception, saying, "I've always been involved with the ICC and I always wanted to help StarChefs.com do more with pastry chefs. So I was very supportive of the competition from the beginning. Every year we're seeing more experienced pastry chefs, so every year the competition gets harder and harder." When I asked him if he wants to continue his involvement he laughed, "I'll do this every year! It's my baby!"
REAL LIFE. REAL NEWS. REAL VOICES.
Help us tell more of the stories that matter from voices that too often remain unheard.