Over the years it has become more difficult for the Human Rights Campaign (HRC) to top their previous national dinners with both entertainment and a keynote speaker. But Saturday evening they surely matched the best which happens when you have a roster of speakers headlined by Hillary Rodham Clinton along with Khizr Kahn, Billie Jean King and Senator Kamala Harris (D-CA). Entertainment provided by DNCE.
Over 3,600 people gathered at the Walter Washington Convention Center in the District of Columbia to reconfirm the LGBTQ community's readiness to fight for our rights and not accept a President or Republican Party to drive us back into the closet and take away the hard earned rights we have won. This was not a year to celebrate gains but to say we are ready to 'resist'.
The first speaker was Khizr Khan the American Muslim Gold Star parent we first heard at the Democratic National Convention when he and his wife challenged Donald Trump to live by the Constitution and offered him their copy. His compassion and empathy are amazing. He is one of those people who when he speaks you listen and respond. He said to the audience "you are my family and we stand together".
Then Billie Jean King, an icon within the community for her work over decades to fight for women's equality. A Lesbian who has stood up for who she is and in 1973 when her famous tennis match with Bobby Riggs took place made a statement to the world women are equal to men. Sad to realize we are still fighting the battle to gain full equal rights and equal pay for women 44 years later. The Trump administration and the Republican Congress is working to set back the progress women have made taking away healthcare from families, making it harder for women to get basic healthcare like birth control, and still fighting choice. King is still fighting the good fight and took the podium to introduce her friend, the speaker the entire crowd was waiting for, Hillary Rodham Clinton.
Clinton appeared on stage to the first of four rousing standing ovations which lasted many minutes. Everyone knew this was the highlight of the night and Hillary didn't disappoint. She came out fighting after a quiet start recounting as she has a number of times how she dealt with her election loss; from cleaning closets, to walking in the woods to drinking Chardonnay, she electrified the room. It was clear without her having to state it, which she did anyway, she is not ready to be silenced. We as a community need to be thankful for that. Hillary spoke about a number of issues including healthcare and how repeal of the ACA would hurt our community. She spoke eloquently and forcefully on transgender rights and slammed the Trump administration for not respecting transgender members of the military who for years have heroically defended our country and our democracy. She called out the Republican Party using an old Mexican proverb that says "Tell me with whom you walk, and I will tell you who you are." referring to their endorsement of Roy Moore in the Alabama senate race among other members of their Party. One of the four rousing ovations she received was when she repeated her statement from Geneva in 2011 when as Secretary of State she declared, "Gay rights are human rights and human rights are gay rights", paraphrasing her statement on women's rights in Beijing in 1995. She closed her speech saying, "I would have rather come here tonight from a closer address" and not one person in the room wasn't thinking what could have been with only about 100,000 votes changed in three states. The nation and the world are the losers for that.
Before the dinner break HRC's President Chad Griffin spoke eloquently as he always does but this year it was more about how we fight back and 'resist' than it was in previous years when there was more of a self-congratulatory tone on what we have accomplished. He spoke about the new initiative HRC Rising. According to the website it is "a campaign to accelerate progress in states from coast-to-coast, resist the politics of hate, fight anti-LGBTQ legislation, and fuel pro-equality candidates and initiatives. In June, HRC partnered on dozens of nationwide marches -- from the Los Angeles #ResistMarch to the National Equality March in Washington, D.C. and cities in between. HRC is harnessing that momentum to begin organizing for the 2018 elections earlier than ever before, with its biggest strategic investment in the organization's 37-year history."
Griffin has said "It's not enough to resist the hateful policies and attacks coming from the Trump-Pence regime -- we've got to accelerate the pace of progress toward full equality and secure protections for LGBTQ people in states and communities across the country. That's why we're going on offense with the largest grassroots expansion in HRC's 37-year history. Our grassroots army of over 3 million has proven that, even in the face of unprecedented challenges, we can make incredible progress and defeat the hateful politicians who've been emboldened by Donald Trump when we organize and mobilize. The power and determination of the 10 million LGBTQ voters and our allies across America will only continue to grow stronger in the face of discriminatory attacks on our rights and freedoms."
After dinner Senator Kamala Harris (D-CA), a rising star in the Democratic Party, spoke to what she sees as a better future for Democrats. Jeff Bezos was presented with the HRC National Equality Award, and my thought was I hope he continues to use his influence and his money to fight for our rights. Uzo Aduba received the Ally for Equality Award for her work in support of our community. All-in-all HRC can be satisfied with another successful dinner and even those in our community who may not always support everything HRC does must recognize it is crucial the organization remains vibrant and strong.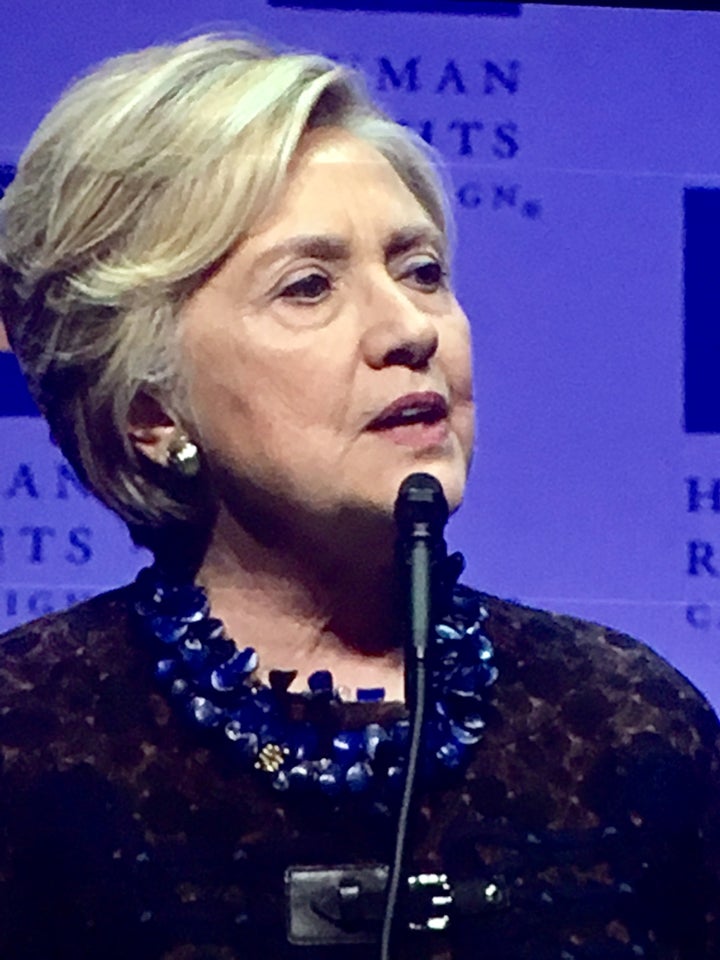 Support HuffPost
The Stakes Have Never Been Higher
Related
Popular in the Community