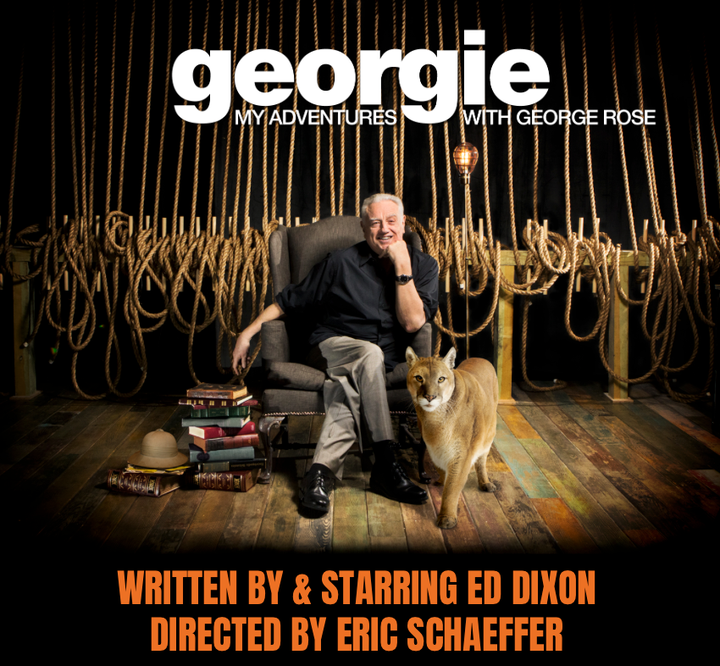 In recent years Ed Dixon--actor, writer, composer—has delivered two of the most wrenching literary stomach punches I've ever received: punch one with his autobiographical memoir, Secrets of a Life On Stage… and Off, which I read a few years ago, and punch two with his incandescent performance in his play Georgie, which just opened at The Loft at the Davenport Theater. In both cases, the punch was swift, unpredicted and straight to the gut .
His book began in the typical dreamer-comes-to-Broadway genre. Little Ed, who doesn't fit into his provincial Oklahoma town, finds solace dancing and singing in his local community theater. Ed moves to the New York City, gets cast in the surprise hit of the season, No, No Nanette, and continues to work with some of the greatest names in the business. Leonard Bernstein makes an appearance; so do Steven Schwartz, Betty Buckley and a host of other performers who all have a sweet and usually funny story to tell Ed.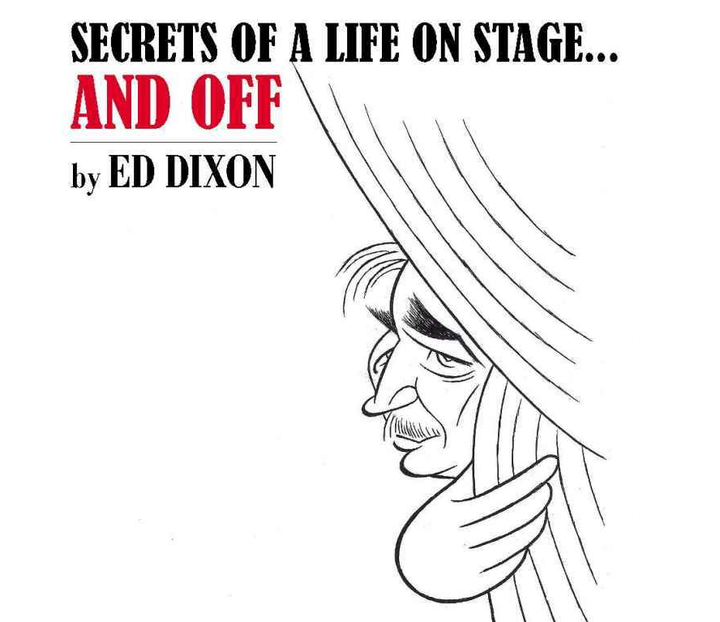 This tale flies by in a typically breezy show-biz manner. For the first half it's all Broadway—la, la, la—music—la, la, la—singing—la, la la .
Turn the page, and he gets addicted to drugs while starring in Les Mis on Broadway, loses his apartment and ends up sleeping in Central Park after performances! This goes on for months. What??? That was the first blow to the stomach delivered by author Dixon .
The next is the denouement of his new play, Georgie, about the life of—and more specifically Dixon's friendship with—the great character actor George Rose. Nowadays, only people of a "certain age" and only people of a certain age who love Broadway will have even heard of George Rose, but to the cognoscenti he was as good as it gets. No one was funnier, no one possessed a more rapierlike wit, and no one was more charismatic onstage than Rose.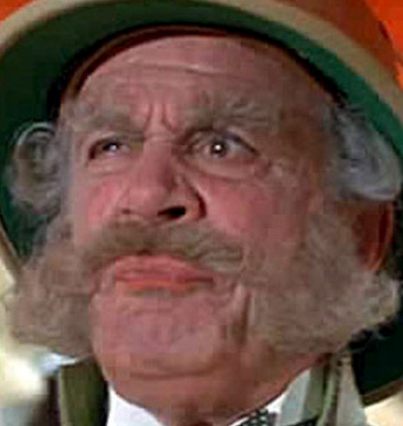 When Dixon asked George how he managed to sparkle so, how he managed to send his sprit straight into the audience, his eyes filled with twinkle and joy, George replied, "An old trick, dear boy. I look at the lights!"
Dixon relates enough of George's show-biz tales to keep the most ardent of Broadway fans rolling in the aisle. There are stories about Olivier, Gielgud and Richardson, all the great English actors and Noel Coward in Vegas. There are stories about his performances on Broadway, about turning down a Tony Award (after being nominated as supporting actor when Rose modestly felt he should have been nominated as the lead.) There are amazing descriptions of Rose at the height of his powers, this time winning a leading actor Tony for the revival of My Fair Lady. Clearly, his portrayal of the supporting role of Doolittle, as reinhabited by Dixon, deserved the leading actor award. Then Ed takes us on to Rose's definitive performances in Pirates of Penance and The Mystery of Edwin Drood.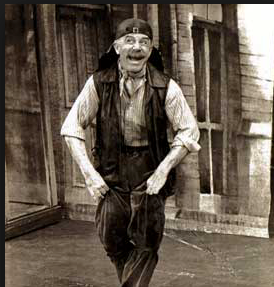 I was lucky enough to see Rose in many of the roles Dixon describes, and the Ed's performance is much more than an impression; it's like a spiritual inhabitation.
Of course, as with all good show-biz stories, the bon mots and eccentricities abound. Rose kept two mountain lions as pets in his two-bedroom apartment in the Village; Rose would make his (male) dressers wear maid's aprons, and he called them all Lisette, whether they were named Doug, Dan or Orville; considering Rex Harrison, Rose said, "I may be the oldest white women in show business, but Rex Harrison is a c*nt!"
Dixon first met Rose when both were touring in a dreary production of The Student Prince. Ed was barely twenty, and operetta had died years earlier, and this production might have been the final nail in the coffin. The tour's highlight for Dixon was meeting, watching and learning from Rose, who had it written into his contract that he could say anything he wanted on stage. "He had this ability to crash through the fourth wall, and he was fearless. It was as if he was accosting the audience. He would figure them out—how he would play them—in a few seconds, and then he would tailor it to how they were reacting, so there was this wild spontaneity about him. I had no intention of becoming a character actor, but I knew that I had to watch him ."
The play is funny, genuine, and almost whimsically nostalgic for a simpler time. Until…
Dixon delivers another gut wrenching punch. This time, not to a reader in the privacy of his room, but in front of an audience who'd been roaring with laughter only thirty seconds before.
The last third of the play hurls forward with horror, outrage and a monstrosity so vial, so abhorrent, I'm afraid it forever changes my opinion of one of the great actors of our time . I will not reveal this reversal, but suffice it to say I will never forget it.
The production, directed by Eric Shaffer, is flawless, and the set, designed by Chris Lee, masterful, a backstage setting with an overstuffed chair smack in the middle where Dixon can sit, contemplate and relate this particular journey. The back wall is dressed with a hemp fly-system, a staple of every theater in the world before the advent of computer-driven mechanics. But as the play descends into hell, the ropes seem to morph into a multitude of snakes surrounding—engulfing—the stage and the actor. By the end, they seem not only reptilian but like a plethora of nooses left by an errant hangman.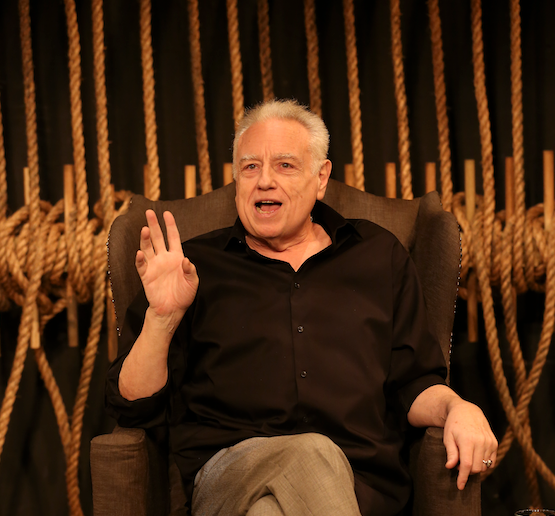 But until that time, Dixon struts, floats and dances around the small stage as he narrates the story and plays all the leading as well as minor characters. Although his performance is intense enough to fill the mighty Radio City Music Hall, this intimate theater is the perfect venue for this celebration (and it is a celebration, despite the ending) and the intimacy made me feel he was performing for me alone.
I have enjoyed many one-man shows in the past: Robert Morse, in Tru, Alec McGowan reading The Gospel of St. Mark, Julie Harris in The Belle of Amhurst. Dixon rises to the top of this illustrious group but remember, he also wrote the play, a monumental achievement.
I have seen a few of Dixon's previous musicals and plays, and I enjoyed them all. But nothing in his past work gave any indication of what heights he might scale as a writer. Georgie is a masterpiece.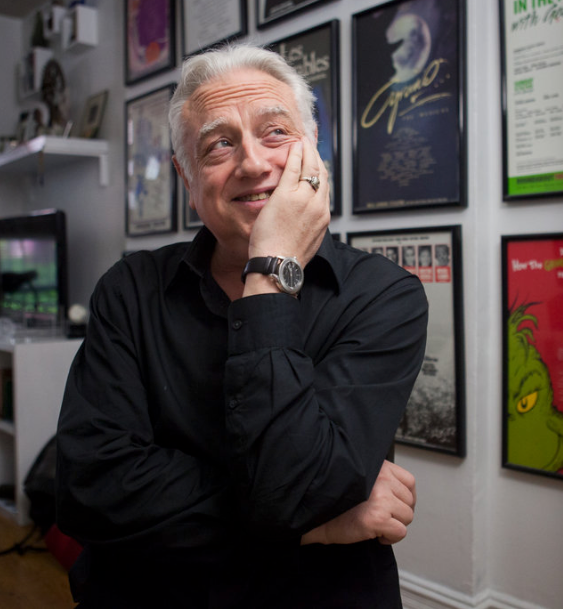 Related
Popular in the Community