"The things I want to know are in books;
my best friend is the man who'll get me a book I ain't read."
- Abraham Lincoln
With both Hanukkah and Christmas right around the corner and coming at us faster than Santa's sleigh with a tailwind, it is time to start thinking about gifts for friends, family and, more specifically, the food-lovers on your list.
And what better gift for a food-lover than a book? Cookbooks traditional or traditionally inspired, exotic, ethnic or all-American -- what matters in a cookbook is that it is uncomplicated, personal and as delightful to read as enjoyable to cook or bake from. I want to be inspired by a cookbook author to prepare the recipes offered and yearn to travel where the author invites me.
Each of these cookbook -- and food-related memoir -- discoveries of 2013 is all of that combined and more : a joy to sit over and read and a delight to cook or bake from time and time again.
"Some books are to be tasted, others to be swallowed,
and some few are to be chewed and digested."
- Francis Bacon
I offer you my own list of Top 10 recommendations for the perfect gift:
1) Kneadlessly Simple: The perfect bread-baking book, even for beginners. Especially for beginners!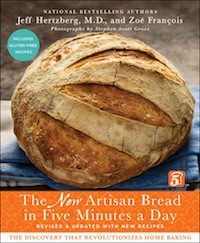 Artisan Bread in 5 Minutes a Day: Zoë François and Jeff Hertzberg have done it again! Zoë (of the fabulous zoebakes.com) and Jeff's three Artisan Bread in 5 minutes a Day books (the original, Pizza and Flatbread, Healthy Bread) were so popular that they have completely revised and updated their first book on simple, no-knead breads, adding 30 new fully-tested recipes, including such recipes as Pretzel Buns, Oatmeal Pumpkin Bread, Apple-Stuffed French Toast and gluten-free Cheesy Breadsticks, Pizza, Baguette and Sweet Brioche. I make their Challah recipes over and over again !
2) Gloriously Italian: For the vegetarian, the Italophile or just anyone who loves great food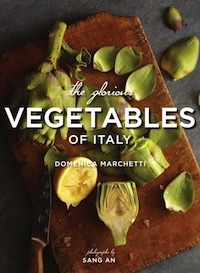 The Glorious Vegetables of Italy: After The Glorious Pasta of Italy and The Glorious Soups and Stews of Italy, Domenica Marchetti has presented us with another glorious cookbook: The Glorious Vegetables of Italy. Former journalist turned cookbook author (this is her 5th) and food writer, Domenica has become the go-to expert for all things Abruzzo and incredible, authentic and accessible Italian food for every day. A book for home cooks of all levels, Domenica's beautiful book offers recipes for vegetable pizzas, pastas, risottos, sauces, and soups, main dishes, sides and desserts, each recipe more glorious than the next! Discover a sample of her writing and her recipes on domenicacooks.com
3) Cookies, Sensational Cookies! A sensational gift for your Cookie Monster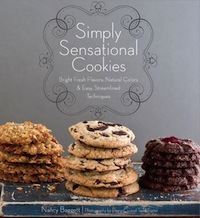 Simply Sensational Cookies by Nancy Baggett: With all of the hundreds of cookbooks about cookies, brownies and bars available, how does one choose the best? Well, Simply Sensational Cookies is indeed the ultimate cookie and bar cookbook, the best and the only one anyone will ever need. Best-selling cookbook author Nancy Baggett has put together an incredible collection of cookies and bars, from the comfort-food classics to elegant treats for dinner parties to surprises for the more adventurous or curious baker. For the cookie, brownie and bar lover, the novice (loads of tips, advice and information) or the more experienced baker, Simply Sensational Cookies is, well, a simply sensational gift! Gone-to-Heaven Gooey Caramel Nut Bar, Blue & Cheddar Cheese Wafers, Mocha-Hazelnut Biscotti-in-a-Jar Mix, Go With Joe Chocolate Chunk Espresso Crisps, and so many more!
4) Olé! Olé! For your adventurous street eater and Latin lover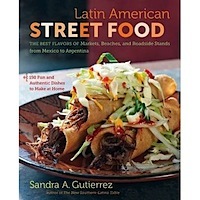 Latin American Street Food: The Best Flavors of Markets, Beaches, and Roadside Stands from Mexico to Argentina: Sandra Gutierrez takes the reader and home cook on a culinary road trip through 20 Latin American countries and introduces us to the best of each country's street foods in 150 fun, authentic and delicious recipes. From the popular and well know street food of Mexico, Guatamala, Cuba, down through Peru and Brazil, Sandra shares fascinating personal stories and cultural histories of the foods she will have you preparing as soon as you open the book. Tacos yes, but also food in bowls, on sticks, wrapped in tortillas, dough and sandwiches... as well as condiments and desserts.
5) Mon Petit Choux: For the passionate baker, the Francophile and the romantic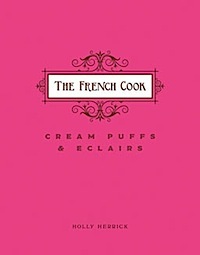 The French Cook: Cream Puffs & Eclairs by Holly Herrick: Most of us think of the chocolate éclair and the cream puff as delightful little French pastries to pick up from the corner bakery on a trip to Paris but much too fussy to make in our own kitchens. Holly Herrick's newest cookbook is an exploration deep into the world of choux and quickly debunks the myth that this best-known French pastry is something too complicated for the home baker. She walks us through the art of making choux and then gives us recipes for every filling imaginable, both sweet (fried beignets with fresh raspberry sauce, salted caramel macadamia ice cream-filled profiterole, cream puffs with Nutella and coffee pastry cream) and savory (3-cheese gougères, petit éclair filled with avocado mousse layered with bacon and tomatoes, small puffs with goat cheese, honey and roasted garlic purée). Une délice!
6) For the culinary voyager and everyone who loves Chinese, Japanese, Vietnamese, Thai, India or Korean food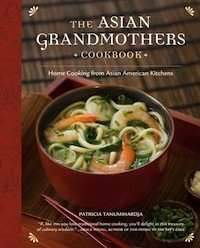 The Asian Grandmothers Cookbook: Home Cooking from Asian American Kitchens: Patricia Tanumihardja takes us on a delightful and irresistible culinary voyage through six Asian cuisines with 130 authentic recipes that she gathered from Asian grandmothers, each willing to share her own home recipes. The book is a wealth of fascinating personal profiles and stories, information and mouthwatering recipes from the kitchens of China, Japan, Vietnam, Thailand, India and Korea.
7) A Story Served up Warm and Comforting: For the loved one who loves a deliciously happy ending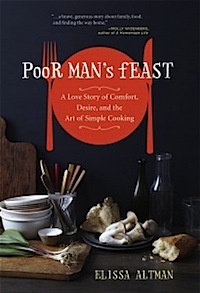 Poor Man's Feast: A Love Story of Comfort, Desire, and the Art of Simple Cooking by Elissa Altman. Falling in that elusive category of food memoir, Poor Man's Feast is a beautifully written story of love, family and food, intertwining witty, emotional tales of Altman's relationship with her mother and father with those of her future spouse, Susan, usually sitting at a restaurant table or standing in a kitchen cooking, and her favorite recipes.
8) Bon Appétit: For the Francophile, French food lover and armchair traveler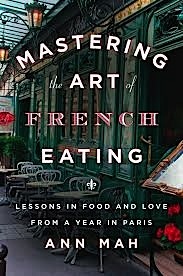 Mastering the Art of French Eating: Lessons in Food and Love from a Year in Paris: Writer Ann Mah takes us on a culinary voyage around France and into bistro and restaurant kitchens, butchers' and pastry shops, French homes and more and as she recounts the fascinating history of so many traditional French foods and dishes from the different regions of this most gastronomic of countries. A blend of memoir and instruction, Mastering the Art of French Eating is a charming, intriguing book on French food and Mah's adjustment to her new life in this most romantic of countries.
9) Food & Laughter is the Best Medicine: The best little stocking stuffer for a best friend, mom or daughter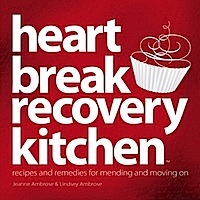 Heartbreak Recovery Kitchen: Recipes and Remedies for Mending and Moving On by Jeanne Ambrose & Lindsey Ambrose is an endearing, funny cookbook, written by the dynamic mother-daughter duo of Jeanne (the mom) and Lindsey (the daughter). HRK is like a fun Saturday night with your best girlfriends, sharing those stories of heartbreak and laughing at each other's tales, foibles and adventures as together you cook and eat away the blues. Heartbreak Recovery Kitchen's recipes will satisfy every craving, whether savory or sweet, lemony, boozy, chocolaty or down-home comfort food. (read my full review here)
10) Something Old, Something New: For the food lover, the historian, the health-conscious and anyone who loves Mediterranean food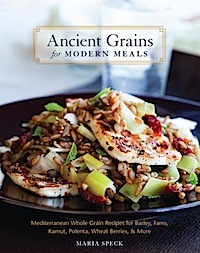 Ancient Grains for Modern Meals: Food writer Maria Speck's award-winning, critically acclaimed cookbook took the food world by storm and has created a veritable whirlwind of new found interest in the most humble of food staples. Maria Speck's passion for Old World grains will change your way of thinking about these "health food" basics forever. From polenta, barley and farro to wheat berries and kamut, each rustic yet elegant dish brings these ancient grains deliciously into the modern world. Maria proves that grains are not only for the health-conscious home cook but for the lover of great food as well. She gives a contemporary twist to classics, turns the simple into something glamorous and shows how versatile, flavorful and sophisticated grains can be, from breakfast and brunch, soups and salads to mains, sides and desserts, both savory and sweet.
Jamie Schler lives, eats and writes in France. To read more of her work visit Life's a Feast.