A Memphis teen had to go through gut-wrenching surgery to remove her gallbladder, and her mom is blaming it all on spicy snacks.
Rene Craighead said her 17-year-old daughter, also named Rene, loves Hot Cheetos and spicy Takis so much so that she eats whole bags of them.
"She loves them. Every time I go out she says, 'Bring me back some Hot Takis, bring me back some Hot Chips,'" Craighead told Memphis station WREG TV. "I want to make her happy, so I brought them back. She was eating big bags and would take them to school with her."
But she says her daughter's love of the spicy chips had unintended consequences: The girl started feeling sick to her stomach.
Doctors who examined the teen ordered she go into surgery and have her gallbladder removed.
Dr. Cary Cavender, a gastroenterologist at Le Bonheur Children's Hospital, told the station he commonly sees patients with gastritis, the inflammation of the stomach lining, and ulcers. He believes spicy chips can exacerbate those conditions.
"We probably see around 100 kids a month, easily," he told WREG, adding that the ailments can be prevented by closely monitoring a kid's diet and making them load up on fruits and veggies.
However, research suggests eating specific foods will not cause gallbladder problems. According to the National Institutes of Health, "Being overweight or having obesity may make you more likely to develop gallstones, especially if you are a woman. Researchers have found that people who have obesity may have higher levels of cholesterol in their bile, which can cause gallstones. ... Some studies have shown that people who carry large amounts of fat around their waist may be more likely to develop gallstones."
Frito-Lay, the maker of Cheetos, sent a statement to WREG saying the chips meet all standards of food safety with this caveat:
"Some consumers may be more sensitive to spicy foods than others and may choose to avoid spicier snacks due to personal preference."
Buchanan Public Relations, which represents Takis, the other chip enjoyed by Craighead's daughter, also released a statement to WREG:
"We assure you that Takis are safe to eat, but should be enjoyed in moderation as part of a well-balanced diet. Takis ingredients fully comply with U.S. Food and Drug Administration regulations, and all of the ingredients in each flavor are listed in detail on the label. Always check the serving size before snacking."
This article has been updated with a statement from Buchanan Public Relations, which represents Takis.
Before You Go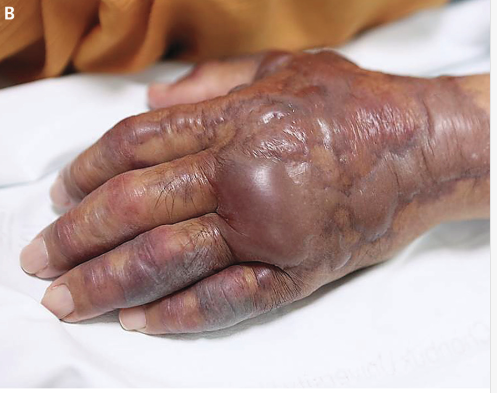 Wild X-Rays And Medical Photos