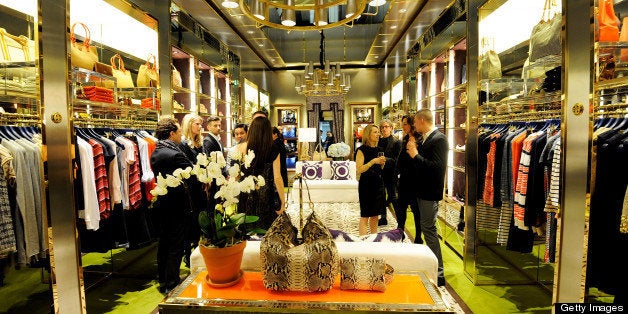 One afternoon I was sitting comfortably on this great couch with my iPad and a bottle of water on the coffee table, when I looked around and thought, "I feel like I'm home." You see, I wasn't home. I was waiting for my credit card and the pair of sandals I just bought. I was at a Tory Burch store.
As I left through the high gloss, orange doors, I started thinking about how so many higher end retail shops are designed to make you feel like you're home -- or what your home would feel like if you were that designer. It makes the shopper linger more, but it also tosses in an added dose of aspiration... Smart. But, here's the thing. I'm much more into being inspirational as opposed to aspirational. So, I decided to take that overall look of the store, which I think is impeccably decorated, and create a living room around it. Classic, modern, fun and full of color! The budget would be smaller, the timeline would be tight, but this is what I do. So I gathered a bunch of photos from the Internet and picked out the things I liked best from each image. I liked pink more than orange, I love gold metallic, I like white high gloss. Also, I'd add some more accessories and electronics since this is a home, not a store.
The room already had hot pink wallpaper on two walls and a muted gold on the other two. Since I was working off a color palette of pink, orange, gold and green, this was a pretty good starting point.
I added the signature white seating, a chic green and white graphic rug, some faux bamboo pieces, a little DIY, a few techy add ons and some vintage pieces like glassware and a bar cart. The end result was fabulous, colorful, modern and just a very happy and glamourous room.
This look is really about starting with big, classic pieces and punching up the style with details. And when you're using that many brights, it can go from fabulous to all kinds of crazy in a couple of moves. The key is to really stick to the color palette, clean lines and keep the details chic.
Last week on NBC's Open House NY, I showed the viewers exactly how I did it. Below is my shopping list , to show you how some were high-end and some were really inexpensive!
Whatever your style is, always remember that decor inspiration is literally everywhere... even in your favorite store!
Check your local TV listings for more of celebrity designer, Courtney Cachet's design tips, gift guides and stylish ideas. You can catch her frequent appearances nationwide on TV and online, where she dishes out all the latest in all things fab for your home and lifestyle! Keep up with her on www.courtneycachet.com or Facebook and join the conversation!