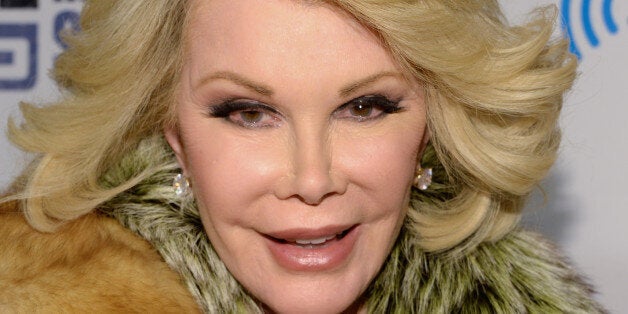 She had other writers, and funnier ones, but when the University of Pennsylvania asked Joan Rivers to give one of the commencement addresses in 1989, she asked me to help her write it. I think she wanted to present herself as a lady and spare her daughter Melissa, who was in that graduation class, the embarrassment of her brutal, self-deprecating humor. I'd gone to Harvard and trafficked in New York society -- Joan's bet was that I knew how to talk to "those people."
I did. But could Joan? To develop the material for her talk, I pelted her with high-minded questions. But as soon as I started quizzing her, Joan turned into the bigmouth comedian who lived for the approval of her audience.
"Joan, how do we treat the little people?" I asked.
"Why, we treat them better," Joan replied. "We only shit on people at our level or higher."
Over the next few years, I saw that was so. Every time I went to dinner in the ballroom that once belonged to J.P. Morgan's daughter, Joan would call for the waiters, cooks and kitchen staff to come out. She would thank them. And the guests would applaud. I never saw another New York hostess do that.
I last saw Joan a few months ago, at a lunch. I mentioned that my wife and daughter never missed Fashion Police.
"Your daughter?" she asked. "How old?"
A young fan! That gave Joan huge pleasure.
"Give me her name and address."
I did. Joan left. Someone said that had been an empty exchange, Joan playing to the crowd -- my daughter would never hear from her. But a few weeks later, a package arrived. A Fashion Police badge. A bracelet from the Joan Rivers Collection. And a lovely hand-written note.
And I thought: The little people, we treat them better.
Popular in the Community