I was invited to attend the Stuttering Foundation's gala honoring four authors for National Stuttering Awareness Week. It was held in New York City at one of the oldest literary clubs in the United States, and it was humbling being to be in the presence of so many people who were passionate about the topic of stuttering. I could relate to the authors who spoke about their books and of their experiences stuttering, not only because of how they presented the material, but also because of one detail.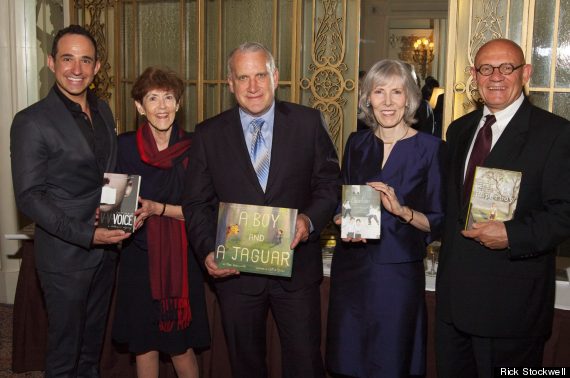 Stuttering Foundation President Jane Fraser (second from left) honors authors Scott Damian, Dr. Alan Rabinowitz, Anna Olswanger and Vince Vawter during its National Stuttering Awareness Week gala in New York City.
I was in a room full of complete strangers and yet they understand what I had been through.
What I'm still going through.
I understand the paralyzing fear of not wanting to be called onto answer a question in class. I understand the need to think of an excuse, any excuse, to leave the classroom, to rush to the bathroom, to hide so I wouldn't have to speak out loud. I know the struggle, the determination, the courage it takes to get a word out, and then a sentence, and then a paragraph, and then to sigh in relief when the conversation is over.
Hearing the methods the other stutterers used to avoid answering questions in class, or substituting a word in a sentence, or how they continue to make the best of their situation every day with a stutter, was both shocking and inspirational.
Stutterers are some of the bravest people I know. Every day is a struggle to prove that you are more than just your stutter. Communication with others is inevitable, and, likewise, so are conversations and presentations and speeches. And yet, people who stutter continue to persevere, continue to thrive in conversations.
Fluency in speech is something most have the luxury of taking for granted. While living with a stutter, you worry about what to order in a restaurant, how to give a presentation, or even how to say "hello" to a friend. Like an architect designing a building, a stutterer carefully crafts each word and sentence. Sometimes the result is a masterpiece, structurally sound with ornate rooms and gleaming windows. Other times it crashes to the ground.
At the gala we teared up when we recounted our experiences stuttering. We patiently listened as a stutter emerged, a drip from a leaking faucet. We helped each other.
The room we were in had an uplifting, comforting air to it. Everyone was welcoming. Everyone had a passion about the topic of stuttering whether it was conducting research on it, writing about it or simply working with others who stutter.
My heartbeat normally races in social settings but here, my heartbeat slowed. I felt at at peace in their company.
On the subway ride home I continued to be in good spirits. It was when I turned the key in my apartment that I understood why.
I have friends and family who were patient and listened to me as I spoke and said what I wanted to say. I was lucky. But I felt that they didn't truly understand what it was like.
At the Stuttering Foundation's gala, they understood completely.
We, as stutterers, are not alone and will never be alone. We face our battles every day and we strive to be better. At the gala, it was sheer relief. It was comfort. It was releasing the breath of air I didn't realize I was holding. It was knowing that after all of these years of speaking with a stutter, there were strangers who were not only understanding, but who knew exactly where I came from.
They understood. They cared. They were welcoming.
Related
Popular in the Community