With Pinterest attracting more than 72 million users, it is fast becoming a valuable social media tool for businesses looking to drive sales and connect with potential clients and customers.
Pinterest's visual nature makes it the perfect platform to showcase your business' latest products and services.
Start by taking the time to sit down and map out a strategy to ensure you get the most out of Pinterest. Pinterest has scheduling tools available, which makes it easy to pre-plan content.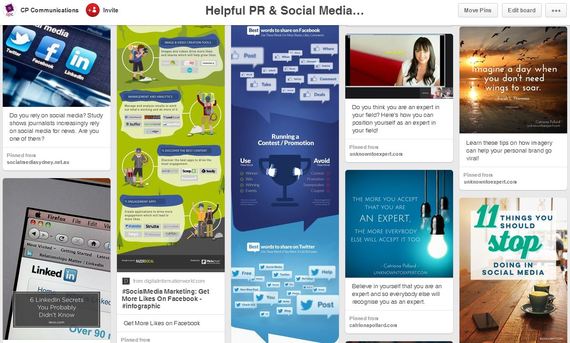 Here are some tips to think about when looking to improve your business' Pinterest strategy.

Create captivating content
Like on any social media platform, the more captivating your content is, the more likely users will be inclined to engage with it.
Save some time by actively pinning photos and videos that you have already created. Any images that you have posted on your social media channels including your business' blog are perfect to be turned into pins.

Remember that users typically engage more with pins that are:
• Infographics
• Checklists
• Tutorials
• Quotes
• Videos (you can pin directly from YouTube)
Make your content pin friendly
Translate any deals, sales or special offers into smart and easy to view graphics and pin them to your Pinterest account. This is an excellent way to boost their circulation and drive traffic to your company website.

No matter what your content is, find an enticing image to accompany it. If your business is sitting on lots of data and statistics, translate this into charts and infographics to pin on Pinterest.
Although it can take extra time, it is important to include your company's logo on images you pin to Pinterest. When users re-pin or share images, they are indirectly sharing your company's brand.

Don't get too excited and include a huge watermark over the image. A small logo in the corner is subtle yet effective.
Keep your content organised
Pinterest enables all users to create themed boards. Organising content by themes makes it easier for other users to find and browse content.
Businesses can use this to their advantage when looking to entice potential customers. Create a discount or special offers board on your business' Pinterest account and regularly pin special offers and coupons that your Pinterest audience can use.
Having a board of downloadable freebies is also a good idea. For example, offer any eBooks that your business has created for free to your Pinterest followers. This is also an excellent method to drive web traffic back to a designated site.
It is important to always ensure you promote your pins on your other social media channels. Increasing the visibility of pins by sharing them is an excellent way to ensure more people are seeing them.
It is important to always include a call to action in your pins. This can be featured on the image itself, or in the text description. Tell your followers what you want them to do by using action statements, such as 'click here', 'pin this', 'comment below' or 'download this'.
Engage your Pinterest community
Get your followers involved in your Pinterest account by creating a guest pinner board and encouraging people to share images and pin items that are related to your business. This will increase your user engagement, make your followers feel more personally invested in your brand as well as give you automatic feedback and insight into the interests and opinions of your audience.

Creating a board specifically to share stories and get feedback from customers is another great idea to represent how deeply your business wants to connect and service its clients.
It is important to think of Pinterest, like all social media channels, as a way to create a broader and richer relationship with current and potential clients. Try to be actively involved in a sincere way. This might include repining content that is relevant to your boards, answering users' questions on your items and commenting on other users' content.
An increasing number of brands and businesses are successfully leveraging Pinterest by incorporating it into their online communication and marketing strategies. Take the time to plan out how best to use the platform for your business, and ensure you are pinning visually pleasing and engaging content.
Catriona Pollard is the author of From Unknown To Expert, a step by step framework designed to help entrepreneurs develop effective PR and social media strategies to become recognised as influencers in their field. www.unknowntoexpert.com.
Catriona is also the director of CP Communications, which merges traditional PR tactics with cutting-edge social media strategies that engage consumers as well as business. www.cpcommunications.com.au
Calling all HuffPost superfans!
Sign up for membership to become a founding member and help shape HuffPost's next chapter