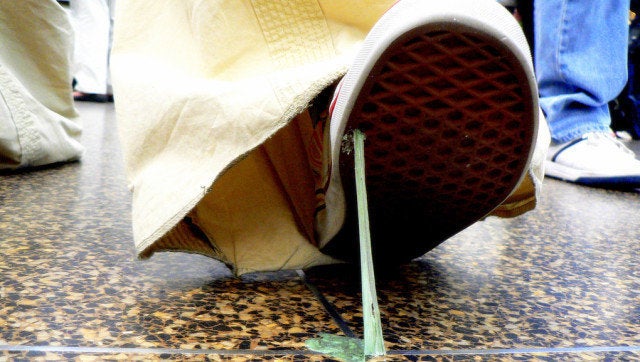 There's nothing like stepping in a wad of chewing gum to ruin a nice walk around the neighborhood. And what's even worse is trying to get rid of that sticky substance from the bottom of your soles. Luckily, the staff over at Do It Yourself found an easy tutorial on how to remove gum from shoes.
First, using a butter knife, evenly apply two teaspoons of peanut butter on the gum. Allow it to sit on the shoe for five to ten minutes. Then, loosen the gum by scrubbing it with a wire brush. Be sure not to scrub against the grooves of the sole.
Finally, run the shoe under cold water and remove any residue with an old toothbrush.
This may take a little elbow grease but it's definitely better than having to throw out a perfectly good pair of shoes.
Popular in the Community