Because I work full time, people often wonder how I travel as much as I do while holding down a job that is neither travel-related, nor requires much, if any, traveling. Some assume I am paid to travel, or endorse travel-related products and services. Neither is true.
Seeing the whole world has always been a priority for me, so I designed my life from an early age to ensure I have the freedom to travel often. Everything from my lifestyle choices and approach to personal finance, to the career paths I've pursued has all been informed by my desire to travel.
But shy of building -- or reengineering -- your entire life around travel, there are smaller steps you can take to help squeeze more travel out of your life. Not all jobs are the same, and what works for some may not work for others. But generally speaking, depending on the type of job you have, and personal and familial circumstances, try the following tips. They have at one time or another worked for me:
Make Travel a Priority
I know it can be hard to find the time, and/or money, to travel, but nothing is impossible if you really want to do it. When you make travel a priority, it's easier to focus on what you need to do to reach your travel goals. Whether it means working overtime to earn extra vacation days, or cutting unnecessary expenses to build up your travel fund, if your priority is achieving your travel dreams, all the work is worth it.
Take Your Vacation Days
Sounds easy enough, but studies show that employees only use 51 percent of their eligible paid vacation, and some 40 percent of Americans will leave vacation time on the table. I work hard, and I take vacation. Using vacation days to actually take vacation seems to have become an act of bravery in corporate America, but it shouldn't be. Not only are vacation days part of your overall compensation package, taking time off is important for your mental health, which directly affects your productivity, attitude, and performance at work. Plain and simple, you can't travel if you don't take vacation.
Plan Trips Around Weekends and Holidays
Maximize paid time off by bookending holidays, summer Fridays, and weekends. I've managed to turn a mid-week holiday into a nine-day vacation (using up only four actual vacation days) by heading to the airport Friday after work before the holiday week, and retuning Sunday night the following weekend. And while your standard weekend certainly won't afford enough time to visit a new country, with a little planning and a late-night Sunday or early-morning Monday flight home, you can make a decent dent in a new city.
Take Advantage of Business Trips
If I ever travel for work, I'll make a point of extending my trip (an) extra day(s) so I can either explore the city/country I'm in, or stop off somewhere else on the way back. Not only is part, if not all of the cost of your flight covered (and the cost of the ticket may even be less because you end up traveling on off-peak days), you have extra time at your destination than you would otherwise because you're already there!
Don't Be Afraid to Go Alone
I travel alone because I love traveling alone, but also because I'm pretty sure if I waited for someone who wanted to go where I wanted to go, when I wanted to go, and who had the means to go -- not to mention someone who shared the same travel style and who I had no doubt would work perfectly as a travel companion -- I wouldn't go anywhere. The benefits of traveling alone are innumerable, but the subject of a different article; the advantage of traveling alone is you can go.
Think Differently About Your Benefits
Consider asking for time instead of money during your annual salary review. A three-to-four percent increase that translates to only $40 per week may be worth forgoing for three extra days of paid vacation instead. When starting a new job, or if you receive a promotion, negotiate for extra paid time off, or in exchange for declining other employer-paid benefits. And if all else fails, consider taking unpaid vacation days. You only live once. It's important to remember that.
Work While You Whistle
Unless I lack access to the Internet, I always work when traveling, and I don't mind at all. I know this isn't everyone's cup of tea. Many draw a line in the sand when it comes to work versus vacation, but not me. Working while out of the office allows me to spend more time out of the office. I'm always caught up and on top of things, and my work is never sacrificed so it's easier for me to snag extra time.
Just Start Skidding
Making the decision to spend the money, asking your boss for the time off, missing work, and stepping away from other obligations can be difficult and daunting decisions. But you can't go if you don't do it.
As Hunter S. Thompson famously wrote, "Life should not be a journey to the grave with the intention of arriving safely in a pretty and well preserved body, but rather to skid in broadside in a cloud of smoke, thoroughly used up, totally worn out, and loudly proclaiming "Wow! What a Ride!"
How do you manage traveling with your full-time job? Comment below and/or find/follow me on Facebook for more conversation.
To find out more about my work, and receive my latest news please visit wendysimmons.com.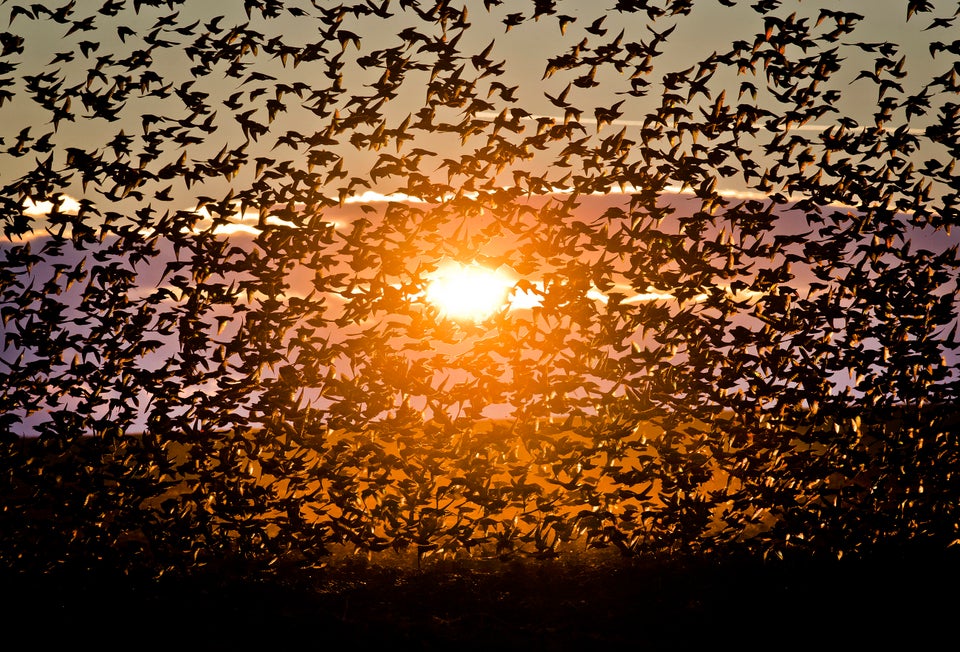 Stunning Images From Around The World
Popular in the Community