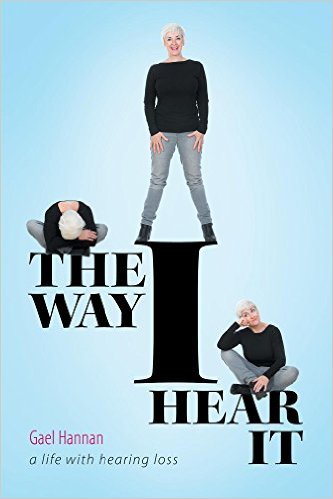 The Way I Hear It, A Life With Hearing Loss by humorist and hearing health advocate Gael Hannan bridges the gap of information that's so needed by the hearing impaired, but not provided by medical professionals - not provided because it's information doctors and audiologists don't know.
With humor and clarity Hannan tells us what it's actually like to live with a hearing loss, and gives tips and advice on how the hearing impaired can improve the quality of their lives.
Hannan has spent a lifetime with hearing loss and knows full well the frustrations, and the social stigma. She identifies the problems in a very relatable way.
As someone who has only recently discovered my hearing loss and begrudgingly wears hearing aids (albeit sporadically), I found myself again and again thinking that Hannan was somehow talking about me.
In addition to her relatable stories, Hannan gives practical advice. She emphasizes the importance of acceptance and proactive behavior like communicating ones needs to others, and not falling prey to the bad habit of "bluffing" or pretending one has heard when clearly they have not. (Guilty!)
She also stresses the importance of regularly wearing ones hearing aids, describes the training period required with each new pair, and gives tips on their care and use, as well as tips for dealing with hearing loss when traveling or when interacting with the hearing public.
Perhaps most important, Hannan has devoted a section for medical providers, giving them tips on how to provide the best care for their hearing impaired patients.
Gael Hannan makes the point that one of the greatest struggles the hearing impaired face is the isolation that comes with the loss of ones hearing. Her book, through its humor and helpful advice is just the kick in the pants that this reader needed to be more proactive about dealing with her own hearing loss.
REAL LIFE. REAL NEWS. REAL VOICES.
Help us tell more of the stories that matter from voices that too often remain unheard.