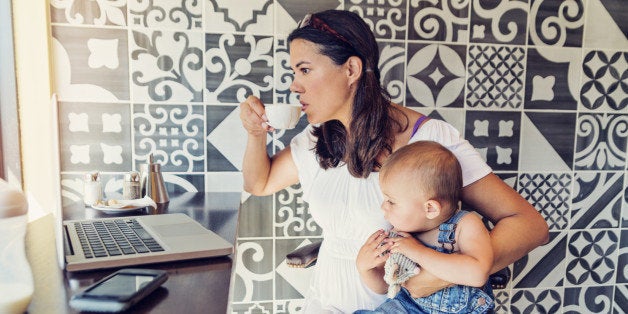 I just gave my two weeks notice after a year at a busy/demanding management consulting firm to stay home with my 4 year old, 10 month old, and baby due in November. At first, I was intensely relieved to get out of the rat race to focus on my kids. But now that I have three days left at work, my anxiety is spiking. Why do I fear that my brain will turn in to mush? What if in a few weeks I can only converse about poop and naps? Or what if I'm rejected by the veteran stay-at-home moms and have no one to talk to but the preschooler?!?!?!
I hear you, sister. Three kids is no joke, so if you can stay home with them, it will make your old high powered job feel like you were sitting there playing Candy Crush all day. So don't expect it to be easy, although to be honest the transition from 2 to 3 was way easier than the transition from 1 to 2. You're already used to having no personal time and no social life.
To address your actual question, though, if I didn't work part time and put my kids in preschool I would go nuts. Oh, that did happen, it was called my maternity leave with my second when my first was 18 months old. In order to cope with the mind numbing boredom coupled with hysterical agitation of trying to corral a toddler while nursing a newborn, I joined approximately every baby and kid activity known to man for those three months, and continued them even after going back to work. At least there I could feel like a member of society and not a crazy nursing recluse.
Now you're in a different boat, because you can't work part time, because crazy high powered jobs don't let you do that. You're also in a different boat because you will have two actual babies, whereas I had a baby and a toddler. While we're discussing that: A 12 month age difference? That's pretty hardcore, Wonder Woman (and by that I mean Wonder What the Hell You Were Thinking, Woman!). But actually it may be good, because they will be really close, and a one year old sleeps a lot, and.... okay I'm done being delusional. Here is your five point survival plan:
1. You obviously are Type A, like me, so you will need to be organized. Get yourself a schedule comprised of no less than four weekly activities involving other moms (and, tangentially, their kids). Go on meetup.com and google mom groups in your area. Get involved because if you stay home all day you will be ready for the mental hospital before your 6 week checkup. And make sure you schedule activities that are also just for you. Get a double jogger so you can take walks with baby. Join Stroller Strides if there is a group near you. Tell your husband he needs to come home early one night a week so you can get back to Zumba or whatever you like. Scrapbook. (I don't know what people do for fun. All I do is blog.)
2. Get a babysitter at the ready. You will need her for no fewer than 5 hours per week. In addition to some daytime hours to prevent you from going nuts, you will want to keep up with date nights once your nursing routine is established, so that you and your husband can have a conversation without babies wailing in the background. So get thee to Sittercity.
3. To address your mush brain fear: do something intellectually challenging. I read loads of books on my Kindle app while nursing. Start a blog like I did. When I was pregnant the last time I got really into online Scrabble. I won Scrabble while in labor with Natalia. But I had an epidural so it's less impressive than it sounds. But expect to be mush brained during the first few months with a new baby, because that's just how it goes. It's like being a little bit drunk, all the time, but not fun.
4. Make friends with abandon, like a drunk girl at a frat party. If you even remotely sense that someone could be a friend (read: do they have a kid your kid's age? Bam), do not be scared to be the first to strike up a conversation and directly ask for their contact information. I truly believe that at some level, every stay at home mom (maybe every any kind of mom) is lonely. It is lonely hanging out with people who don't talk. And while your preschooler may be as loquacious as mine, they are no substitute for an actual adult conversation, unless you know adults who believe in fairies who give them money in exchange for teeth.
5. Tell your husband you will need extra love and support. Make sure he knows it will probably be a rough few months of adjustment for you and that you will need his help. Have sex with him now before you have a newborn so that he feels particularly well disposed toward you when you're acting like a hormonal gremlin.
I hope that this five point plan assuages all of your anxiety and leaves you looking forward to your SAHM life with anticipation and barely-concealed glee. Or at least it has kept you from needing to use Benadryl to get to sleep at night. May the force be with you.
Till we meet again, I remain, The Blogapist Who Tells It Like It Is, And Who Loves Five Point Plans.