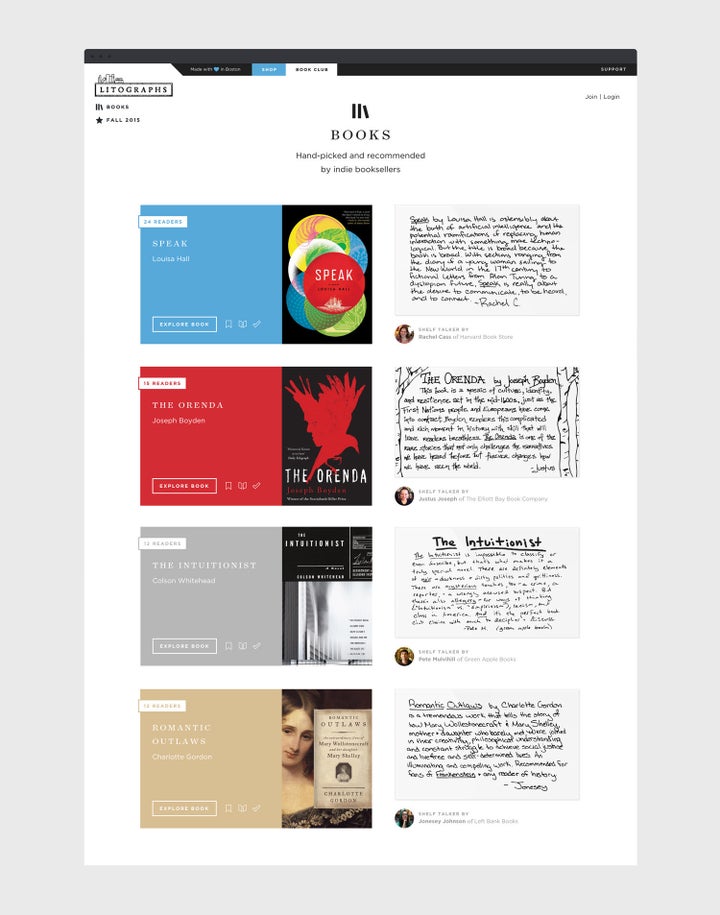 In the bookselling world, it's been a week of role reversals.
Last week, Amazon threw open the doors to its first brick-and-mortar bookstore, Amazon Books, in Seattle. The store features books selected based on demand, according to a number of metrics mostly derived from Amazon's sales. Most are promoted with a card displaying a glowing user review from the site -- a digital comment turned into a facsimile of that hallmark of the indie bookstore, the shelf talker (a typically handwritten personal recommendation from a bookstore employee).
Then, on Thursday, literary design startup Litographs launched a counterattack in partnership with four indie bookstores across the country. Litographs Book Club is taking one book recommendation from each bookstore each season -- four at a time -- and sharing the handwritten shelf talkers online.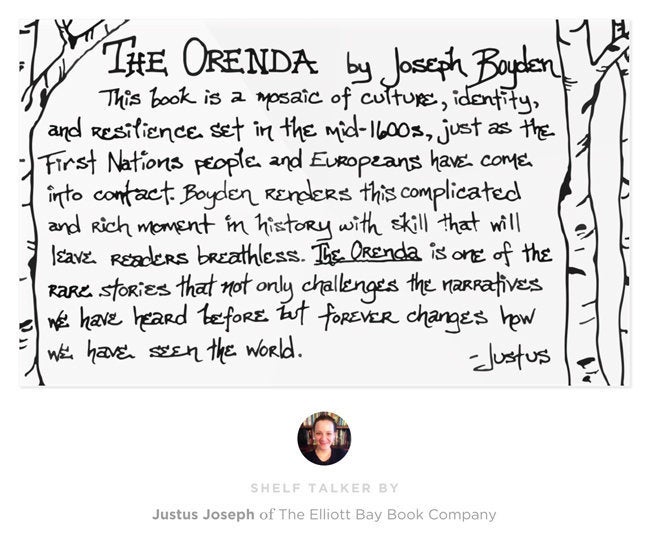 "Bookstores have long known that recommending books is a craft, and it's one they've perfected over the course of helping millions find their next great book," declares the press page for Litographs Book Club, in a not-so-veiled rebuke to Amazon's algorithm-driven book recommendations.
"We feel comfortable in the hands of people whose job it is to send you home with a good book," explained Jack Neary, Litographs' head of community, in an email to The Huffington Post. The hand-penned recommendations, he said, are "a natural extension of the warm customer service you'll receive when you spend time browsing in a bookstore."
Just as importantly, this structure retains the influence of personal taste and enthusiasm. Litographs' official description emphasizes, "we've given our favorite indie bookstore clerks full autonomy in their choices." These idiosyncratic picks will very likely differ from the typical bestseller roundups and book-club standbys.
The inaugural shelf talkers bode well: recommendations for Colson Whitehead's The Intuitionist, Charlotte Gordon's Romantic Outlaws, Joseph Boyden's The Orenda and Louisa Hall's Speak reveal diversity in genre and author identity, and clearly show the workings of distinct personal tastes.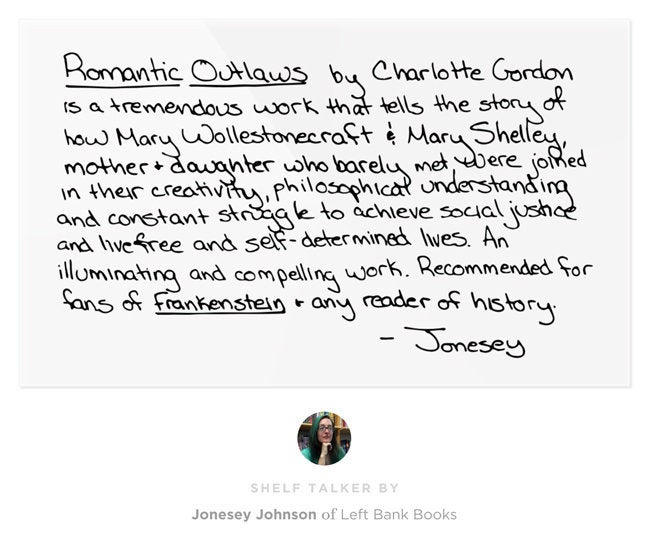 To participate in the digital book club, readers just need to pick one of the four recommended books online, depending on which fits with their genre preferences or which shelf talker piques their interest most. Litographs hopes to foster conversation by sending participants a temporary tattoo or computer decal inspired by their picks, offering discounted copies of the books available through certain partner bookstores. Readers can also submit their own shelf talkers to contribute to the conversation.
But for the most part, Litographs Book Club hopes to remove the pressure and messiness that often plague digital book clubs by keeping things slow and straightforward. "Rather than stressing quantity and deadlines, we're offering a few thoughtful recommendations each season so you can focus more on genuinely enjoying the next book you pick up, whenever that is," said Neary.
Genuinely enjoying a book -- in other words, exactly what reading should be all about.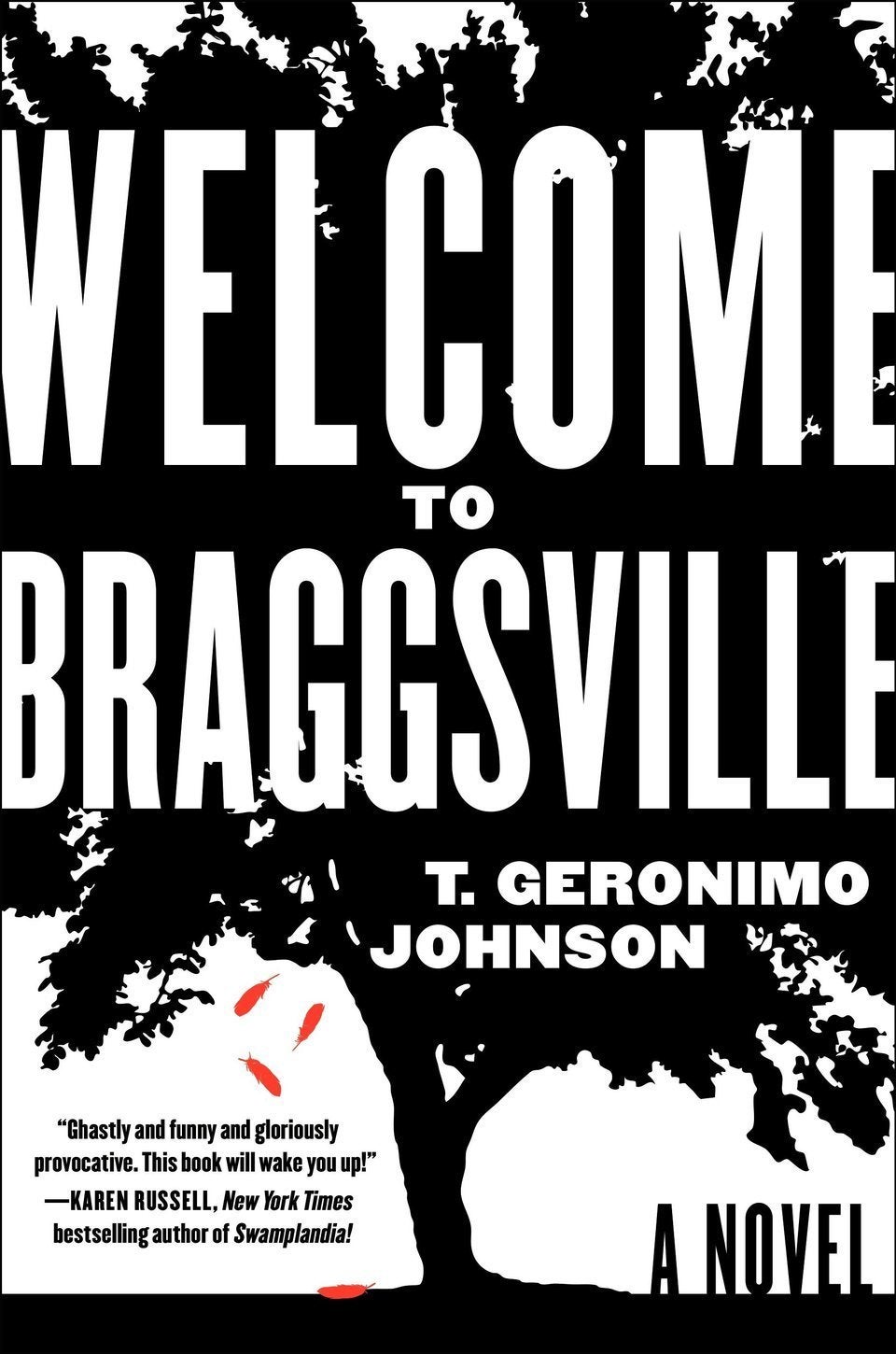 The Best Books Of 2015
Related
Popular in the Community