ALBANY, N.Y. (AP) — The latest on the capture of one convicted murderer from a maximum-security prison and the killing of the other. (all times local):
A prosecutor says the inmate captured 22 days after breaking out of a northern New York prison claims to have used no power tools in the breakout.
That's contrary to official accounts from soon after the June 6 breakout at the maximum-security Clinton Correctional Facility.
Clinton County District Attorney Andrew Wylie, who will prosecute Sweat for the escape says Tuesday that the injured cop-killer told investigators from his hospital bed that he started cutting through steel cellblock walls in January using only a hacksaw blade.
Wylie said Sweat told police he had access to a catwalk area in the prison bowels for several weeks before escaping.
Authorities have said Sweat and inmate Richard Matt used power tools taken from contractors' toolboxes.
Matt was fatally shot Friday afternoon. Sweat is recovering after a state trooper shot him on Sunday.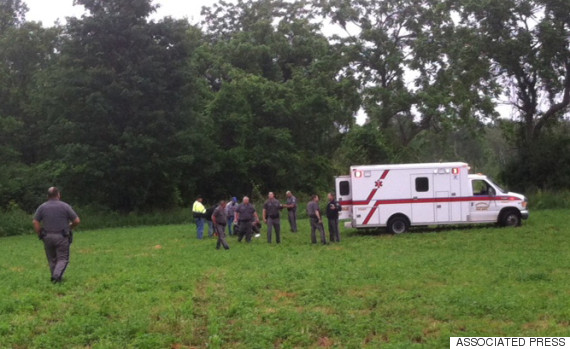 Police gather around David Sweat after he was shot and captured near the Canadian border Sunday, June 28, 2015, in Constable, N.Y. Sweat is the second of two convicted murderers who staged a brazen escape three weeks ago from a maximum-security prison in northern New York. His capture came two days after his escape partner, Richard Matt, was shot and killed by authorities. (AP Photo)
The hospital treating the escaped killer who was shot twice during his capture over the weekend says the one-time fugitive's condition is improving.
Albany Medical Center said Tuesday that David Sweat is now in fair condition. His condition had been listed as serious.
He's expected to stay at the hospital for a few days while his condition stabilizes.
Authorities say the 35-year-old Sweat was running from a state trooper who shot him twice Sunday afternoon less than two miles from the Canadian border.
The hospital won't release details of his injuries because of privacy laws.
The other escaped murderer, Richard Matt, was shot three times in the head and killed Friday afternoon about 30 miles from the maximum-security prison the two men broke out of on June 6.
Officials say 12 more staffers at the New York prison where two killers escaped three weeks ago have been put on administrative leave — including the prison's superintendent and his deputy in charge of security.
An official with knowledge of the move tells The Associated Press that Clinton Correctional Facility Superintendent Steven Racette and Deputy Superintendent Stephen Brown are among those on leave. The official wasn't authorized to speak publicly and spoke on condition of anonymity.
The Department of Corrections and Community Supervision says it's part of the ongoing review of the June 6 escape by convicted murderers Richard Matt and David Sweat. Matt was killed and Sweat wounded and captured.
The department didn't identify the suspended staff. Assistant Commissioner James O'Gorman will oversee the facility temporarily.
Calling all HuffPost superfans!
Sign up for membership to become a founding member and help shape HuffPost's next chapter
BEFORE YOU GO
PHOTO GALLERY
Escaped New York Murderers