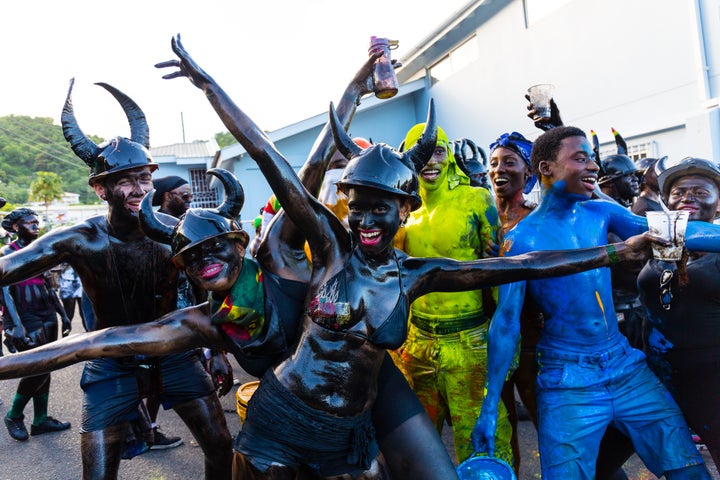 If you've ever set foot in a Caribbean carnival, then you've experienced the truest form of the region's spirit and soul. But if you've never set foot in Grenada for Spicemas, then you've never experienced Jab Jab, the most elemental form of Carnival bacchanalia that ever was.
Outsiders would be forgiven for drawing similarities across Caribbean carnivals: beautiful women, scanty costumes, hips gyrating to sounds of soca music, breeze blowing coconut trees in the background, rum. But Grenada, though it has all of that, claims a Carnival distinctly its own. One with a flavor not found in any other pot. Spicemas in Grenada is rootsy—it's uncommercialized and full-blooded.
On the second Monday and Tuesday of August each year, the Spice Island, so named for its role as one of the world's top producers of nutmeg, gives itself over to the call of Carnival for the two official days of the festival, though the season, which really means the parties, begins weeks ahead of that.
From Pree Day, a soca show hosted by artist Talpree, to competitions for the best steel pan band at Panorama and the greatest costumed masqueraders named king and queen of carnival at Dimanche Gras, to bikini cruises and all-white attire parties and the street fete that sees revelers dancing and waving fluorescent wands for Monday Night Mas, the frenzied feting will call for a stamina the faint of heart will either have to adopt or stay home.
Spicemas culminates with Pretty Mas on the Tuesday, where fancy, feathered masqueraders will find themselves prancing around what's likely the most beautiful backdrop of all the Caribbean carnivals, the Carenage, Grenada's postcard picturesque harbor and waterfront in the island's capital of St. George's.
But it's what happens in the darkness that gives Spicemas its flavor. Namely, Jab Jab J'ouvert.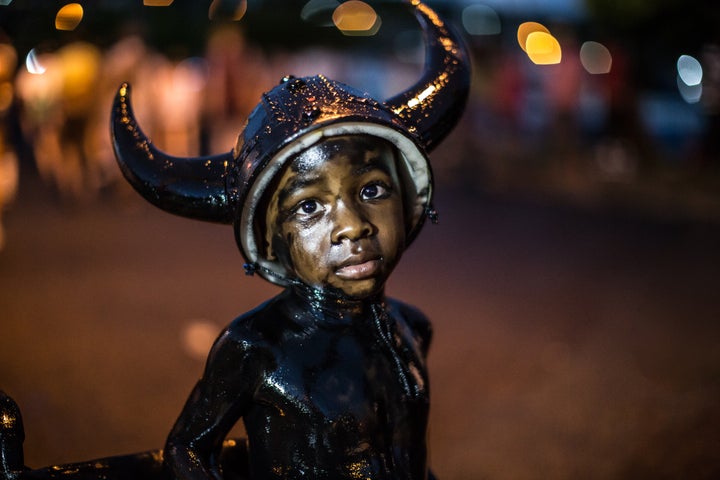 In the wee hours of the morning on the Monday of the festival, masqueraders pour into the streets of St. George's by the thousands for J'ouvert, the start of the carnival celebrations. For Grenadians, this is the heart of Carnival, and it's all about the Jab Jab, or devils. Jab Jab is so loved, in fact, that J'ouvert repeats itself on Tuesday morning in other parishes around the island, channeling more traditional forms of carnival, like Ole Mas, where the year's biggest political and social events are brought to life with double entendres and satirical costumes designed to incite laughter and lightheartedness.
This beloved carnival character gets its name from the French patois diable, or devil, and is meant as a mockery of the evils West Indians faced during the days of colonization. Carnival itself came to the island with the European colonizers who held masquerade balls to celebrate Lent, but their slaves drew on West African traditions and ultimately made the revelry their own (Spicemas once existed as a pre-Lenten fest as in many other islands, but Grenada shifted it down to summer in the 80s to make a separate space for itself and its carnival).
Jab Jabs come out in the darkness of 4:00 a.m., grown-ups and toddlers alike, wearing horned helmets, their skin slathered in oil, dragging chains or posies or manikin legs or the front faces of fans behind them, mouths red and clutching salted fish or smoked herring. Some carry signs depicting social commentary, while others will use all manner of theatrics to relay their perspectives on issues. It's all part of a tradition that satirizes "The Man" and celebrates resistance and rebellion.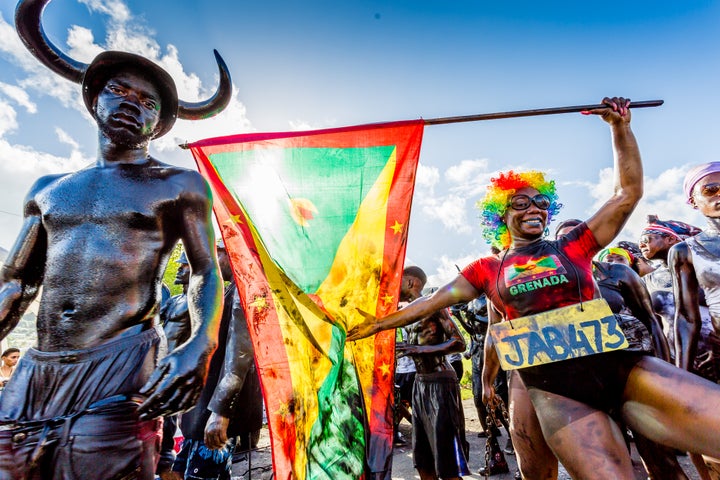 Those keen to participate with the Jab Jab would do best to begin with a tub of Velvo Kris Shortening. Typically used for baking pastries, the kitchen staple becomes a Jab's best friend, priming the skin before the oil and making removing the black stuff easier when the time comes.
Once adequately coated in oil, it's time to party. Masqueraders make their way through the streets, dancing and wining en masse to soca and Jab Jab music, feet sliding in the slickness of oil transferring from skin to road. When the oil rubs off from all the dancing, any Jab Jab passing with a bucket of oil will be happy to help with reapplication. Some even pass through with silver and gold and colored paint, sharing that until everyone's covered in color and utterly unrecognizable.
This carries on as the sun rises over the fete and people reach peak wildness.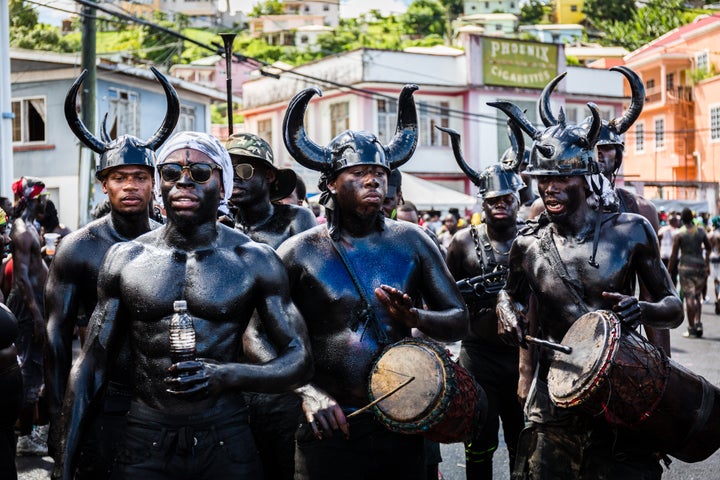 The deep roots of Jab Jab have given way to a spin-off of the more common soca music, the energetic soundtrack to Caribbean carnivals everywhere, a mashup of calypso, East Indian and African rhythms.
But Jab Jab takes its soca a step further, bringing a deep, rhythmic bass to the music with conch shell blowing and an infectious call and response chanting to go with it—a collection of sounds a Jab Jab will tell you stays true to the culture's African roots. As the street party ensues, Jab Jabs march on, keeping rhythm on goat-skinned drums.
Soca artists are challenged to come out with new music for each year's carnival, and at Spicemas this year, riddims, as they're so called, like D Venom Jab by Libra and Jab Jab Uniform by Boyzie, were among the season's hits. Lyrics in Jab Jab Music tell the character's story and speak to the spiritedness of the festival.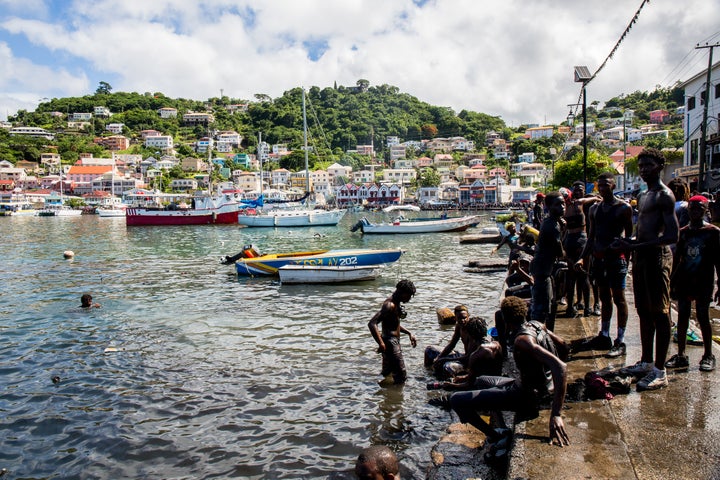 If Jab Jab J'ouvert could be characterized with one word, it would be: transcendent. It's a time and place where anything goes, revelers coexist in a beautiful frenzy and strife isn't welcome. It's a time to liberate your soul and your spirit, to free up, as West Indians would say.
When it's all said and done and the sun comes up on Monday morning, blackened and besmeared masqueraders head to the sea, some jumping right into the water along the Carenage, some bound for beaches like Grenada's famed Grand Anse, to wash away the oil and whatever sins arose in the night, and prepare themselves to party more or less straight through to Tuesday.
Freedom has probably never been more fully manifested than at Spicemas' Jab Jab J'ouvert.
Related
Popular in the Community