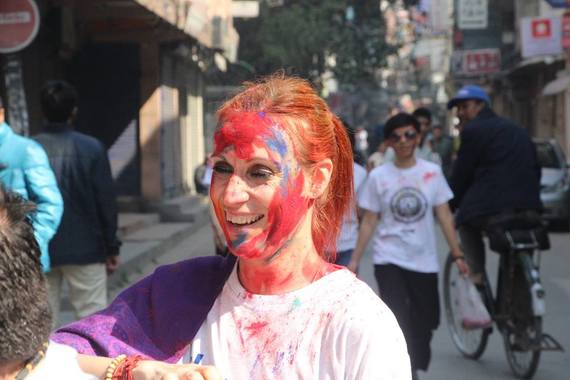 Cathy from Canada enjoying Holi at Thamel (Photo : Nepal Tourism Board's Facebook)
Mt. Everest is the tallest peak in the world which lies 8848 km above the sea level. Everest became a brand in the international arena after Tenzing Norgay of Nepal and Edmund Hillary of Australia stamped their flag over its summit. Before them many climbers lost their lives in an attempt to scale the top of the peak, which is called Sagarmatha by the local residents.
With the branding of Everest in Europe and Australia, the flow of tourists began increasing, creating chains of businesses in the base camp. Solukhumbu began bustling with visitors from all over the world. Travel agencies began springing up to fulfill the demands of the tourists to tour the Everest. Government of Nepal created a provision for all the interested party with a special permit from Nepal Tourism Board. Everest became a major source of foreign remittance for Nepalese Government.
Everest, thus became a great center to connect Nepalese to people from all around the world. Locals of Solukhumbu like Sherpas were the ones mostly engaged in entertaining the tourists and helping them along the Everest base camps, a trip which is often dangerous due to avalanches and cold winds. These winds have devoured lives of many aspirants of Everest summit.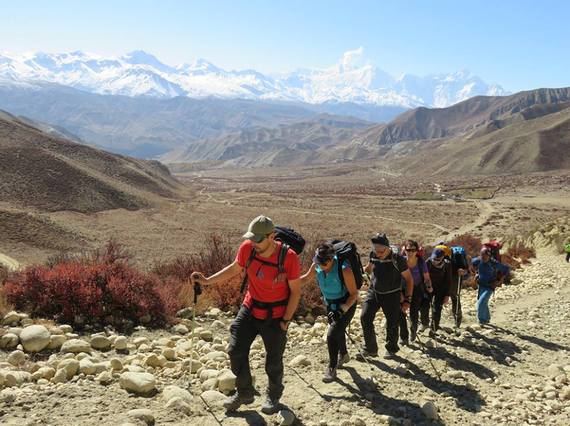 Amazing Mustang with beautiful mountain parallel and barren landscape (Photo : Nepal Hiking Team's Facebook)
Tourist attraction can be increased by promoting the Everest stories at international level. The sanitation issues at the Everest Base Camp and the garbages in the area caused tremendous loss of image for the brand during the last decade. Lately, new companies have started providing helicopter rides over Mt. Everest. Though dangerous very often, helicopter rides have proven very effective for the tourist industry. Lot of developments were made in the tourism industry sponsoring these tours during Keshav Sthapit as a Mayor of Kathmandu Metropolitan Area. Birth Place of Buddha- Lumbini
Lumbini which is located in Bhairahawa region is a place where Siddhartha Gautam, empounder of Buddism,also known as Lord Buddha was born by the tree as a son of Yashoda, wife of King Sudhyodhana of Shakya Dynasty. Buddha later left the palace in search of enlightenment and obtain full knowledge at Gaya while sitting under the Bodhi tree.
Buddha took his new knowledge across India to China and Japan despite the resistance from the Brahmins and priests of his time. Lumbini is today visited by Buddist pilgrims from across the world. Pilgrims from Japan and China flock amidst the Ashoka Pillar where Buddha took his first seven steps after birth.
Lumbini international Airport is the latest development in promoting tourism in this area. Town of Bhairahawa is also growing at a rapid pace. Nearby Butwal is a fast paced market. Local markets that provide clothing for the Boudha Bhikshus are being established. Most of the visitors here are Buddist monks from different parts of Tibet, China and Japan.
After the establishment of Tribhuvan International Airport in Sinamangal, the Nepal Airlines began its domestic flights throughout Nepal. With further establishment of infrastructures, Air India and few other countries started operating through Nepal's Air Space.
Today Nepal has several airlines of its own. Buddha Air, Tara Air and Himalayan Airlines are few among many airlines originating from Nepal. Besides, Pokhara International Airport and Gautam Buddha International Airport are among recently added airports with international connection via TIA. Maoist government began changing names of all the government agencies including RNA to Nepal Air Lines thus disintegrating the basic fabric of Nepalese society.
TIA operates in a region very close to residential and school areas thus disturbing the local community very often. There's been several close encounters of the planes with crows and other birds in the Tinkune area.
Pashupati temple has a great prospect both for its religious and economic value. It is the only spot visited by most of the Indian neighbors. Hinduism is a major bond that binds India and Nepal together despite all differences. Temple complex is itself a work of wonder with all its grandeur. The magnificence was visible to the outsiders during the funeral rites of King Birendra and his family members.
The temple has been foundation of the country itself. There's not a single King or Prime Minister before the Maoist regime who hasn't visited the shrine and bowed down before the Supreme Pashupatinath who lives and plays his leelas in different ways. The aura of temple unites majority Hindus and Buddists of the country because Buddism also has its foundation from Lord Shiva himself with deities like Mahakaala in Buddism.
Monkeys wandering around Pashupatinath are the most homely creatures of all. They make the steep climb over the hill of Pashupati endearing. Located in Gausala center, Pashupati complex consists of many ponds, funeral home, temples of various deities, Bagmati river flowing through it and astrologers predicting the future of their clients. Hindus across the world visit this sacred spot in the nights of Mahasivaratri.
Calling all HuffPost superfans!
Sign up for membership to become a founding member and help shape HuffPost's next chapter