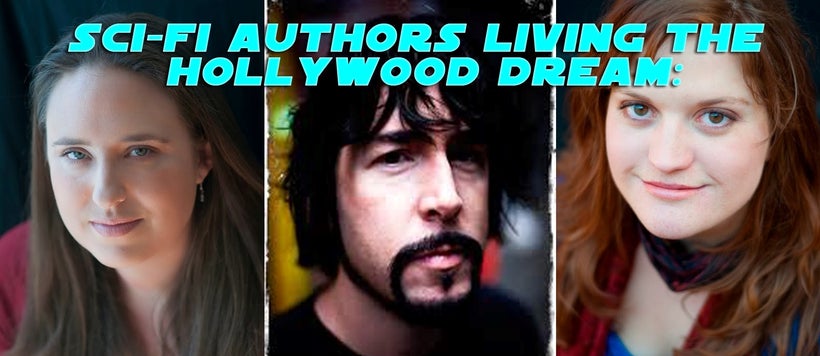 Over the past couple of years, life for authors Amie Kaufman, Meagan Spooner and Jay Kristoff has taken an exciting turn. Kaufman and Spooner's sci-fi trilogy These Broken Stars has been optioned for a TV series by actor Eric Balfour's production company, whereas Kaufman and Kristoff's trilogy, The Illuminae Files, has been optioned by Plan B, with Brad Pitt (yes, the Brad Pitt!) producing.

Amie Kaufman, the co-writer of both smash success young adult sci-fi series heading to the big and small screens, discusses with us how life has changed.
Amie Kaufman, as half of one writing duo with Meagan Spooner as the authors of the young adult fiction sci-fi trilogy These Broken Stars, and half of  another writing duo with Jay Kristoff behind the Illuminae Files trilogy, you have had a pretty tremendous couple of years. 
I really have! It's been a lot of hard work and a lot of good times -- I still find most of it hard to believe!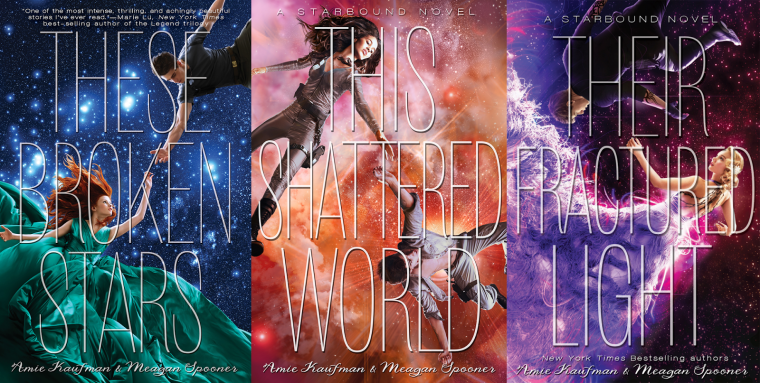 You and Meagan are both big fans of the TV show Haven, and one of its stars, Eric Balfour, is that right?
Absolutely! I discovered Haven while I was sick, and I spent days on the couch with tea and a blanket, marathoning the whole thing. It's such a fun, clever show, with great storylines week to week, and a very cool overarching plot as well. Eric Balfour's character, Duke, immediately caught my attention, because there's so much mystery to him, and Eric plays it so well!

So what was it like when the star of one of your favourite shows loves your work and wants to turn it into a TV show? 
Surreal! I'm sitting on this phone call with Eric and Meg, listening to him talk about These Broken Stars and the way his company would like to adapt it – talking seriously and with a lot of thought about the artistic choices they'd make, asking smart questions about the rest of the series – and a part of my brain just kept going "nope, this can't be real, this can't be real."

Tell us about when Eric Balfour showed you and Meagan around Los Angeles.
We had so much fun! We were lucky enough to meet and hang out with the whole team of producers in L.A., and having that face-to-face connection is great when you're later communicating via email. It's been a super fun experience so far, and we're enjoying every step –getting a TV show made and onto the air is SO hard, and we know that at any stage it could stop, so we're making sure we have as much fun as we can!
A part of my brain just kept going "nope, this can't be real, this can't be real"
Not only did Eric Balfour court you and Meagan to sell his company, Off the Grid Entertainment, the TV rights to These Broken Stars, but fast-forward a year and Warner Bros and Brad Pitt's Plan B Entertainment have purchased the rights to make a major film of Illuminae, the first book in your trilogy with Jay Kristoff. Tell us about that.
That's right! Again, we had the chance to talk to the producers who'd be working on the movie, to hear what drew them to the project, and how they'd like to make it work – handing over your stories is a big moment, because once they're gone, you don't have much control. The team working on Illuminae has shown a lot of commitment, and we think they're great.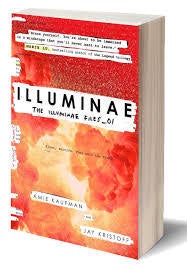 Illuminae is not your average novel, in fact, made up of instant messages, redacted reports, security footage transcripts and interviews, it's not really a novel at all!
It's definitely very different — the book is set up as a file put together by a group of hackers, so there's a lot of non-traditional formatting in it. You get a lot of information from a lot of different sources, and it's up to you as the reader to put together the pieces. We originally pitched it as "Battlestar Galactica meets Ten Things I Hate About You".

How do you think a book such as this will work, adapted for the screen?
I don't know – but what I do know is that the best approach when adapting any book is to find a team you really trust, and then trust them. They're the experts at making movies, whereas our expertise lies in writing books. I do know from long conversations that they absolutely get the heart of the story, so I'm excited to see what happens.

What was it like, two ordinary Aussies being schmoozed by Hollywood big wigs?
I have to use the word "surreal" again, because really, I mean, come on. But at the same time, the teams on both the TV show and the movie are made up of awesome people who are a lot of fun to talk to, and deeply committed to telling stories well. So at the end of the day, it's still a bunch of storytellers having a conversation.

Did you get to meet Brad, himself?
Haha, no! I'm sure it's just a matter of time, though. Right? Riiiiiiight?

So, in the meantime, where to from here?
My next book out is Gemina, which is coming in October — it's the sequel to Illuminae. Then over the next few years I've got more books releasing — a series with Meg, and a solo series as well. In the short term I'll be at YallWest in May, and there'll be more travel and touring coming up in the next year! 
 You can meet the authors of The lluminae Files, Amie Kaufman and Jay Kristoff,on tour across the US, starting this Saturday 30th April at YALLFEST, Santa Monica.
Saturday, May 7 at 5:00 PM
B&N # 2241
1430 Plaza Place
Southlake, TX 76092
The Starbound trilogy and Illuminae (The Illuminae Files #1) are now available in print, ebook and audio. Gemina (The Illuminae Files #2) is due for release October 2016.
REAL LIFE. REAL NEWS. REAL VOICES.
Help us tell more of the stories that matter from voices that too often remain unheard.
This post was published on the now-closed HuffPost Contributor platform. Contributors control their own work and posted freely to our site. If you need to flag this entry as abusive,
send us an email
.