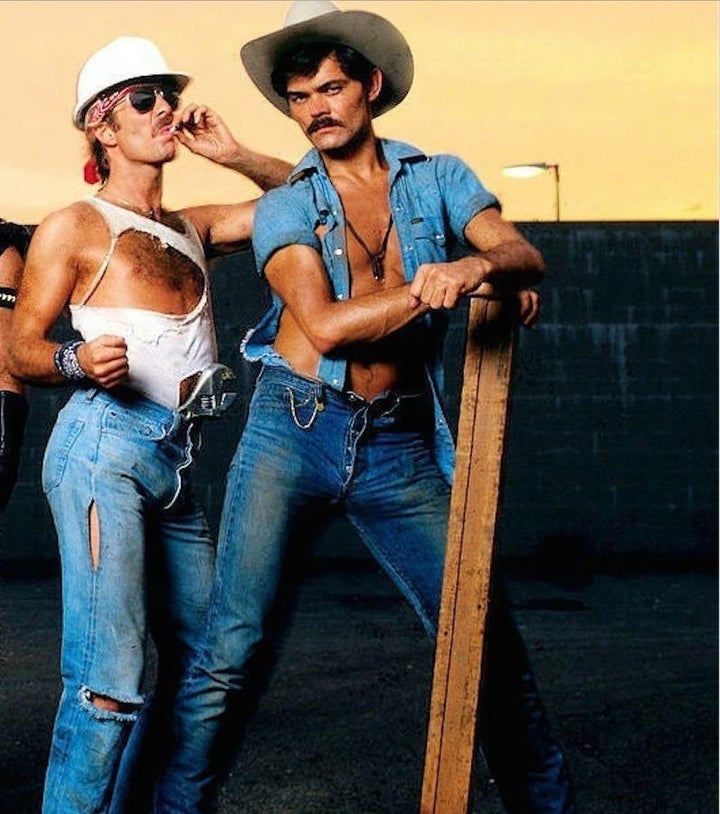 The achievement of having a song chart on Billboard is enormously prodigious in itself, however celebrating a hit on the charts approaching the eve of the 40th anniversary of the first time you appeared on the charts ever, is triumphant. Randy Jones, the original cowboy of the "Village People" is the only member of the disco phenomena recognized for their onstage costumes representing American masculine cultural stereotypes, who has charted as a solo artist, with his newest release, "Hard Times".
"Hard Times", is the one thing Randy Jones is certainly not having these days, with a hit record on his hands, starring in, writing, and producing Horror films, working on an EP, making personal appearances at national comic cons, and traveling around the country performing. With barely a moment to breathe, I was fortunate enough to catch Randy in New York. We made arrangements to meet at the legendary Bowery Bar in The Village, following his television taping for Metro Focus, (PBS).
It was an exceptionally humid August day as I sat on the electric blue and white striped couch, sipping my ginger ale brimming with ice and adorned with a chartreuse lime. I observed the eclectic decor, the variations of Ivy climbing the walls of the outside enclosure, the brick floors, and burnt orange and turquoise fireplace, thinking that nothing matched, yet it all worked. Ultimately Randy sauntered in, tall and full of smiles, looking not very different than he did 40 years ago, proudly giving out his new re-mixed CD to myself and the restaurant hostess. Within seconds of being seated Randy was informed that the kitchen employees were blasting, "YMCA". He then strolled into the kitchen and happily posed for pictures with the staff, definitely making their day and leaving them thrilled. They were young, and spoke an array of native tongues, yet even they recognized Randy Jones as a legend.
We sat during a long lunch and spoke in depth about Randy's career spanning over 50 years in the entertainment industry, and still going strong, with his new Billboard hit song, and his vast movie endeavors, as well as all of his scheduled appearances around the country and internationally.
You have been in the entertainment industry since 1966, just to fill in some of the blanks, do you recall your first gig entertaining people?
Yes I do. It was in "The Music Man". I think I played Tommy Djilas, the dancing boyfriend of the mayor's daughter. I was 15.
Then you actually began acting before singing?
I am an actor. I would say that before singing or anything, I am an actor. That's how I really do approach every song from the point of view of an actor. Most pop songs that I consider a real song are a verse and the chorus, verse and the chorus, and tell a story. It's kind of like a play in three or four minutes. You have a beginning, middle, and an end, with a certain arc of drama. For me I choose songs because in some way they help illustrate a story I want to tell. That's how I've always appreciated songs and singing from an actor's point of view. My mentor, who totally revitalized my interest in singing and also gave me the best perspective I believe, that helped me crystallize my thoughts as a singer and an actor, is Julie Wilson. She said that when you were in front of an audience, whether it be a big concert hall, a cabaret, or just singing to someone at the dinner table, the words are what you use to tell the story with. You've got to be able to engage that audience with what the story is that you're telling. You've got to get them involved from the beginning to the end. She helped me understand that as an actor the words are really the most important part of the song.
Where were you the first time you heard one of your songs on the radio?
I had heard "Macho Man"just a little bit. The first time I ever got out of the car was with my sister. I was in North Carolina seeing my family. I remember when "YMCA" came on, it was a local radio station in Raleigh North Carolina. We stopped the car and we jumped out and ran around it three times, like a Chinese fire drill. It was just that exciting! "Macho Man" was the first song that got radio play, but not to the extent of "YMCA". It was on everybody's list and played all the time. It was a pretty remarkable feeling. If I were to look at YouTube it's approaching 100 million views, just "YMCA". With all of the stuff I've done with Village People, and all of the stuff I've done as a solo artist, I have close to 400 million views on YouTube, which is approaching half a billion.
That is a remarkable statistic, however considering "YMCA" is probably still one of the most popular songs in the world, and with the fact you are still making music that's charting, I'm not too shocked.
And Youtube hasn't been around that long. If you think about the times on television, Youtube, and radio, over 50 years..... I don't think about it a lot, only when I'm asked or prompting. There are millions and millions and millions, if not billions of eyeballs and ears that I have had the blessing and the luxury of performing for. I am very grateful at this ripe old age that I am still able to do that, and enjoy doing that and have had the balls to put out a CD last year called "Mister Right", where I sat on a chair on the cover with no damn pants on.
What is your proudest career moment?
It's nice to play for the Queen of England. It's nice to perform for the presidents at inaugural balls. It's nice to do outdoor concerts with a quarter of a million people. It's nice when the helicopter picks you up on the rooftop of the hotel and flys over the crowd, like in the movie, "The Rose". It's nice to make a movie with Bruce Jenner, and Paul Sands and all of those great people. However I think one of the proudest times I ever had was on a tour when we did 56 shows in 70 days. I remember when we played Greensboro Coliseum in North Carolina, an hour and a half from the town I was born in. My family booked four buses and family and friends came to that concert. They were in the audience with posters, and they had big blowups of me when I was three years old dressed as a cowboy. I remember my mom and dad and brother and sister and grandparents were there. That was a very proud moment, especially in the light of thinking about my dad, because they were all alive, and they got to see me do something that no one else in our family had ever done.
It seems like you are the only one out of the Village People with a very active and thriving solo career. Do you ever see any of the others from the Village People, do you know where they are today?
Glenn Hughes who was the biker, the leather guy, has passed away. He died in 2001. The construction worker, Dave Hodo does not perform with the group anymore. I think he retired about 3 or 4 years ago. Alex Briley, the soldier, he was performing with the group until recently, he may still be. Felipe Rose, the Native American has been performing. Those are the only original ones.
Since the Village People's songs are still looked upon as gay anthems in many cases, I know that people wonder if the group members where gay, straight or whatever?
First of all, I never did anything with any of them, so I can't tell you first hand. I do not think that every member of the group was gay. I can tell you I've been with my husband 34 years. The Village People was a mixture of ethnicity, races, lifestyles, sexualities, sexual orientation's, it was a true village. It was a mixture if everything. I know everybody in the group was not gay,
Would you sing with them again?
They've approached me but I just don't have time. I'm booked through next year, with film, with appearances. I think it would have been remarkable if everybody had survived to do a reunion as a group. We charted as a group 40 years ago this summer with "San Francisco", and that's something I'm really glad I did. But 40 years later I'm the first and only one of the Village People that has charted as a solo artist. I really love that.
Recently you completed a Horror film entitled: "Tales of Poe". I understand that you are a big fan of Horror films. What inspired that?
I love the genre. I was raised up in the 50s in the 60s when TV was young. Universal and RKO would allow the movies to be played on television. So I saw the werewolf movies, all the Dracula movies, the Frankenstein movies, all on television. "Tales of Poe" is an anthology of three different stories. I'm in the middle one called, " The Cask of Amontillado". I think it's on Netflix, it's on Amazon....Have you seen any of "Child of the 70's?
I haven't, that's another series you recently did. I heard it was like a homage to sitcoms of the 70's?
It's like a Novela. Like a Spanish soap opera. Michael Vaccaro has created this web series called " Child of the 70's". It's got Ann Walker, Bruce Vilanch, Ann and I kind if played love interests with each other.
You also have a new film coming out shortly?
It's called, " Prepper's Road, where I play a righteous, but evil back woods preacher. It's a horror film. He's a minister for the West Nile Baptist Church.
West Nile, like the virus?
You also appear at comic con to sign autographs?
I do these signing shows with Tony Todd, the African- American guy from "The Night of the Living Dead". He does all the "Candy Man' movies. I'm trying to collect a portfolio of horror films, because I know that the fans and followers for these horror movies are very loyal, and there is so many of these signing conventions. So I am putting together in my career, three or four or five, or as many as possible horror films, so that I have that audience.
So "Hard Times", is charting right now?
"Hard Times" is the single that's charting right now. It's the first time that I have charted as a solo artist. It's number 3 'Break Out'. By the time you put this together, it might do better. It's the first single from the upcoming album that comes out in 2018 called, "Still Making Noise".
I think it's a great title. "Still Making Noise" because I am. That's out early this year, February I think.
So to some up all the noise you're making....besides your hit song "Hard Times".
We've got ' Tales of Poe', it's out on Google Play, it's on Amazon, it's on Netflix, and that's the horror film. I just finished "The Rack Pack" earlier this year, it's that one you saw about the bomb going off. It's a comedy, family, and children friendly adventure film. Then there's the one I'm shooting in October, called Prepper's Grove, and that should be out early next year. To me as an actor, I remember a teacher I had said, "once you complete something, have something else to look forward to. Keep doing what you're doing. If you're an actor, act, keep going from one project to another". That's not always the easiest thing to do, but I like my agent, and if I'm not having something to act in, I've got a record that I'm working on. Working on a record takes a lot, not only to record it but to write it. Also you have to promote it. You've got to be photographed for it, perform it on TV.....and then if all of that's not enough, I've got an agent for those signing conventions. You go for two or three days with 68 thousand people that come in, and you sign all those autographs. I was just there with RunDMC, Ralph Macchio, Lee Majors, the 6 Million Dollar Man, and then there are the video games. The characters in video games....I don't even know them cause I don't play them. But, I'm in one called "Postal lll". It's a shooter game. It's worst than "Grand Theft Auto". I didn't realize when I did it that the object of the whole game is just to shoot people.
I think the older kids play those kind of games.
They do, totally do. It's kind of crazy. I play the leader of a biker gang. "YMCA" is used in Grand Theft Auto", too.
"YMCA" will always be a phenomena.
It crosses all boundaries, all age levels, all cultures, ....It's one of the most precious things that I can carry around in my pocket.
For more about Randy Jones:
Instagram: cowboyrandyjones
Support HuffPost
The Stakes Have Never Been Higher
Related
Popular in the Community