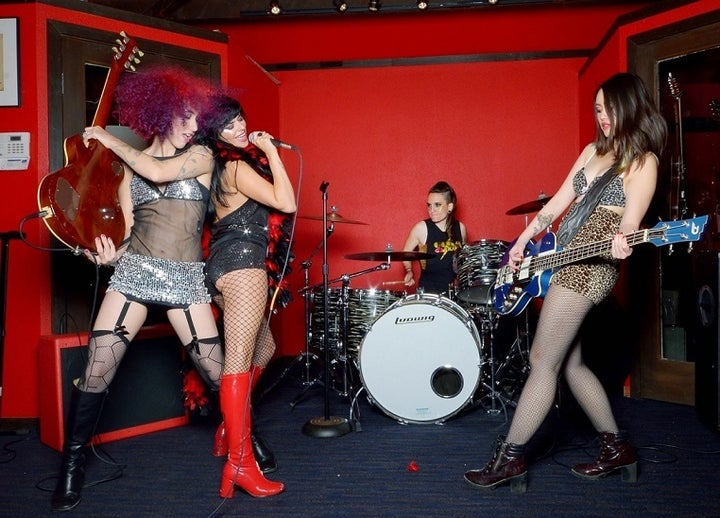 After a sold out and successful North American tour supporting the iconic, phenomenal Adam Ant, the sparkling, glitz band Glam Skanks is about to do it all over again...this time in the UK.
After premiering their new video, "Bad Bitch", on Yahoo Music, they will be setting out to play support once again for Adam Ant's Anthems – The Singles tour, beginning on May 5 in Newcastle. The all-girl faction is a punk/glitter band, with music reminiscent of the 70s and 80s. As a package, this band shines and glistens like a scintillation produced when absorbed by ionizing radiation.
The members include spunky front woman Ali Cat, magenta-haired guitarist Veronica Volume, talented bass player Millie Chan, and vivacious drummer Cassie. Loving their fans, they make themselves available to meet, greet and take photos. Their personalities shine, as does their music.
I spoke with Ali and Veronica, these "Bad Bitches", about their experiences of the last tour, as well as their expectations of the new, upcoming one.
Louder Than War: Are you guys recovered from your tour, and ready to go again?
Ali: I am still recovering! It was quite the roller coaster and I'm still trying to take it all in. But yes, I am ready to get back on the roller coaster! I think all of us would like to make our home on the road.
Veronica: Definitely ready to go again!
You were really amazing. And you looked like you had a blast.
Ali: Thank you! Yes it was the best time of my life. Playing on massive stages to thousands of new faces, opening up for the legend himself, Adam Ant. And getting such amazing, honest responses from people was amazing! It honestly couldn't have gone better.
What were the highlights of your tour with Adam?
Veronica: Playing The Fillmore in San Francisco was probably one because it's such a historic venue. They had posters up from when Led Zeppelin played there, The Who, and all these great bands. Seeing my heroes up on the wall of a venue I was about to play was an amazing feeling.
Ali: Every night playing in beautiful theaters, to amazing people and inspiring woman to be Bad Bitches :)
Ali do you have one particular story that you can share?
Ali: One of the highlights for me on the tour was playing in one of my favorite cities, New York, at one of the most famous venues, Webster Hall. The crowd was full of energy and excitement and at the end of the set I was feeling wild and I jumped off the stage to stand up on the barrier and ended up falling on the ground, bruising my legs, but then quickly jumped up like Wonder Woman herself. After the show Glam Skanks', Adam Ant's band and crew went to go party at Pinks Bar with a bunch of Ant fans for an Adam Ant tribute night. We danced and drank and had the best time. It was so fun to bond with everyone. Definitely a special night!
Ali: In Vegas, when we played The Brooklyn Bowl, we were about halfway through our first song and I saw a group of all my friends in the audience, cheering and singing along to our songs. I didn't know that they were going to be there. They totally surprised me and took a road trip all the way to Vegas just to see us. It was a super special moment for me. They are truly my biggest supporters. I had to hold back tears while singing 'Teenage Drag Queen"!
Veronica: I liked it when we played The Observatory in Santa Ana and I jumped off a giant monitor. I was excited to NOT fall. I jumped with my platform shoes and a guitar, probably about 3/4 feet high, and landed on my feet.
So you're off to the UK. Have you been noticing the Facebook responses?
Ali: Yeah, I think people are really excited! I know when we were about to do the North American tour, people seemed skeptical, but they wound up loving us. We had such a good response from the last tour, I think that the Ant fans in the UK have taken notice and are getting pumped to witness the glitter glory that is Glam Skanks!
Have you ever been to the UK?
Ali: Yes. But only to England! And I was a bit younger, so I couldn't have all the fun I can now ;) And I am beyond excited to experience beautiful Scotland.
Veronica: I toured England when I was 18 with my old band called Blame Ruby opening up for an artist named Babybird. We actually toured a lot of the cities that we'll be hitting on this next tour.
What are you looking forward to most for this coming tour?
Veronica: I'm looking forward to playing Royal Albert Hall. That's a bucket list thing. It's a big deal. Royal Albert Hall is London's Carnegie Hall and everyone from Zeppelin to the Stones have played there. I grew up with a DVD of Led Zeppelin playing an iconic show at Royal Albert Hall and ever since then I've always wanted to play there.
So you guys went from playing locally in LA to a national and now international tour. How are you wrapping your heads around that so suddenly? You went from working your way up to something, and now you are a big something.
Ali: It's been crazy and it might seem like it's happening so fast and out of nowhere, but Veronica and I have been working on this vision for a little over four years now, so all I can say is we are just ready! I knew it was coming, it's just a matter of never giving up and working really hard toward your dreams. Stay true to your vision kids!
Veronica: Yeah as Ali said we've been working on this vision for a while now and I've been playing in local bands since I was 13, so it feels incredibly rewarding to know that other people are taking notice of what we're doing.
Are you working on anything new?
Ali: Yes. We plan to write and record an album when we get back!
Veronica, what was it like having your dad on the last leg of the tour?
Veronica: Oh I've done it before. My dad played with Babybird when I toured the UK as a teenager. My dad is definitely the best guitar tech/ roadie that you could ever ask for because he has such a good ear for everything. If something isn't working right, he's on it.
So you will be traveling into London?
Veronica: We have an intimate gig on our own the night before the tour starts at Art Beat at the Amersham Arms in London. After the tour, we will be playing some gigs in Camden, and some festivals including the Camden Rocks Festival!
What's one thing that you learned from going on your first major tour?
Ali: I learned how to take care of myself. Getting as much rest as possible, even though you might want to party or explore, and trying to stay healthy! And I didn't get sick .. so proud of myself! Another thing I learned is to be super patient and stay grounded. It can get to your head, playing on huge stages to so many people. We're still new to it and it's amazing.
Veronica: Definitely how to tour. I learned so much from working with professionals like Adam and his band and crew. I also learned the weather is terrifying and unpredictable. We got snowed in coming down from Vancouver and didn't think we would make it to San Francisco in time for the show. We also got apocalyptic rain when we were back home for the night playing in Santa Ana. In my lifetime of living in Southern California I've never seen anything like it.
Veronica: If you're looking for a good glam-rock party, our new album is "Glitter City" and available at all of the usual places. And look out for our new music video for our single "Bad Bitch" and also keep an eye out for the full "Karma/Bad Bitch" short film coming soon!
Ali: Be a Bad Bad Bitch!!!
Popular in the Community