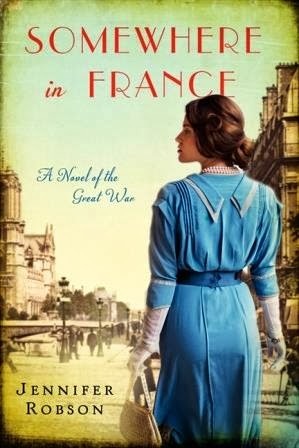 Jennifer Robson had the idea for her gorgeous and riveting historical novel, Somewhere in France, bouncing around in the back of her mind for years before she put pen to paper. When she finally found the time to write, what resulted was a phenomenal story of hope and love set amidst the Great War. Fans of Downton Abbey will love the world Robson has created and the fiercely independent Lady Elizabeth Neville-Ashford (Lily) will be sure to inspire readers.
Tell us the story behind the story. How did Somewhere in France come to be?
I think I first became seriously interested in the Great War when I was in high school. In one of my English classes we were asked to choose a poem to study, and I picked Wilfred Owen's "Strange Meeting." I was so overcome by it that I read through all his other published poetry, then I began to read Siegfried Sassoon and then, probably when I was 17 or 18, my parents gave me a copy of Vera Brittain's Testament of Youth. I have re-read it countless times since and the moment when she learns of her fiancé's death still brings tears to my eyes.
Although I didn't focus on the Great War in my doctoral studies, Oxford is the kind of place where events of a hundred years ago feel like they happened only yesterday, so of course the war stayed with me. I suppose it was then that the idea of writing a novel about the Great War, but one with a woman protagonist, first occurred to me, but that's all it was for many years -- an idea at the back of my mind. It wasn't until I was at home with two little kids, one of them a newborn, that I finally began the serious work of researching these vague ideas I'd put together, then slowly assembling them into a book.
What was the most challenging aspect of writing Somewhere in France?
Figuring out how to find enough time to write. I've never been particularly good at juggling things, and all too often it was tempting to just forget about writing and concentrate on things that couldn't wait, like ensuring my kids had eaten and were wearing clean clothes. My default at first was to wait until they were asleep and then work into the wee hours, which had the disadvantage of making me pretty nocturnal. This September, however, my youngest child started all-day school, which means I now have (assuming I don't get distracted) roughly six hours to work during the day, plus whatever I can manage in the evening. It's wonderful!
What is the message you want readers to take away from your book?
While I was finishing the first draft of Somewhere in France, the last living veteran of the Great War passed away, an Englishwoman named Florence Green. They're all gone now, and with them our last direct connections to the war itself. So it falls to those of us who have listened to them, and who care about what happened to them, to keep alive their memories of the war, and in particular their differing reactions to the war itself. In Somewhere in France, Lilly and Robbie are horrified by the death and suffering that surround them, but they're also propelled to continue their work (as an ambulance driver and trauma surgeon respectively) by their unwavering convictions regarding honor and duty, no matter the cost to each of them personally. In that respect, I don't think I'm offering a message so much as posing a question: in the midst of total war, how would you behave?
Describe your writing schedule. Do you outline? Any habits?
I see my children off to school at 8:30, and from then on I sit down and work more or less straight through, with breaks to feed myself and walk the dog, until it's time to pick the kids up at 3:00. Once they're home I put my laptop aside until they're in bed -- homework, extra-curricular activities and dinner occupy me in the intervening hours -- and then I work for two or three hours more at a minimum. My husband often has to work during the evening, too, so we sit next to each other on the living room sofa with our laptops. That's what passes for a romantic evening for us right now!
I'm a planner all the way and typically don't start a first draft until I've done most of my research and have a ridiculously detailed outline in place. From there I just start writing and only pause to look up arcane details -- the other day I spent ages trying to nail down details of a train journey from Liverpool to London in 1919.
What books are on your nightstand? What are you currently reading?
I'm in the middle of reading Emily Mayhew's Wounded: From Battlefield to Blighty 1914-1918, which details the experiences of wounded soldiers from the moment they were first injured. Dr. Mayhew's command of the subject is first-rate and I only wish I'd had her book as a reference when I was researching Somewhere in France. Also on the pile is Bill Bryson's One Summer: America, 1927, which I'm saving for an upcoming weekend away; About Alice by Calvin Trillin, which I've read at least a dozen times; Jerusalem by Yotam Ottolenghi and Sami Tamimi -- I like to read cookbooks for pleasure -- and the delightful children's book The Worst Christmas Pageant Ever, which I read to my daughter last night.
Which authors inspire you?
I adore the work of Pat Barker, Joseph Boyden, Tracy Chevalier, Hilary Mantel, Annabel Lyon and, though I suppose he's fallen out of fashion, Robertson Davies. Among non-fiction writers, my perennial favorites are Bill Bryson, Adam Nicolson, Adam Gopnik, Judith Flanders, Simon Winchester and Juliet Nicolson. I also turn to David Sedaris whenever I need to laugh and think at the same time.
I owe a huge debt to J.K. Rowling for inspiring me to start writing seriously. When my youngest was an infant and I thought I'd never have the time to write anything longer than a grocery list, I saw a documentary about Ms. Rowling. At one point she described how difficult her life had been while she was working on the first Harry Potter book. I looked around me and realized I had everything I needed to be a writer apart from the determination to do so. I started work on Somewhere in France the next day.
What have you learned from this experience?
I've learned how fortunate I am. I've been blessed with unlimited support from my family and friends, in particular from my husband and sister, and that has given me the confidence to persevere even on the bad days -- and there are quite a lot of bad days when you're first starting out. But I swear I'm not complaining -- this is a wonderful way to spend my days and I try to remember to savor every moment.
What is your advice for aspiring writers?
Don't give up the first time your work is rejected. I could wallpaper my study with the printouts of all the boilerplate rejection emails I received, but all it took was one person saying "yes" -- in my case, my literary agent, Kevan Lyon -- to turn things around. At the same time, be open to recognizing that your work isn't perfect and can always benefit from another set of eyes. Seek out constructive criticism from writing partners, groups and even courses if you can afford it. Most of all, write whenever you can, even if it's only a paragraph at a time. Just write.
What is the best piece of advice you have ever been given?
I mentioned earlier that I love to create outlines. Well, when I first starting writing Somewhere in France I started with a rough outline, which I showed to my sister once I'd worked up the courage to tell her about it. She said it was great, so I added to it, then added to it, and eventually it was at least 20,000 or 30,000 words long. After about a year of this, she called me up one day and told me she wouldn't read the outline again. "Just write the damn thing," she told me. So I did. I wouldn't be talking to you now without her having given me a kick in the pants.
What are you working on now?
In Somewhere in France, one of the secondary characters is Charlotte Brown, Lilly's best friend and, rather unusually, her former governess. After the war, Charlotte moves to Liverpool, where she works as an aide to city councilor and social activist Eleanor Rathbone and, with the help of her friends there, tries to discover what she really wants out of life. Her efforts are complicated by the return of a man from her past -- a man who captivates and exasperates her in equal measure, and whose life and pursuits are so at odds with Charlotte's that she cannot imagine a future with him. Its title, tentatively, is After the War Is Over, and it's scheduled for publication in early 2015.
For more information on this talented new writer, check out her website.
Popular in the Community