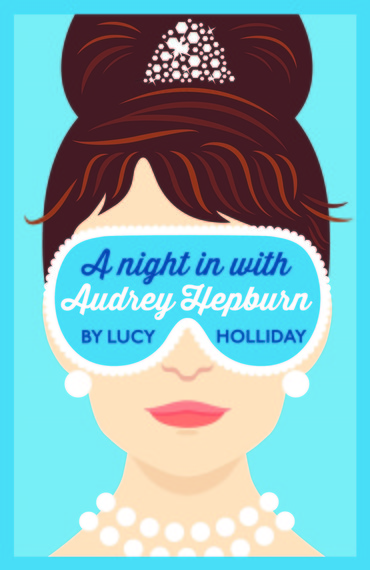 Fans of Sophie Kinsella can add a new author to their roster of "Must Read" Women's Fiction Writers. Lucy Holliday throws her hat in this fashionable ring with A NIGHT IN WITH AUDREY HEPBURN. A fun and lively story about what life would be like if you were able to get much-needed advice from one of Hollywood's most stylish and iconic women.
Struggling actress Libby Lomax tries to find solace in classic movies, letting the romance on-screen fill the void of her lackluster life.
Enter Audrey Hepburn.

After a particularly harrowing and humbling day on the set of a cult TV sci-fi series, Libby sinks into her sofa and retreats into the world of one of her favorite classic films, Breakfast at Tiffany's. When she suddenly finds Audrey Hepburn sitting next to her, complete with little black dress and oversized sunglasses, Libby is suddenly thrown into a world where Hepburn is her own personal guru.

A NIGHT IN WITH AUDREY HEPBURN is the first in a series of three books following the life and loves of the charming Libby Lomax.

Lucy gave us some insight into where her ideas come from, authors who inspire her, and what's next.
Tell us the story behind the story. How did A NIGHT IN WITH AUDREY HEPBURN come to be?

I was hideously sleep-deprived with a new(ish) baby, who didn't seem to be getting the message that at 5 months old she was SUPPOSED to be sleeping better... somehow in my addled state I decided it would be great fun to write a book featuring my favourite movie star, Audrey Hepburn, but I didn't yet know exactly how I could make this work. The heroine, Libby Lomax, came to me bit by bit, and I ended up putting the two characters together via the medium of a magical couch. Like I say, I was very sleep-deprived at the time so I'm glad (now that I no longer am!) that it all seems to hold together!
What was the most challenging aspect of writing A NIGHT IN WITH AUDREY HEPBURN?

Getting Audrey's 'voice' to 'sound' right to me on the page. By far the biggest challenge! I told my editor that if I could get this right, I felt that everything else would follow, and so it was.
What is the message you want readers to take away from your book?

That there's nothing wrong with wanting a little Hollywood glamour in your life! And that we can all use a great best friend.
Describe your writing schedule. Do you outline? Any habits?

My writing schedule is dictated by how generous my (3 year old) daughter is about me giving up ANY of my time... In all seriousness I write on the evenings and at weekends. I try to be disciplined but it's hard! I do outline but the finished result is NOTHING (and I mean NOTHING) like the outline. Habits are coffee, procrastination, panic, more coffee, and TURNING OFF THE INTERNET.
What books are on your nightstand? What are you currently reading?
It's an odd mix of the children's books I read to my daughter at stupid o'clock in the morning when she wakes up (Where The Wild Things Are, The Cat In The Hat and a compendium of fairytales are there currently) and, right now, a pile of biogs on Grace Kelly (the subject of the third book in the series)
Which authors inspire you?
Marian Keyes, Kate Atkinson, PG Wodehouse, Sophie Kinsella, Jane Austen, Ernest Hemingway... sorry, it's an eclectic and odd mix!!
What have you learned from this experience?
To believe in myself a little more.
What is your advice for aspiring writers?
Just write. The best way to escape the tyranny of the blank page is to cover it with words. You can worry about how to make them the right words later.
What is the best piece of advice you have ever been given?
Show, don't tell. And to work hard on crafting the funny bits. It needs a ton of work to make it seem as easy as falling off a log.
What are you working on now?
Third part of the 'Night In' trilogy - Grace Kelly!
Joan Didion famously explained that she writes "entirely to find out what I'm thinking, what I'm looking at, what I see and what it means. What I want and what I fear." Why do you write?
Because I have to - by which I mean that I feel, and have always felt, a compulsion to do it. It can be hard and it's often scary and frequently lonely, but I don't know how to live a life where I don't write.
Support HuffPost
The Stakes Have Never Been Higher
Related
Popular in the Community