More and more, marketers are beginning to figure out that content marketing without marketing content can be an expensive, time consuming and failure-prone endeavor. Marketers from all stripes are experimenting with many different channels in order to maximize their content's exposure, and rightfully so. The competition for digital attention has never been greater than it is today.
There are three major classifications for paid content discovery - offline, traditional digital and the newest form, native. According to the Content Marketing Institute's latest B2B and B2C research, traditional digital advertising (search engine marketing, banner and social ads) and offline (print and others) content discovery usage rules the day with between 49 percent and 71 percent adoption, depending on the channel.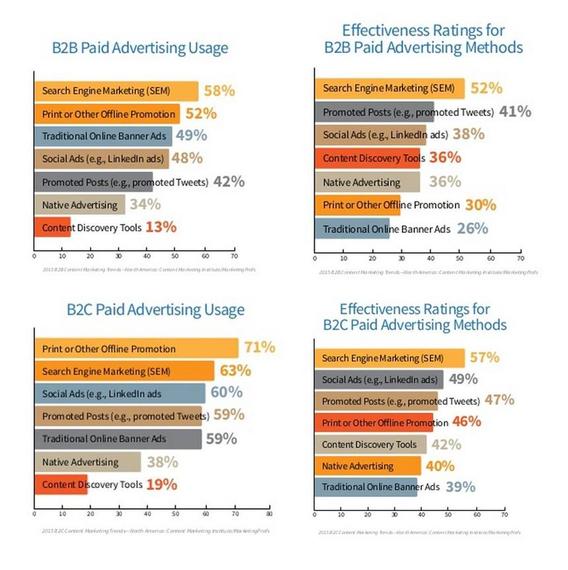 It's not surprising that these distribution channels are the most popular. They're also the most mature. Also, according to the same research, some of them are also considered the most effective. However, based on my years of experience, I've found that both traditional digital advertising and offline forms of content discovery are the least effective content distribution channels for scaled amplification.
It's likely that many of these channels are perceived to be most effective because for a decade or more many of them have had dedicated budgets and staff assigned to managing them. Social ads are the exception. Newer, more native forms of advertising (promoted posts, digital native advertising and content discovery tools) have not been around very long and according to the research have lower adoption rates. They're also on the lower end of effectiveness, with promoted posts being the exception.
Marketers managing large PPC, banner and offline promotion budgets have a vested interest in protecting their silos. Of course they'll be a rosy picture painted on effectiveness because they want to keep their jobs. It's a CPM and/or CPC game with millions of impressions daily they've been playing years before most were even talking about content marketing. Many of these channels are rife with fraud, too.
While these channels certainly have their place in content marketing, they are not ideal for brands looking to scale the discovery of its' top of the funnel or ZMOT content. To scale content amplification brands should look to and adopt native content discovery tools and networks. There are three types, each has certain advantages and disadvantages, but when used in concert represents an optimized approach for brands to ensure the maximum amount of prudent content gets seen and business goals are met.
When many folks think of native advertising or content discovery they think of networks like Taboola, Adblade or Outbrain. It's not surprising because these networks are quickly growing and proving to be significant revenue drivers for publishers. They're also particularly effective at scaling and amplifying content discovery in an economical way. Sponsored social media posts also fall into this category, but they tend to be less economical and harder to scale.
The networks above work by placing an image and/or snippet of a brand's content on other websites in a native way and recommending that the reader click through. Many of the publishers that partner with these networks have millions of subscribers and visitors.
Third party services and tools like Zemanta and Cision are cropping up around these and other networks allowing brands to tap into several at once and at negotiated rates. Users of these networks are finding them to be exceptionally effective in many ways, too.
Visitors coming through Taboola view 111 percent more pages per session than users coming through organic search and 48 percent more than users coming through organic social. Moreover, the bounce rate on traffic from Taboola is 55 percent lower than organic search and 57 percent lower than organic social.
This represents an interesting twist to the paid content discovery networks mentioned above. While amplifying a brand's owned media can certainly work to a marketer's advantage, amplifying positive earned media can, too. InPowered helps marketers discover earned media about their brands, content, products and services, and empowers them to amplify it in a turnkey fashion at scale on multiple networks.
This is an important arrow for a marketer or PR professional to have in their content marketing quiver because, according to Nielsen, expert content--credible, third-party articles (earned media)--is the most effective source of information in impacting consumers along all stages of the purchase process.
Here's a category I've just recently learned about and can't wait to share some use cases around. Many marketers help manage websites with hundreds, if not thousands, of pages. Some pages have helpful content, offers, products and sales material.
If a qualified visitor to a website doesn't land on the best page to help them solve their problem how long do you think they'll stick around to look for it? They're not likely to hang around for very long at all, but for possibly one to four more clicks.
Solutions like BrightInfo, Contextly and Roost give marketers the ability to serve up relevant content to website visitors in real-time based on which pages they've already visited. This is done in a native, push or pop-up manner. The technology intelligently indexes on-page content to understand its topic and then offers visitors relevant landing pages or content to ensure they don't have to fish around a website to find what they're looking for.
BrightInfo can boost conversion rates by up to 83% while Roost's web push solution has a 30x better opt-in rate than email.
Content marketing is quickly evolving to marketing content and many brands are looking hard for the magic combination. Content promotion isn't easy, but trying to scale content discovery and amplification through tradition paid digital and off-line means is not likely the best solution no matter what the research above says. Instead, consider an optimized and converged approach to content discovery and amplification utilizing some of the networks and tools mentioned above.
Related
Popular in the Community