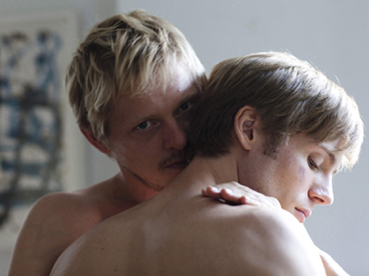 This week I talked with filmmaker Ira Sachs about his new film, Keep the Lights On. It premiered at the 2012 Sundance Film Festival and received the Teddy Award for Best Queer Film at the 2012 Berlin Film Festival. It's currently playing in theaters throughout North America. The film chronicles an emotionally and sexually charged journey of two men in New York City through love, friendship and addiction. Documentary filmmaker Erik (played by Thure Lindhardt) and closeted lawyer Paul (played by Zachary Booth of Damages) meet through a casual encounter but soon find a deeper connection and become a couple. Fueled by drugs and sex, their decade-long relationship is defined by highs, lows and dysfunctional patterns as Erik struggles to negotiate his own boundaries and dignity while being true to himself. I talked with Ira about his deeply personal film and issues facing our LGBT community.
When asked about his personal commitment to LGBT civil rights, Sachs stated:
You know, I grew up in the 1960s in Memphis, and my father was a member of the American Civil Liberties Union. I was born three years before Martin Luther King was killed, and I think that history of civil action was something that I had in my blood. Throughout college I was very involved as a gay activist. I got involved with ACT UP when I moved to New York in 1988. I now work as a community organizer. I run two arts programs: Queer/Art/Film, which is a film series that invites interdisciplinarian, intergenerational conversations between queer artists, and also a mentor program. And for me it's actually something I do because I believe in it, but also something I do because I feel being an activist is so nurturing to my own being. I think for many years, when I had my own issues of addiction and was focused on things that were small and obsessive, I forgot the world, and I found that engaging in the world is generative to me, and sustaining. I also feel that I can make some change to be part of history in my own small way.
Ira Sachs' films include Married Life (2007), The Delta (1997) and the 2005 Sundance Grand Jury Prize-winning Forty Shades of Blue. His short film Last Address, honoring a group of NYC artists who died of AIDS, has been added to the permanent collections of the Whitney Museum of American Art and the MoMA. Sachs teaches in the graduate film program at NYU. He lives in New York City with his husband Boris Torres.
Listen to more interviews with LGBTQ leaders, allies, and celebrities at OUTTAKE VOICES™.
REAL LIFE. REAL NEWS. REAL VOICES.
Help us tell more of the stories that matter from voices that too often remain unheard.